M1 24-inch iMac Review Roundup | 2021
The reviews of the new iMacs have surfaced, and they are not disappointing. The first thing reviewers noticed is how beautiful these computers look in person–no surprises there! They also had a chance to test out some of the latest features.
If you're wondering if either one is worth your investment? Keep reading below so we can tell you everything else you need to know before making any decisions!
In our roundup of the new iMac, we take into account all reviews from experts around the web to provide one comprehensive overview – including what critics say about its features like battery life and whether they recommend buying or not!
Design | M1 24-inch iMac Review Roundup
Pocket-Lint writes that the stand on the iMac is still not adjustable, which led him having to set the iMac on a book.
The L-shaped stand from the old iMac remains, but it is lower and it now accommodates a larger Apple logo on the back, reflecting the light so it looks like it illuminates (it actually doesn't light up, it just fooled us at first). 

Notice that the logo has disappeared from the front, which we still think is a little bit of an odd choice, but then there's no Apple logo in front of you when you're using a MacBook, iPad or iPhone (yes, we know, there's one in the top corner on macOS).

The iMac's stand isn't height adjustable, which is a downside. We ended up standing our review model on top of a book to raise it up slightly on our desk. 

Don't worry if it's all too much for your eyes, though, as you can still get the iMac in more standard silver. Or, if you're feeling more individual, there are a further five hues to choose from (though the basic model only has four options – blue, green, pink, silver – as there are some differences with that model as we'll discuss below). 
Gizmodo  describes, "The new iMac is cute, colorful, and compact."
The colorful design also brings to mind the iconic Bondi Blue of the iMac G3, back when gadgets had warmth and personality. The new iMac's white bezel, which was polarizing when Apple showed it off at its Spring Loaded event, reminds me of my first iMac, the white polycarbonate Intel version circa 2006. The design manages to be both refreshing and a throwback, and I love it. For the latest iMac, Apple ditched the dated bulbous design of the old 21.5-inch model and slimmed down the overall body to just 11.5mm thick. It's incredibly lightweight and easy to move or reposition whenever you need to.

The new iMac is cute, colorful, and compact. It makes more of a statement than your phone does—if you want it to. There's also silver for those who prefer to play it safe.
Engadget describes the new design, particularly focusing on the orange color option:
I opted for the orange iMac for our review, but Apple should have probably just called it creamsicle. It has a bit of a pinkish hue along the "chin" below the screen, while the rear case looks more distinctly orange. And despite the playful aesthetic, the iMac still looks and feels like a premium device. I particularly like the way light bounces off the back of the sturdy base. The iMac hasn't had this much Pixar-esque energy since the days of the lampshade G3. Hell, Apple could still benefit from following some design ideas from that long-forgotten machine — or maybe I'm just the only one that misses being able to adjust my screen vertically.
Writing at Six Colors says the color scheme works well.
But when you sit down to work at the iMac, you get a different impression. The bright color is there, visible on the stand. Above that is a more muted version of the accent color on the "chin" beneath the display. The bezels around the display itself are a neutral gray. It's effectively a gradient, with your peripheral vision noticing the bright color, but that accent fading away until you're left with whatever is on the display itself. It works really well, though I imagine that if you're someone who prefers using Dark Mode in brightly lit rooms, it will be a pretty dramatic contrast. (I'm a Light Mode person myself, and I found the overall effect quite harmonious. But then, my office wall is orange.)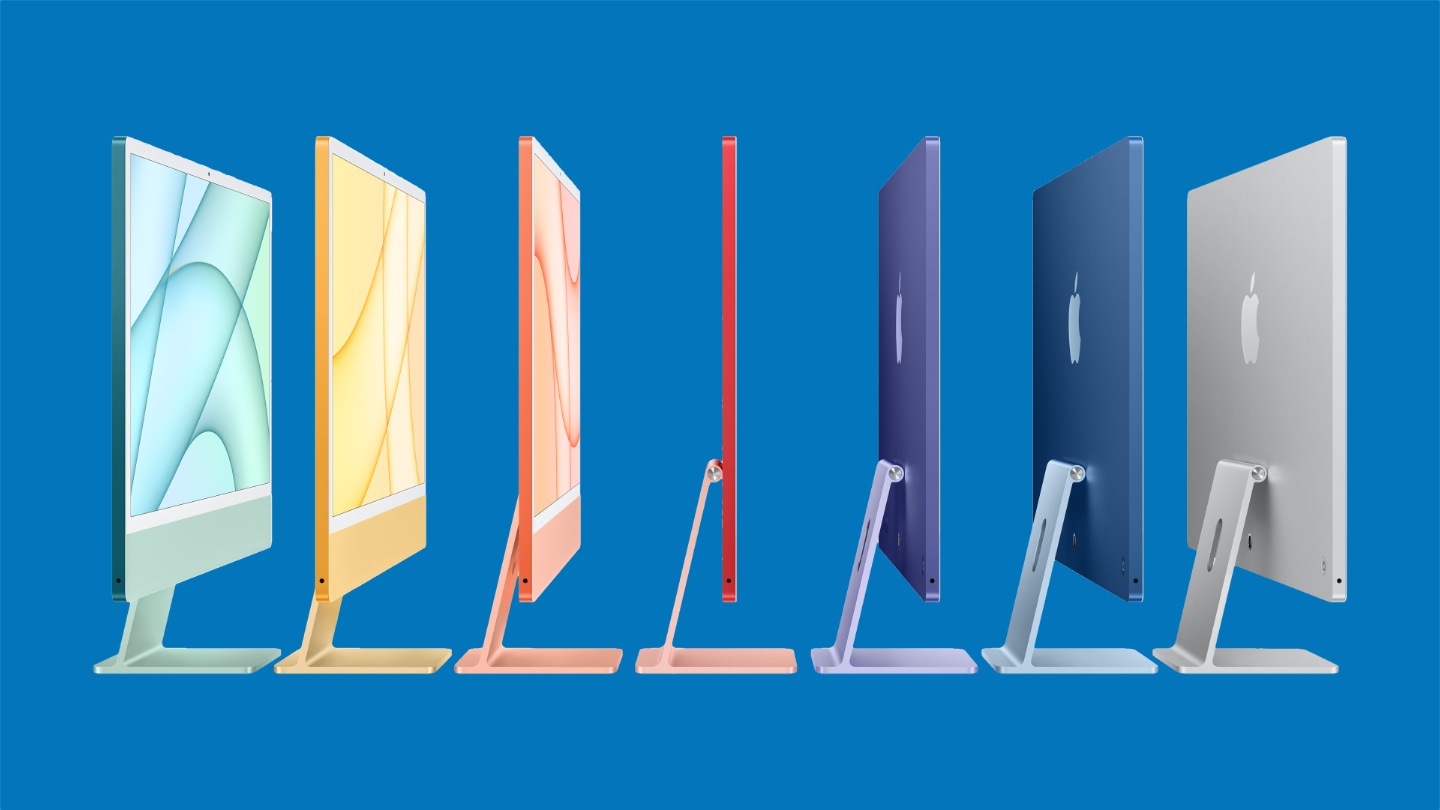 Display| M1 24-inch iMac Review Roundup
Pocket-Lint writes the screen is actually 23.5 inches.
The so-called 24-inch display is actually 23.5-inches, but as with all displays of this size that's pretty standard. It's 4.5K resolution, so plenty resolute with 218 pixels per inch. It's an excellent display with consistent colours (with support for the full P3 wide colour gamut) and brightness.
Writing at Six Colors echos the screen size is 23.5 inches.
While there's a lot to be said about the 24-inch iMac's outside, its definitive feature is its 23.5-inch-diagonal 4.5K screen. (Apple's learned its lesson and kept the product name simple by rounding up.) Apple has pulled in the bezels when compared to the old 21.5-inch model, but this display hardly qualifies as edge-to-edge; in fact, the bezels are slightly larger than half the size of the old ones. Still, it's enough that the screen feels more modern and the iMac has managed to gain a bigger screen without having its physical size expand too much. (It's less than an inch wider than the 21.5-inch iMac, and less than half an inch taller.)

The screen is what you'd expect from a modern Apple display: High resolution, bright, with support for a wide color gamut and True Tone for matching the white point of its environment. I don't have a lot to say about the display because it conforms with the standard Apple has set with recent iMacs. It's really good—and at 4480 by 2520 pixels, there's an awful lot of space to work, keeping in mind that this is the "small" iMac.
The Verge states "this iMac doesn't have "Pro" in its name."
But the screen is also another reminder that this iMac doesn't have "Pro" in its name. Twenty-four inches is on the small side as screens go; most of the best external monitors are 27 inches or larger these days. Professionals on The Verge's video team also noticed some vignetting on the sides of the screen, which caused issues with off-angle viewing — we had a similar issue with Apple's Pro Display XDR. Of course, neither of these limitations were a problem for my untrained eye; I thought the display looked great, with sharp details and plenty of room for my Chrome tabs and apps.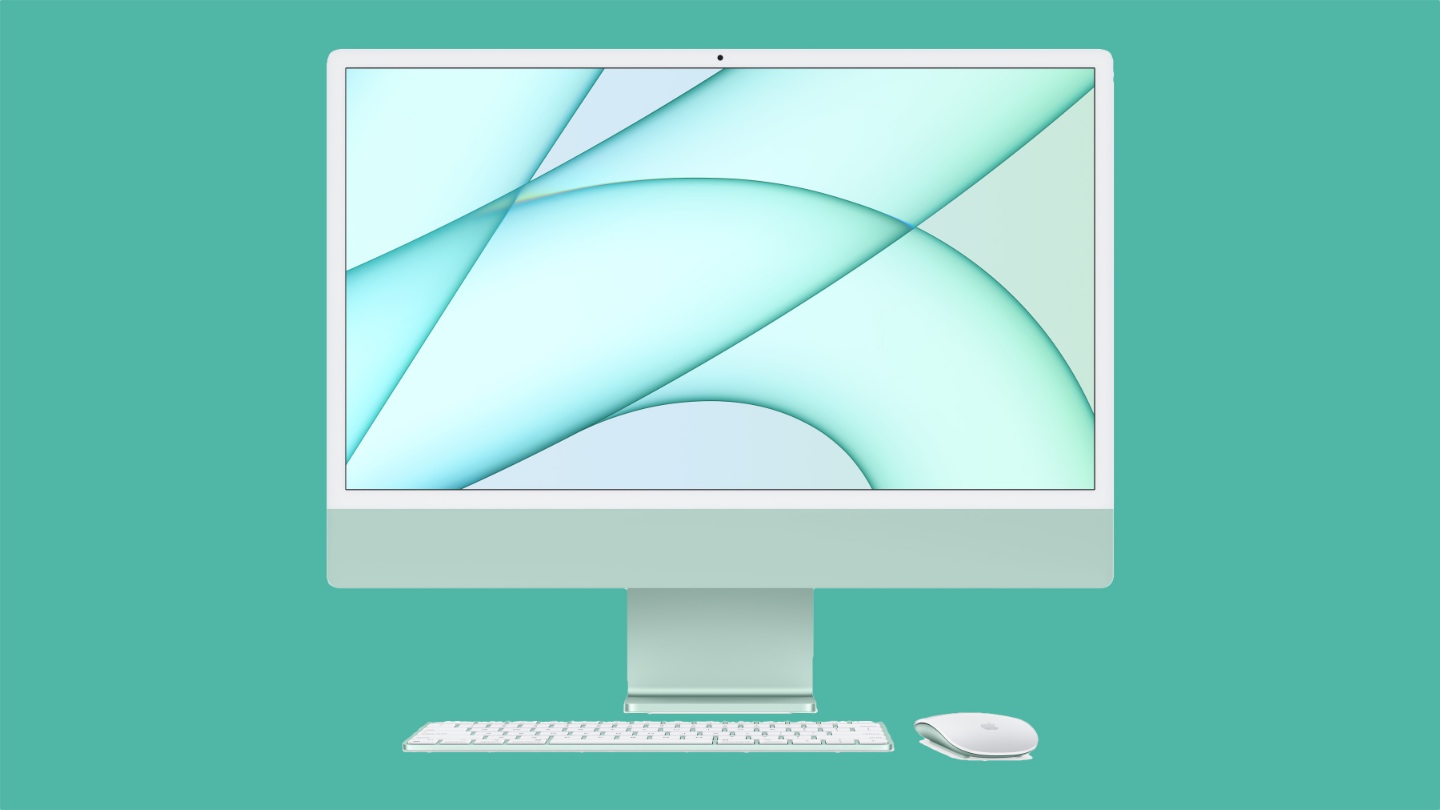 Performance | M1 24-inch iMac Review Roundup
Pocket-Lint writes: 
The performance of this iMac is strikingly similar to the other M1 Macs we've looked at. After all, it's the same processor with the same 8-core graphics we've seen previously.
 CNET echoes the performance comparison between other M1 models.
In a lot of ways, the current MacBook Air, Mac Mini, 13-inch MacBook Pro and 24-inch iMac are all the same computer. They all use the new M1 processor, the same OS and have similar RAM and storage configurations. The differences that could affect performance come in part from the two different M1 versions. Both have eight CPU cores, but one has eight GPU cores while the other has only seven GPU cores. If you're trying to figure out which one you have, the entry-level models generally have the seven core GPU version. 
The new M1 iMac is remarkably similar to the previous M1 models. The Verge has some great details on what this means for consumers:
Another way to interpret these numbers is that I was getting effectively the same performance out of this machine as we got from the M1 MacBook Pro and the Mac Mini. That's completely unsurprising, since these devices all use the same processor. But it's a good proxy for gauging whether the iMac can handle your work: if you expect you could get a task done with the M1 MacBook Pro, you should be able to do it on this. 

More anecdotally, I was able to use my test unit for all kinds of daily tasks, from emailing to YouTube to amateur photo and video work. I was able to hop between over 25 Chrome tabs with Cinebench looping in the background, with no stutter or slowdown whatsoever. If you're buying the iMac for this kind of thing, I can't imagine you'll see too many spinning wheels.
Wrap up | M1 24-inch iMac Review Roundup
The Verge wrap up:
Could Apple have done more with this iMac? Of course. I was hoping to see a 30-inch, 6K iMac with a powerhouse 12-core workstation chip this month as much as the next person. But I have faith that we'll get one in the future — and in the meantime, I'm glad Apple released this. It's not earth-shattering in its design; it doesn't redefine its category. But it's fun. It improves upon the 21.5-inch iMac to offer a simple, attractive, and very functional device for users across all kinds of categories. It's not the iMac to beat — but it is the iMac for most people to buy.
Engadget wrap up:
While I probably sound entirely head over heels, there's still plenty to criticize with the new iMacs. For one, the port situation is messy. The $1,299 entry-level model only comes with two USB-C ports. To get four, you'll have to step up to the $1,499 model with a more powerful 8-core GPU. That pricier model also has an Ethernet port embedded in its power brick, which the cheaper iMac lacks. I realize Apple held off on removing USB Type-A ports on the iMacs for a while, but I still miss them. Now your only choice is to clutter your desk with dongles and USB hubs if you want to connect older devices. The same is true if you want to use SD cards, which irks me to no end.
If you can live with those issues, though, the M1 iMac is an incredibly compelling all-in-one computer. As usual, though, be prepared to pay a premium. If you want 512GB of storage, you'll have to jump to the most expensive $1,699 model. Want 16GB of RAM? Slap on another $200. Need more storage? That's an additional $200 for a 1TB drive, or $600 for a 2TB model. Unfortunately, there aren't that many strong PC alternatives. If you're looking for something larger, HP's 34-inch Envy all-in-one is solid, but that's stuck with aging Intel chips.
Six Colors wrap up:
As with the other M1-based Macs, it's important to remember: the M1 is a limited, low-end processor. It can't handle more than two Thunderbolt ports and 16GB of RAM. Apple has purposefully updated its least powerful models first, and that includes the "smaller" iMac. And while the M1 offers a major speed boost over previous versions of these models, they were low-end Macs then and they still are.

The M1 is powerful enough to handle a wide range of uses—including uses that we'd consider very high end, like editing multiple streams of 4K video. And yet if you are someone who needs more RAM or is currently using one of the highest-end Intel-based Macs, these computers are not for you. As someone with an iMac Pro, the 24-inch iMac is appealing—but it's the wrong computer for me, and wouldn't offer enough of an improvement for me to switch.

It's also worth remembering that this is the beginning of the Mac's transition to Apple-designed processors. The Intel-based 27-inch iMac remains on sale, but for how much longer? It's inevitable that it will be replaced, perhaps as soon as later this year, probably with something that looks like a larger and more powerful version of the 24-inch iMac. I'm more excited about that prospect than ever.
CNBC wrap up:
The new iMac is a fantastic desktop computer and worth buying if you need a desktop computer for you or the family. It will make a great home school computer for your kids, or an office desktop. 

Overall, I think Apple has a winner here with an all-around solid computer that checks most boxes for most people. I can't help but wonder how many of these Apple would have sold if it launched at the beginning of the pandemic.
 CNET wrap up:
 If you've never had an iMac before and are considering switching from a laptop to an all-in-one desktop, I can see the appeal for an ongoing work-from-home situation. You get a lot more screen space in a very small footprint. At $1,299 to start, it's a hefty premium over the MacBook Air for essentially the same machine, just with a larger screen and a stand (and without a battery). Still, if you're considering it, I recommend starting with the $1,499 base model, which adds the TouchID version of the keyboard, two extra USB-C ports, the eight-core GPU and better cooling as well as an Ethernet port built into the power supply. Just be sure to choose a color that best reflects your celebratory, (almost) post-pandemic feels, and get a head start on your hot Mac summer.
More Reviews
Video Reviews and Unboxings