MacKeeper Review 2021
MacKeeper is an all-inclusive Mac security software that offers a robust set of features to keep your computer protected from online threats and improve performance. We'll take you through what this app can do for you and pricing info and other important considerations when choosing antivirus protection for your Mac.
MacKeeper is an app that cleans and optimizes your Mac's performance, protects you from malware online, and offers 24/7 technical support. I have never experienced failures with this program or aggressive promotions, thanks to its user-friendly interface.
When testing the software myself, it proved itself as a reliable application for everyone who values their device's security.
Interested in MacKeeper check out the website here.
Installation and Setup
I downloaded MacKeeper from their official website. The installation was simple, and the app looked nice. You need to activate your key using the menu bar, which I found to be a little confusing.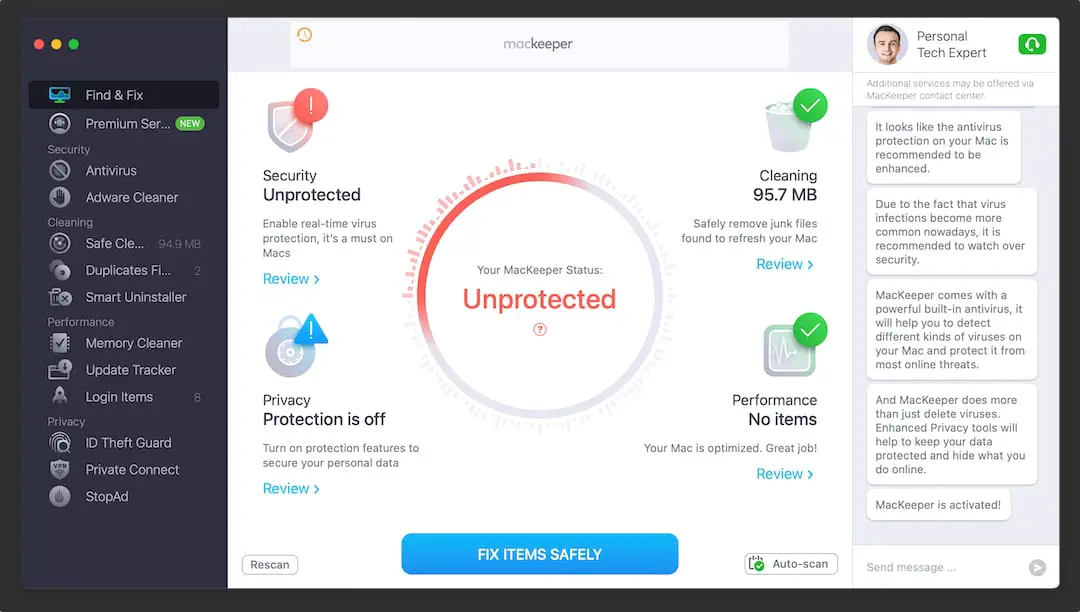 On the left panel, you can see a list of MacKeeper tools that it offers. MacKeeper is the perfect tool for all of your security needs. You can find various features like antivirus, adware cleaner, and even an ID Theft Guard tool. Next, there are endless tools to help your device perform at its best by unloading RAM and updating apps while regulating what launches on startup.
In the first tab on the left panel, you will see Find & Fix. This app scanned my computer for cleaning, performance, privacy, and security issues with a click of a button. MacKeeper made scanning my computer fast and easy.
Security
Antivirus 
MacKeeper is a handy app that can protect your Apple computer against malware. It protects from viruses, spyware, adware, Trojan horses, and more by automatically blocking infected files before you even open them. MacKeeper also removes any existing virus or malware threats on the system, so it's always clean for next time.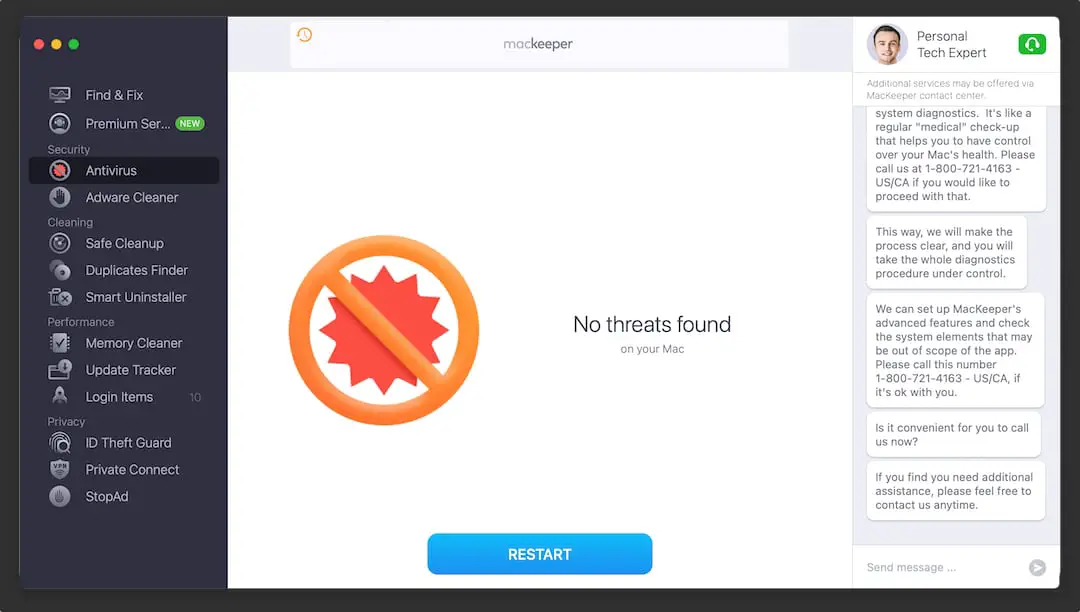 Adware Cleaner
Adware Cleaner specializes in the detection and removal of adware. That means nasty ads that attack you day after day, making your life complicated. Adware Cleaner is easy to use from any Mac device with just one click activation out of the box- then it monitors for malicious activity automatically scanning more quickly than most other antivirus software.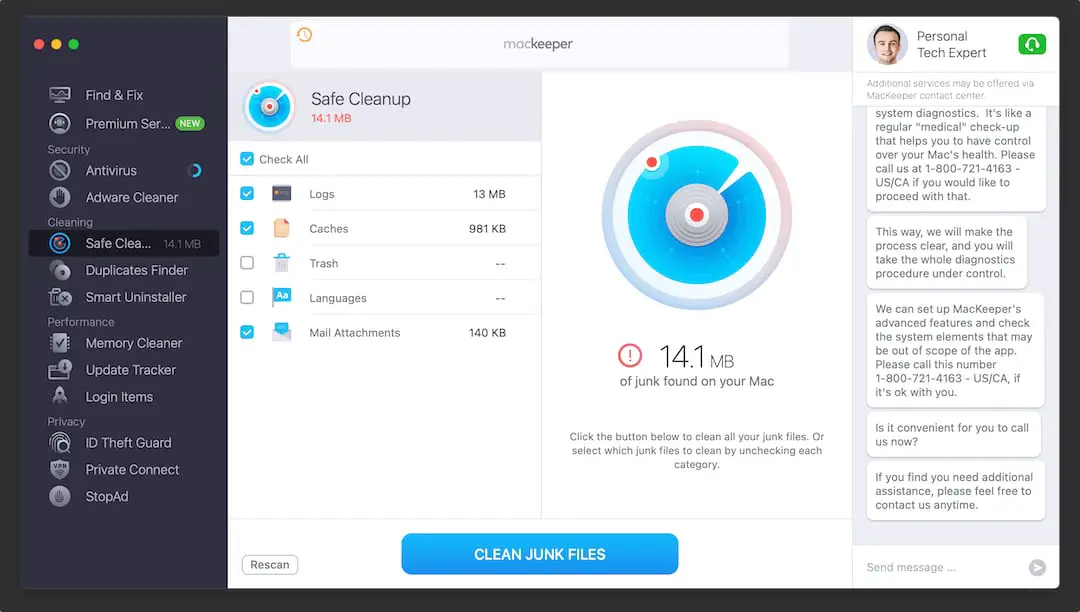 Cleaning
MacKeeper has a set of tools designed to make it easy for you to clean up your Mac without accidentally deleting anything important. With careful settings and mechanisms in place, this software will help ensure that nothing goes missing.
Safe Clean
Safe Cleanup is a one-stop solution for clearing away the junk files that accumulate across our Mac, such as app localization files and caches. With Safe Cleanup installed on your computer, you can clear out all of this clutter with just a few clicks.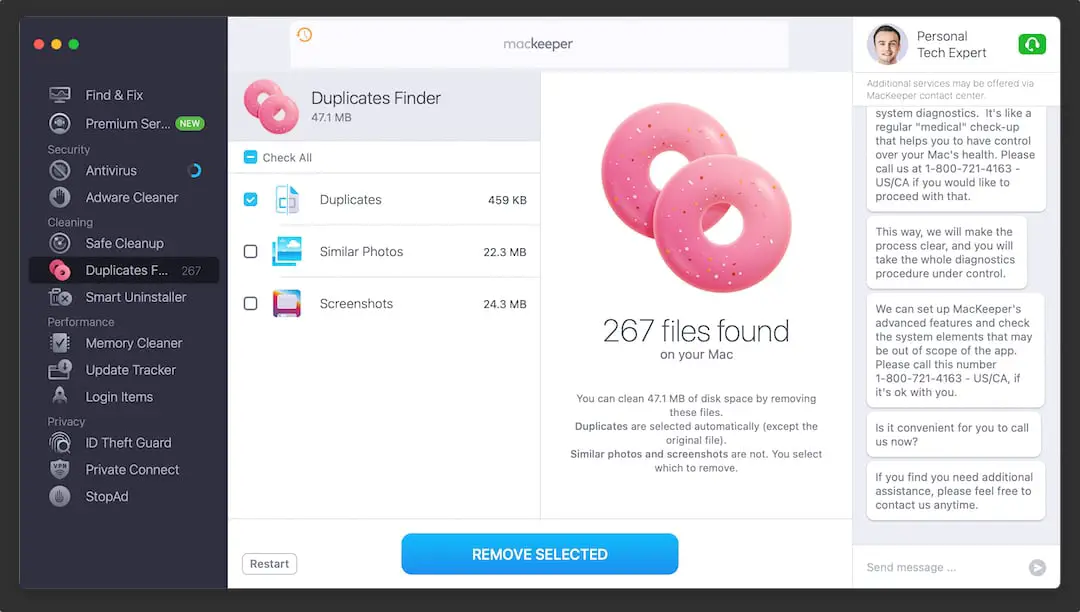 Duplicates Finder
Duplicates Finder will scan the files on your computer to find duplicates, even if they have different names. It does this by checking their content and can tell which are just copies of each other- so it won't delete them! This could free up a lot of storage space for you in minutes.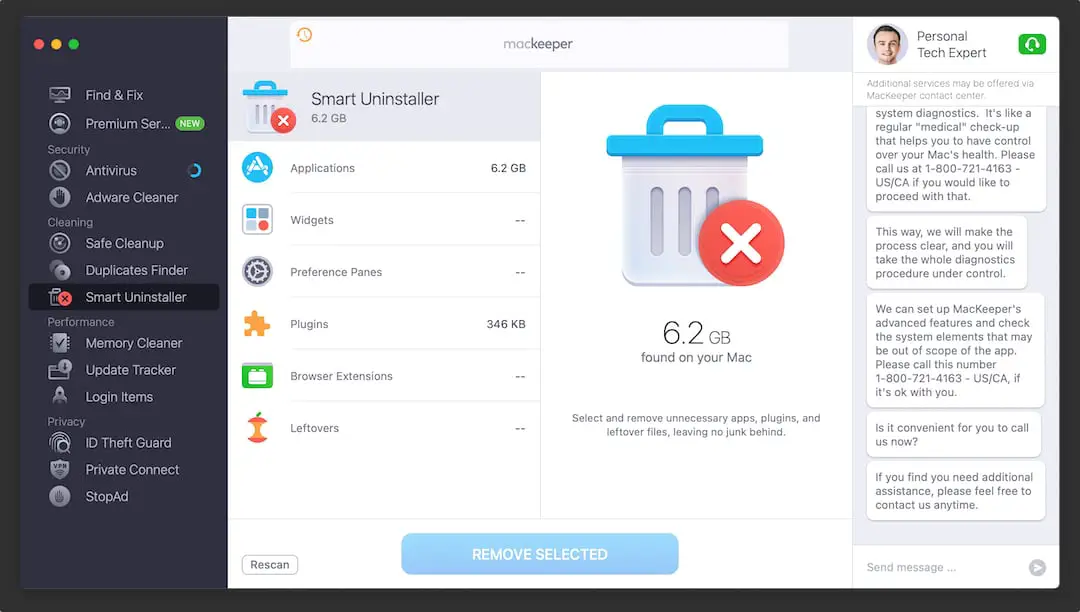 Smart Uninstaller
Smart Uninstaller is there to help you get rid of rarely used apps, widgets, browser extensions, and plugins. It will also suggest leftover files for removal, which saves time but can reduce the risk of accidentally deleting an app that may be important to your everyday life.
Cleaning Tools Summary
I was impressed by this set of tools. It works just like all the comparable apps I've seen, scanning my Mac rather quickly and displaying what can be deleted to me so that I could decide which files should go in the trash or stay on there.
Performance
This MacKeeper section is devoted to steps that can make your Mac run more efficiently. This is possible by looking at those Apps that are resource-intensive and that are consuming RAM. MacKeeper then optimizes memory and then will return RAM space to your Mac and close down useless processes.
Memory Cleaner
One of the most critical computer components is RAM, which essentially serves as a short-term memory for your PC. Every time you open up an application or close it again, that process will occupy some amount of RAM even if it's not needed anymore; Memory Cleaner can help remove these processes to make more room in this precious resource. When running my test, I noticed how much data from different applications occupied 33 GB out of 64GB available.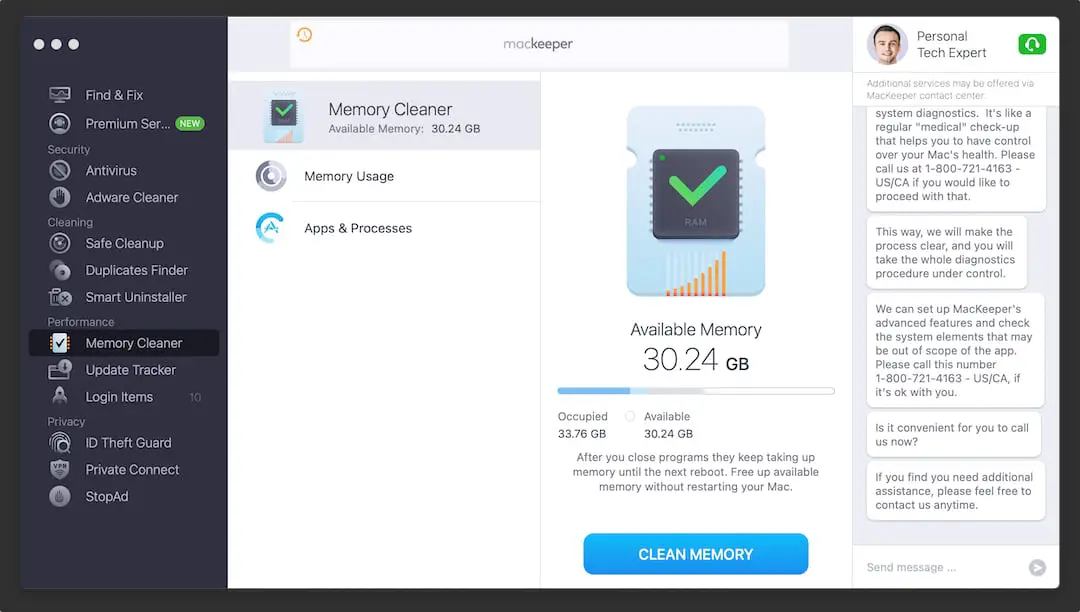 Update Tracker
It can be hard to keep track of apps in need of an update. Update Tracker makes it easy by organizing them all into one place, allowing you to quickly review and apply updates for each app as they come available.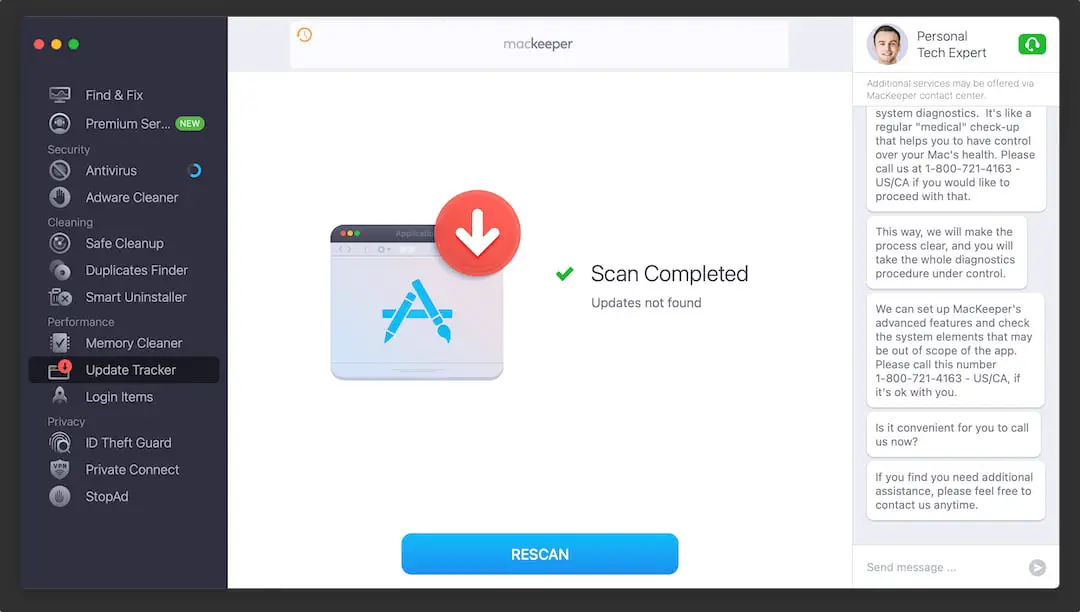 Login Items
MacKeeper's Login Items tool enabled me to see a list of automatically launched apps and remove the unneeded ones. The app is perfect for anyone who wants to keep their computer running smoothly, as it can help by removing unwanted programs from launching when you turn on your laptop or desktop.
Performance Tools Summary
With Mac's built-in tools, you can do some manual work when a computer slows down. But it does feel handy to have such services in one place and leave all that behind! You might not notice much difference on newer computers, but an older one could see significant improvement if they use this app as well.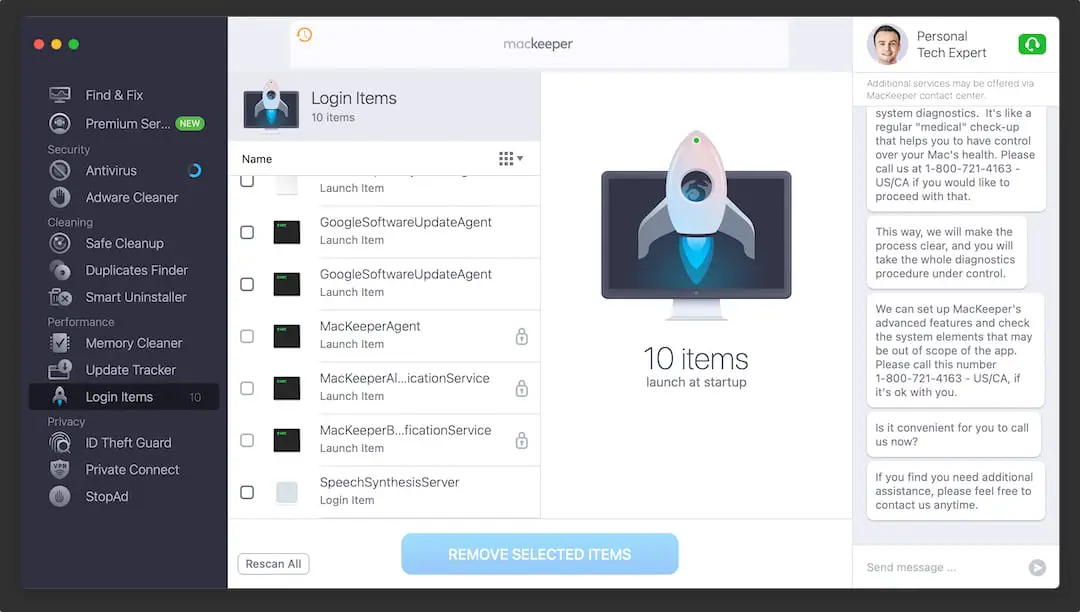 Privacy
MacKeeper is a one-stop-shop for all the tools we could ever need for those of us who are digitally savvy. This set of features was something I wasn't expecting to get, and they all worked splendidly.
ID Theft Guard that checks emails for breaches. A VPN so you can browse in peace without worrying about snoopers. Got it! An ad blocker with anti-tracking functionality, too—such services often come as standalone programs, but they're included in MacKeeper.
ID Theft Guard
The ID Theft Guard app is a simple and easy-to-use tool for detecting security breaches on your account. As I entered my email address, it caught that one of them was compromised in 1 breach and the exposed password. It prompted me to take steps to change the password after verifying the email was mine.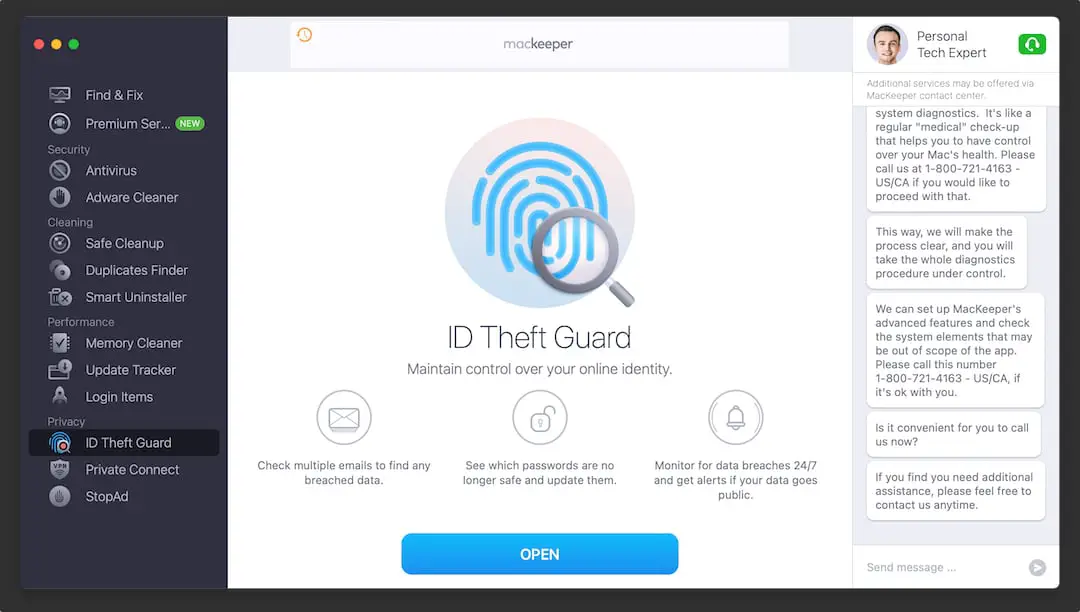 Private Connect
MacKeeper VPN is an excellent tool for those who use public Wi-Fi. The app lets you hide your IP address and encrypt your traffic, which is essential in using the internet in general. MacKeeper stands out from other programs because it offers an extensive list of servers to choose.
You can choose from servers worldwide and always have access to high-speed connections with automatic selection for maximum convenience.
You can enjoy unlimited data and browse for as long as you want, as there isn't a data limit. You can even set it at startup so that the app launches with your internet connection is established. I browsed on a VPN for hours without noticing any slowdowns or issues.
Interested in MacKeeper check out the website here.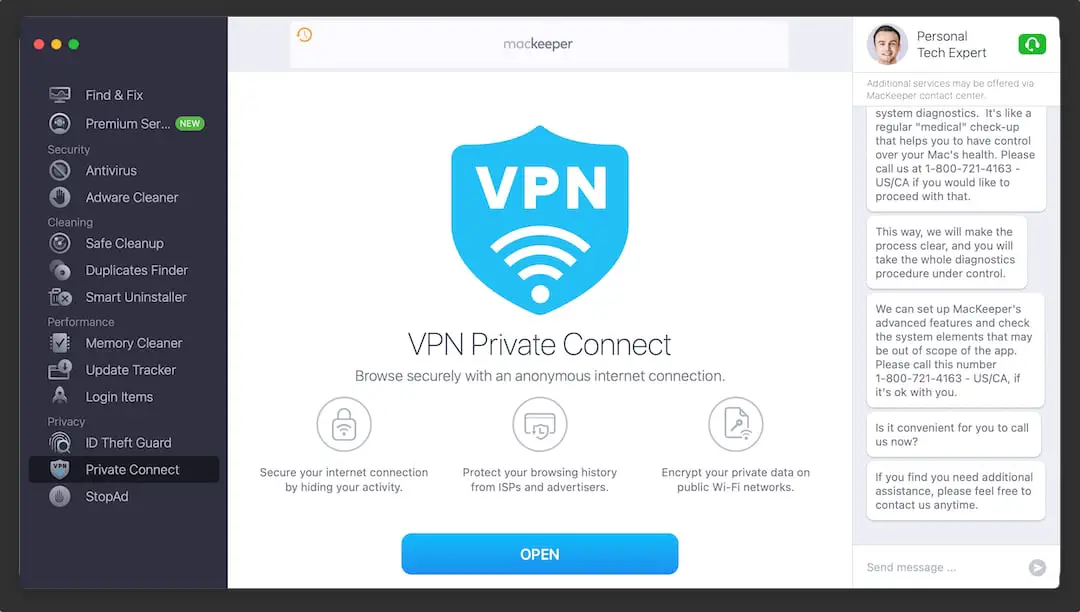 StopAd
StopAd is a browser extension that blocks ads, trackers, and other elements on websites. It operates in two ways: blocking advertising within your browser window or protecting against online tracking to enhance browsing speed and privacy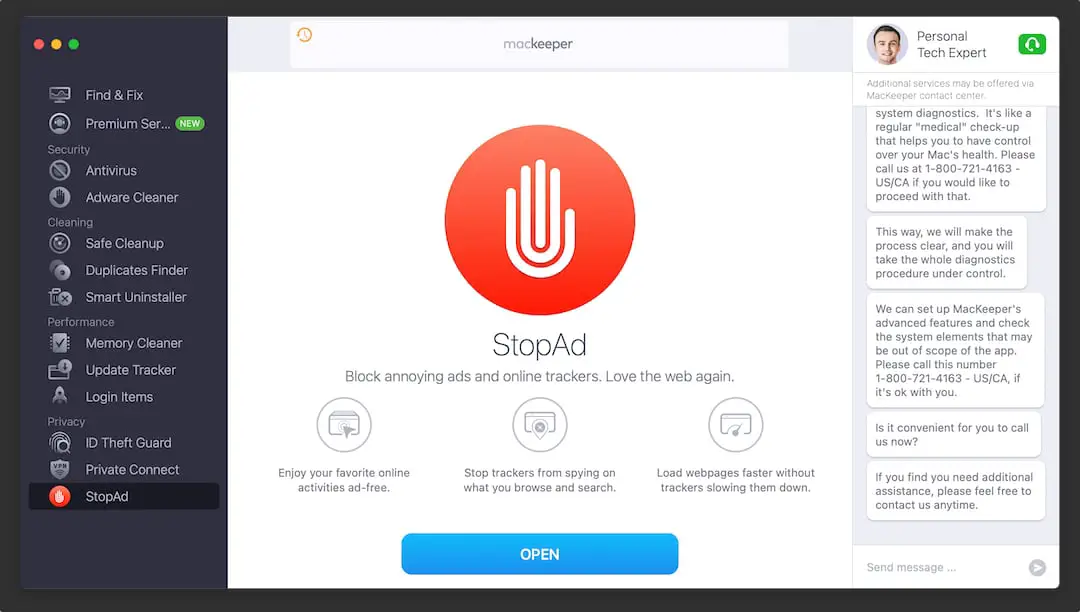 Price & Availability
MacKeeper costs $89.40 for a one-year 'family plan' deal that includes up to three Macs. For single users, the yearly price is $71.40. 
MacKeeper Review Summary
MacKeeper is a handy suite of tools for Macs that does exactly what it promises. It performs a quick scan, finds unnecessary files, and suggests fixes to issues affecting the computer's performance. The app offers anti-malware/adware protection and VPN services, data breach monitoring, and ad blocking, which all work without issue when tested by myself during use.
What is MacKeeper and is it safe?
MacKeeper is an all-inclusive Mac security software that offers a robust set of features to keep your computer protected from online threats and improve performance. Yes, MacKeeper is safe.
Is MacKeeper Legit?
Yes, they are AppEsteem Certified by independent experts. You can read more about it here.
Is MacKeeper safe?
When testing the software myself, it proved itself as a reliable application for everyone who values their device's security.
Your content goes here. Edit or remove this text inline or in the module Content settings. You can also style every aspect of this content in the module Design settings and even apply custom CSS to this text in the module Advanced settings.