Best MacBook Air M1 Deals
If you want a new MacBook Air, but you don't want to pay full price, you've arrived at the right place: we've searched the web for the best MacBook Air M1 deals so that you can save money on a new Mac.
Apple refreshed the entry-level MacBook Air- 13inch in November 2020, adding Apple's newly designed M1 Arm-based chip to replace the previous outdated and underperforming Intel chips.
The new M1 chipset brings meaningful speed improvements across all aspects of operation with up to 3.5x faster CPU performance, 5x faster graphics capabilities, and 9x faster machine learning functionality than before.
Before now, MacBook Air's have employed many chips for CPU, security, and I/O, but Apple's work to integrate these chips has been the factory why the M1 chip is so much faster and efficient than the Intel-based MacBook Airs. Apple has been utilizing Intel chips for Mac computers since 2006.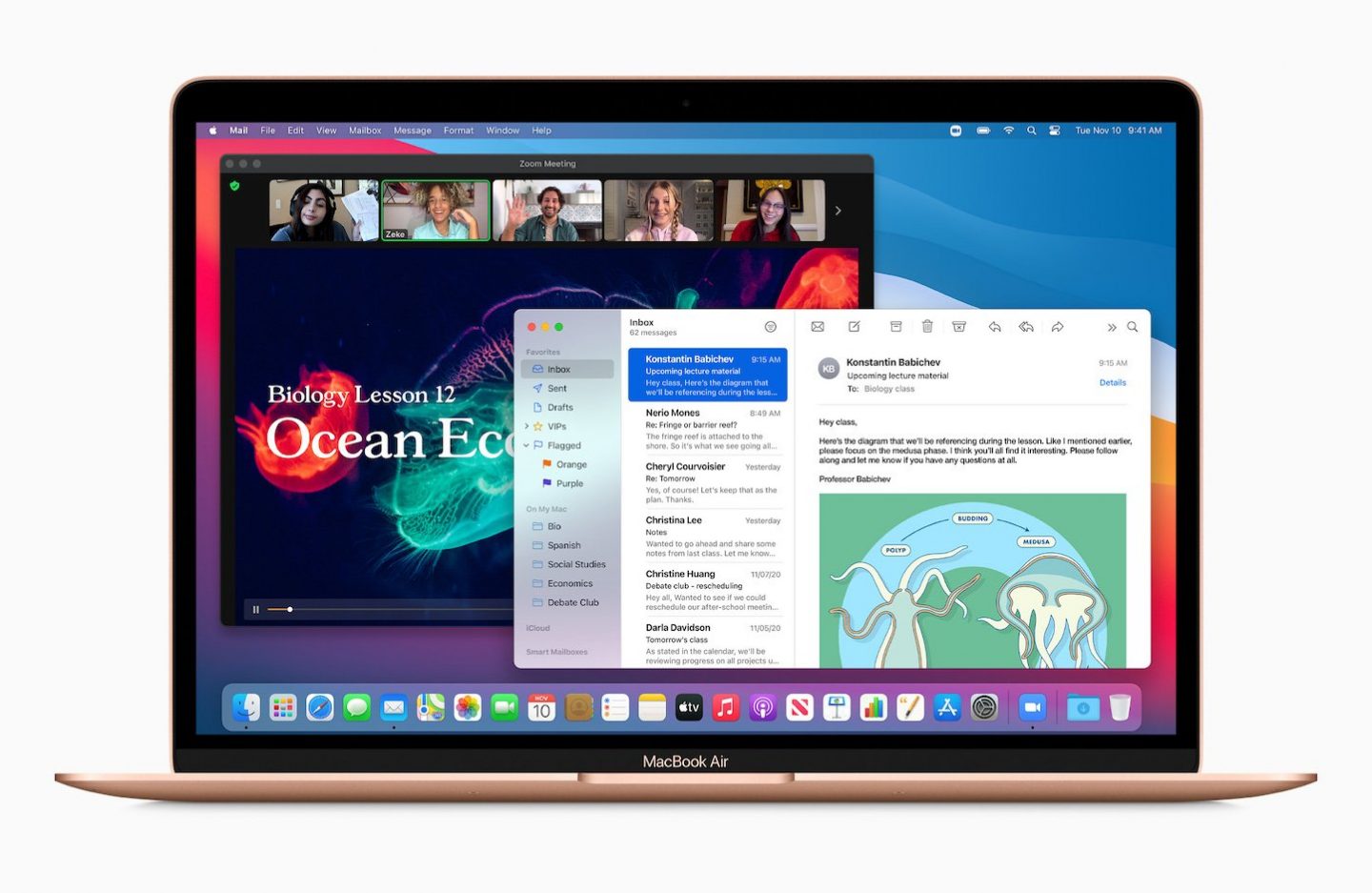 MacBook Air M1 Deals | 
2020 MacBook Air M1 (8GB RAM, 512GB SDD)
Last update on 2022-06-26 / Affiliate links / Images from Amazon Product Advertising API
Best Buy also has the MacBook Air M1 8GB RAM, 256GB SDD available to order within a few days. If you are a new subscriber to Apple Music and News+, then you will get it for free for six months. Six months of free Apple Music equates to $120 of savings. 
MacBook Air M1 Deals | 
2020 MacBook Air M1 (8GB RAM, 512GB SDD)
ON SALE
Last update on 2022-06-26 / Affiliate links / Images from Amazon Product Advertising API
Best Buy also has the MacBook Air M1 8GB RAM, 512GB SSD available to order within a few days. If you are a new subscriber to Apple Music and News+, then you will get it for free for six months. Six months of free Apple Music equates to $120 of savings.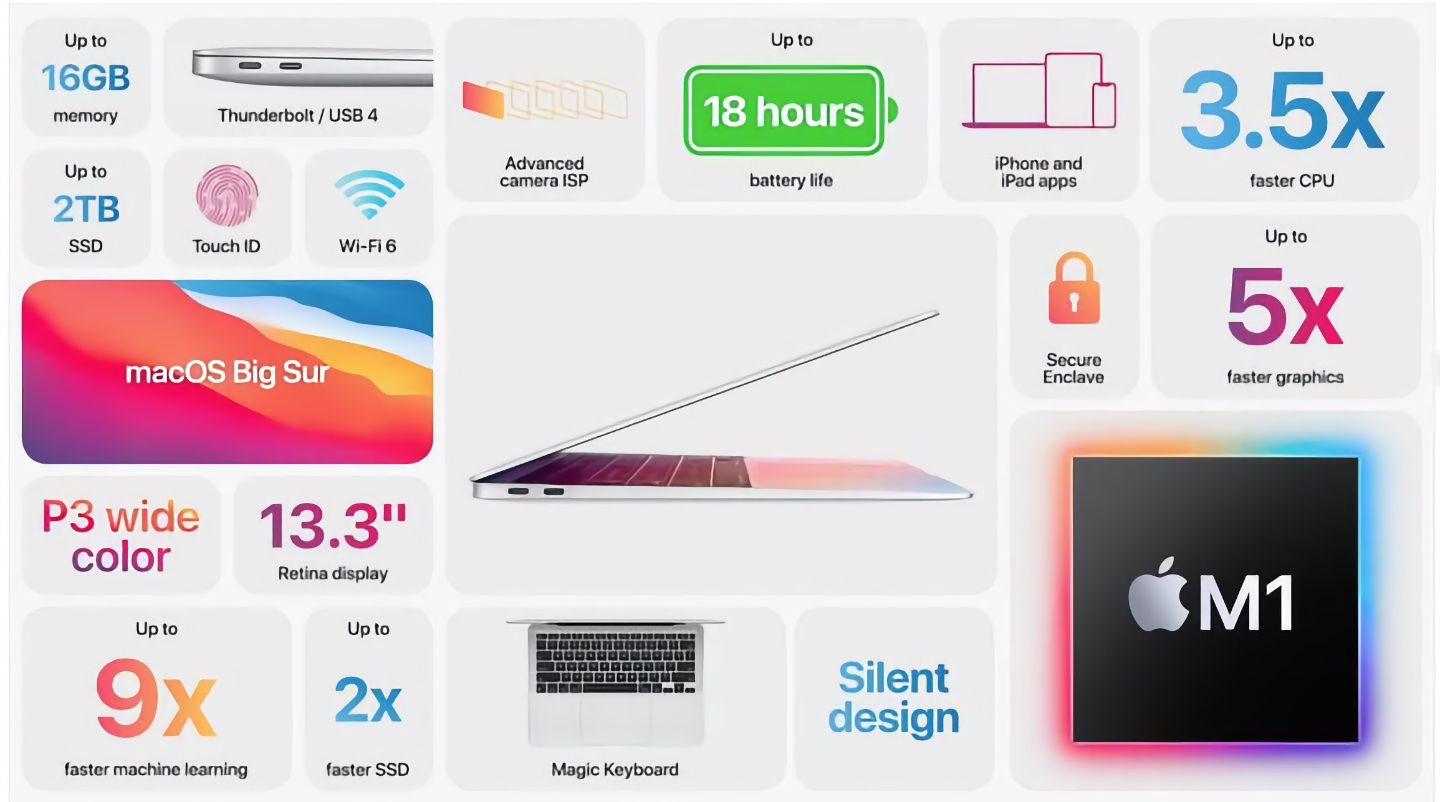 MacBook Air 13-inch M1 Design
The M1 MacBook Air uses the same design that Apple has been using for years, with a uniform rectangular shape, aluminum body, and slim bezels around the display. The models come in silver or space gray color. It is 16.1 mm thick, weighing 1.8 pounds, making it 0.2 lbs lighter than a Macbook Pro.
Retina Display
The MacBook Air M1 features a 13-inch Retina display with 2560×1600 resolution and 400 nits brightness ( 100 nits dimmer than the Macbook Pro). The screen can also support vivid colors that are easy on your eyes thanks to the MacBook Air's True Tone technology, which matches the ambient lighting's color temperature to the ambient lighting providing a more natural viewing experience.
The True Tone feature uses a multi-channel ambient light sensor included in the new MacBook Air models, which can determine your room's brightness and what temperature it is. After detecting this information, your Mac automatically adjusts to match color and intensity for an even more natural view that cuts down on eyestrain without compromising performance.
New Magic Keyboard
The M1 MacBook Air features a new Magic Keyboard with an improved scissor mechanism that is more reliable than the previous butterfly mechanisms. The keyboard offers up to 1mm key travel, providing stable typing and comfortable use, thanks to its minimalist design. The MacBook Air doesn't come with the Touch Bar, so if you are looking for that feature, you might be more interested in the MacBook Pro 13-inch.
 MacBook Air 13-inch Trackpad
The MacBook Air 13-inch has a Force Touch trackpad that is innovative in its design. Instead of physical buttons, the user can press anywhere on the pad to get an equal response. The Taptic Engine powered by magnets provides tactile feedback when using the trackpad, which allows for light clicks and deeper presses or "force clicking" as different gestures like offering up definitions for highlighted words, so you don't have to look them up yourself! This innovative system will take your Mac experience into an entirely new dimension!
FaceTime Camera
Apple's M1 MacBook Air has a 720p FaceTime HD camera, which is the same as in the previous model. This M1 chip drastically improves picture quality with better noise reduction and other features that help it take more precise pictures than ever before!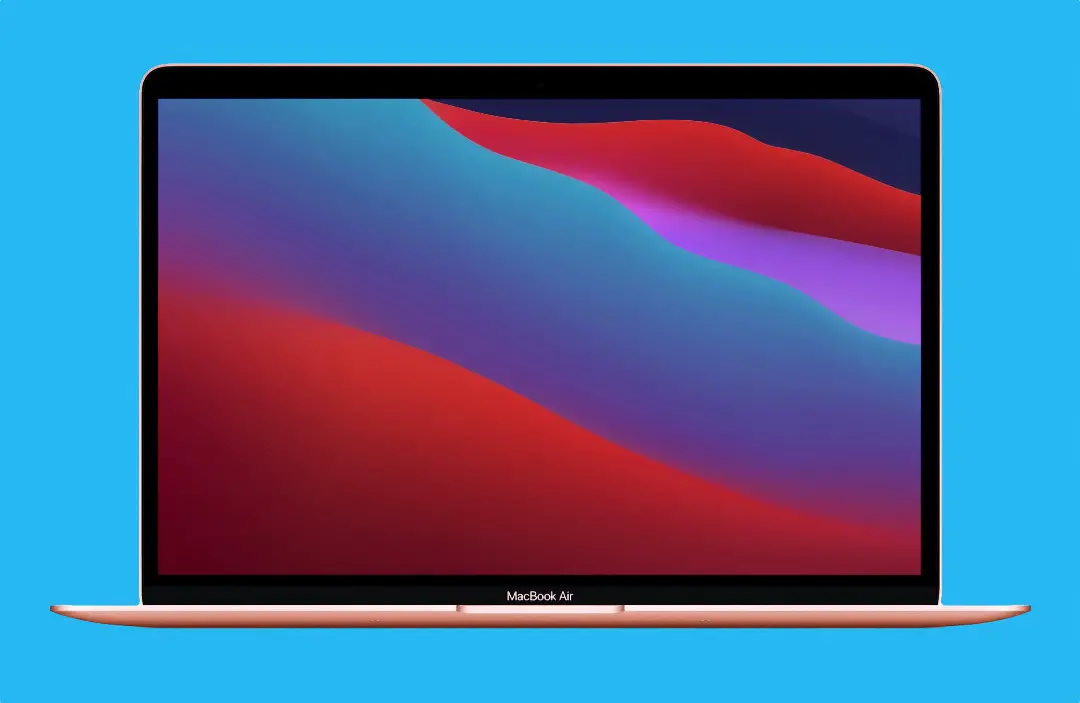 ON SALEBestseller No. 1
USB C Docking Station Dual Monitor for M1 MacBook Pro/Air, Dell, Lenovo, HP, Surface, 13 in 1 Triple Display Laptop Docking station with 65W Power Adapter, Dual HDMI, VGA, 4 USB 3.0, Gigabit Ethernet
Triple Display Laptop Dock With 13 Ports: This driver-based docking station is equipped with 2HDMI(HDMI1 is plug and play, HDMI2 is driver-based), VGA, 2x USB-C, 4x USB-A 3.0 (5 Gbps), Gigabit Ethernet Port, SD/TF card slot, 3.5mm Audio In & Out and 60W power supply. Compared to other docking stations, this laptop docking station is more powerful and stable with the ports of connectivity with enough ports and unique appearance, which meet your daily needs of users.
Wide Compatibility for M1 MacBook USB-C Dock: MacBook docking station compatible with the latest Windows laptop or MacOS laptop which equip with Type C port. If your laptop only supports data transfer and power supply, you can only extend the dual monitor via HDMI 2 and VGA. Such as MacBook Pro 2016-2021; MacBook Air 2018-2021; Dell Latitude 13 7000, Dell XPS 15, HP Spectre, Lenovo Yoga 910, Microsoft Surface Book 2, Surface Pro 7, etc.
Extend Dual 4K Monitor Laptop Dock: Tobenone USB C Triple monitor laptop docking station allow you access three displays via HDMI and VGA ports(2 HDMI resolution up to [email protected]), enjoying more crystal-clear streaming. On extend mode, the USB C docking station supports up to dual display or triple display for Windows or for macOS via the 2 HDMI ports and the VGA port. Note: This dock can work with M1 MacBook.
Bestseller No. 2
TOTU Upgraded Docking Station Triple Monitor for MacBook Air M1 & Windows/Thunderbolt 3 Dock, 13 in 1 USB C Hub with 4K Dual HDMI,100W PD,VGA,Gigabit Ethernet, USB 3.0, Audio, SD TF Card Reader
Upgraded Docking Station: To use this product, the USB-C port of the host device must support Display Port Alt Mode and Power Delivery. Including RJ45, Type C PD charging, USB 3.0/2.0, 2 HDMI, VGA, Mic/Audio and Micro SD & TF card readers.(🚨To ensure all the function ports work, please install the driver before using it.Download from:https://www.siliconmotion.com/chs/download/3Xf/a/index.html )Since the driver version will be updated, please refer to the manual for the specific download link.
Triple Display for Mac OS and Windows: This upgraded USB C dongle supports MST, which can mirror or extend three-screen on both Mac OS and Windows (2 HDMI + 1 VGA). 1 host and 3 monitors can let you manage multiple applications with more convenience. HDMI ports support resolution up to [email protected], which will bring you a cinema-like visual feast.
100W Safe Power Delivery: USB-C hub supports up to 100W power transfer charging that allows your laptop to be charged while using the hub. Equipped with the newest generation super-smart chip, the power of the hub is designed to prevent overload, over-voltage, over-current, short circuit, and overcharge. With voltage regulation and temperature protection, USB-C hub is your primary choice of USB-C Adapter under safety.
ON SALEBestseller No. 3
MacBook Pro Docking Station, 14-in-2 Dual USB C Docking Station Dual Monitor for MacBook Pro (Not M1) MacBook Air Dock with Dual 4K HDMI 60Hz, 10Gbps USB, RJ45, Audio, SD/TF Slots, 87W PD
【All The Ports You Need】: Docking station for MacBook Pro/Air with dual [email protected] HDMI ports, 10Gbps USB C data port, 10Gbps USB A data port, 3 USB 3.0, 2 USB 2.0, 3.5mm Audio, RJ45, SD/TF card slots, 100W PD. And, an *ON-OFF* switch can with use and opening, you don't have to continue plugging and unplugging cables, it is as considerate as your desktop host.
【Dual 4K Extend Monitor】: With 2 HDMI ports of this Mac docking station, your MacBook Pro or MacBook Air can extend 2 [email protected] monitors at the same time. Mirroring or Extending, no driver, no set, just plug and play, which means you will have 3 UHD screens with different content at a time! Users on DP 1.4 can connect up to dual 4K 60Hz displays, whilst users on DP 1.2 Macs can connect up to 1 4K 60Hz and 1 4K 30Hz displays.
【Superspeed Data Transfer-10Gbps】: 10Gbps USB-A and 10Gbps USB-C data port on the front of the MacBook Pro dock. Their super-speed data transfer is ideal for drive and HDD devices, the time required to transfer a 20G file just needs 16.4s! And together with the SD/TF card slots, you can transfer data between devices at some fast speeds! In addition, the MacBook Pro Adapter also offers 2 USB 2.0 ports to connect your wireless keyboard and mouse without any lag.
Last update on 2022-06-25 / Affiliate links / Images from Amazon Product Advertising API
MacBook Air M1 Military Discount
Apple Military Discount is a great way to save money on all your Apple products. Apple honors those who are currently serving and those who have in the past. Don't miss out on such a great program!
The Apple Military Discount is a program offered by Apple for Active Duty Service members, veterans, and family members who reside in the same household. The Veterans and military purchase program give a 10% discount on apple products and accessories. The Veterans and Military Purchase Program ("Program") is a benefit provided by Apple Inc. to veterans and military service members alike.
Check Out The Other Deals!
Our Other Pages
Let us know if you take advantage of any of these deals!!  Drop your feedback and comments below!