AirPods Max (2020) | Guide
Apple surprised us with the AirPods Max in December of 2020, their long-rumored high-end over-the-ear headphones that have been in development for at least two years.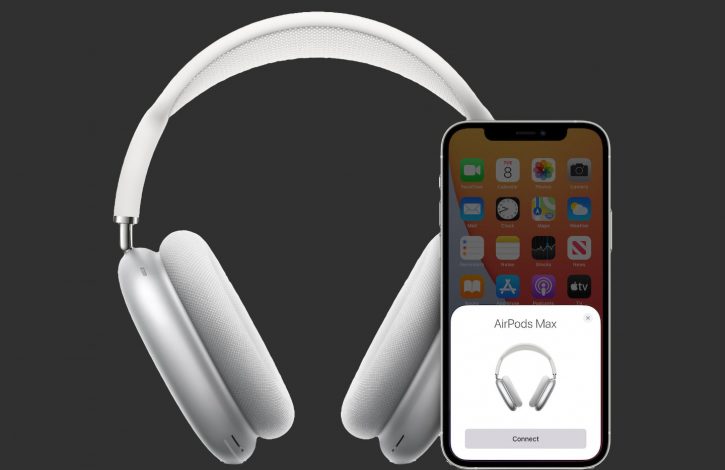 New Powerful Apple AirPods Max
Apple surprised us with the AirPods Max in December of 2020, their long-rumored high-end over-the-ear headphones that have been in development for at least two years. The design of these high-quality wireless headphones is ergonomic and comfortable with a U-shaped inverted knit mesh headband that is breathable.
AirPods Max also comes equipped with an acoustically engineered memory foam to create a seal for immersive sound. The AirPods Max has an Apple Watch-inspired Digital Crown that provides precise volume controls and gestures for playing/pausing audio, skipping tracks, answering calls, or turning off the device.
The AirPods Max provides excellent sound quality with a 40mm Apple-designed, dynamic driver. The bass can be heard; clearly, the mids are accurate and crisp, and high frequencies have an extended range that sounds clear at max volume.
With dual neodymium ring magnets for its motor, the distortion is less than 1% across all audible ranges – even when listening to music on maximum volume!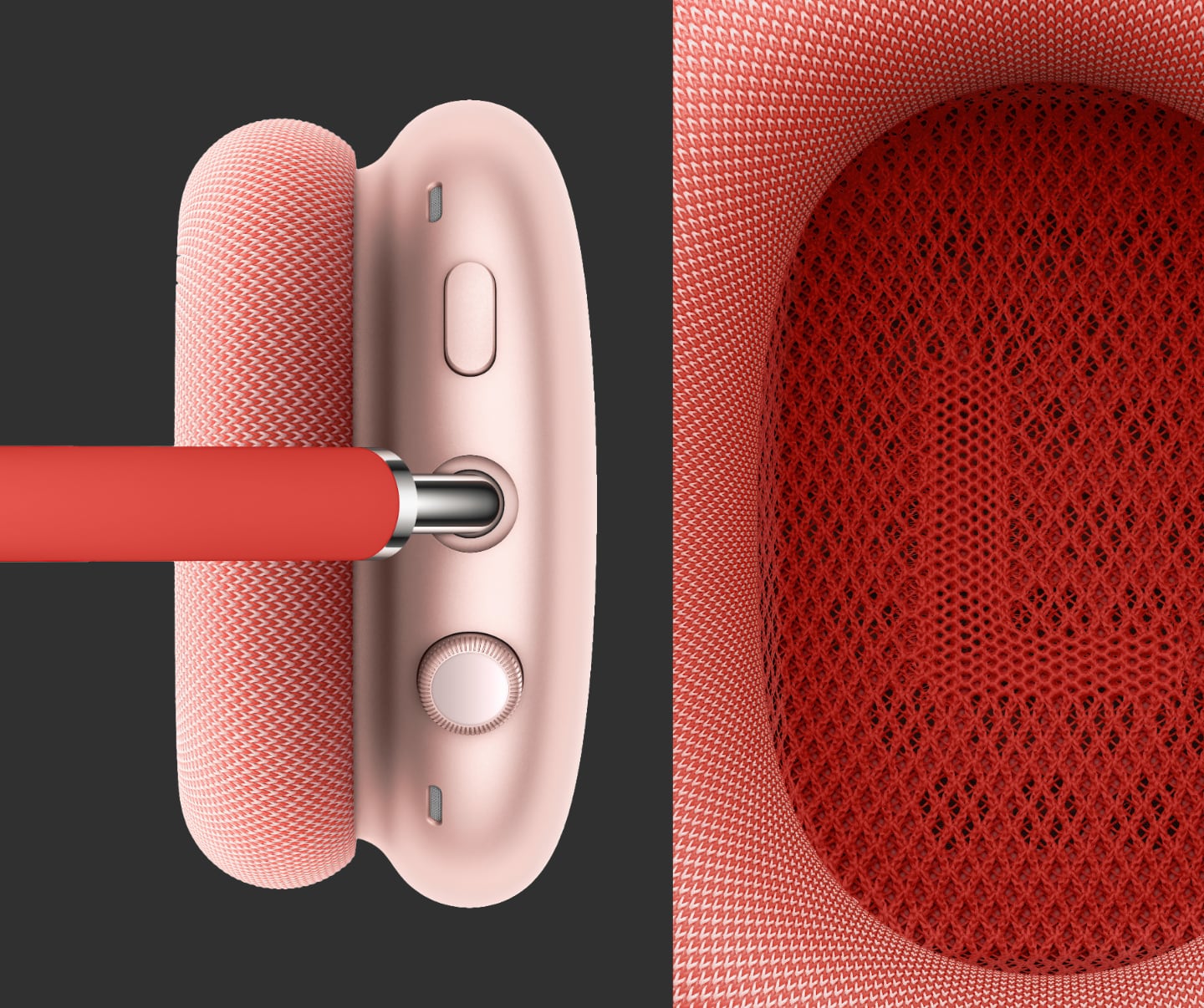 AirPods Max Design
Apple's AirPods Max is not your average headphones. The sophisticated design is made to be lightweight and comfortable while still maintaining excellent sound quality. This is possible thanks to the oval-shaped brushed aluminum ear cups attached to a retro-style U-shape curved "canopy" with telescoping arms for size adjustment purposes. The mesh ear cups were designed explicitly with acoustic fabric that better conducts sound.
The headband curves upward and is made from a breathable knit mesh material that Apple states help distribute the headphones' weight across your head to make them more comfortable. The soft-touch fabric cover helps protects the frame.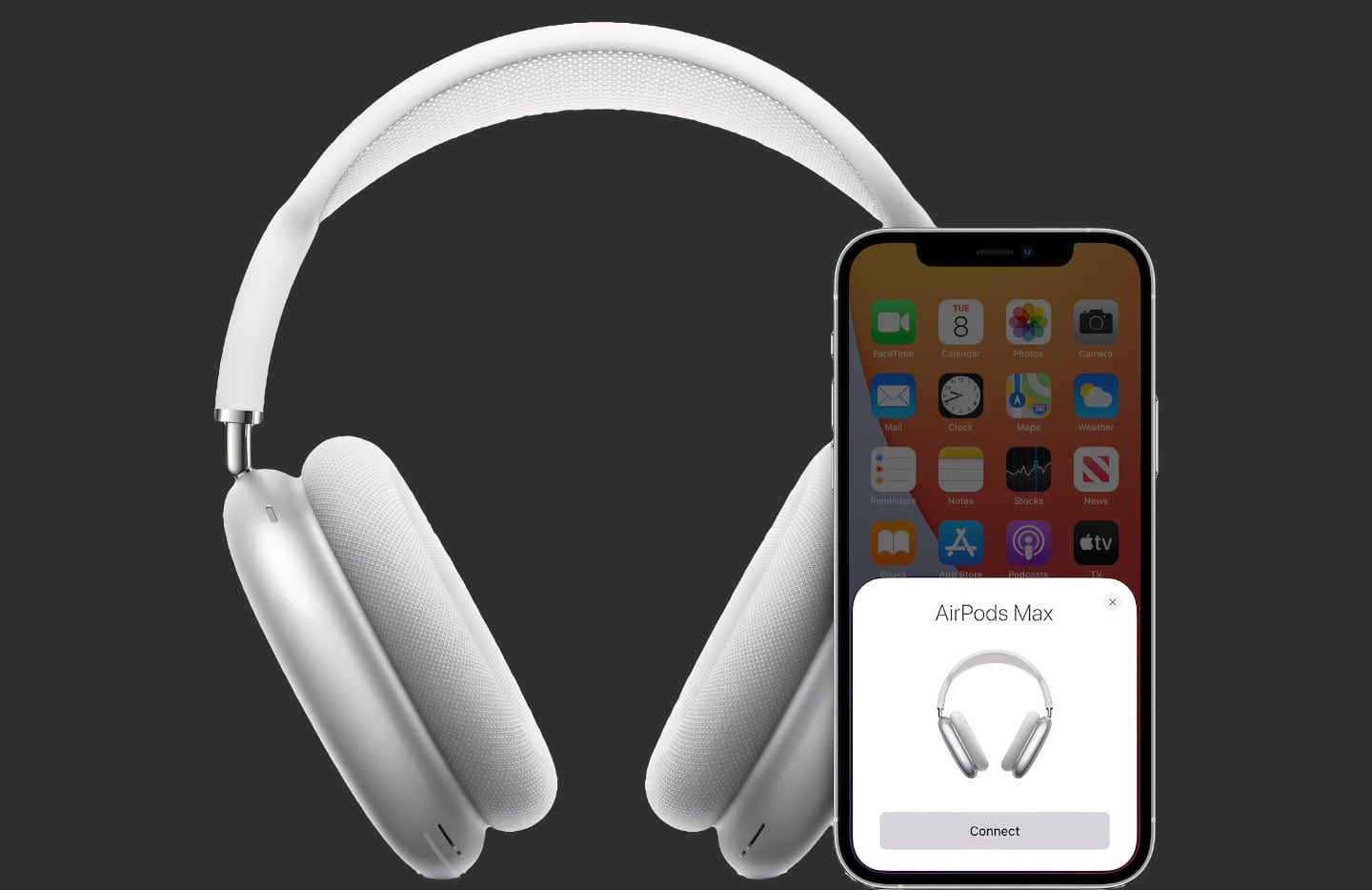 The AirPods Max headband is a first-of-its-kind, as it can be removed with the help of an ejector tool. This gives us hope for interchangeable bands in future releases and also makes repairing them easier. Apple does not currently sell any accessories to go along with their product yet, so maybe this will change soon?
The AirPods Max is able to do many things with just a simple tap of your finger. With the Digital Crown, you can change volume, skip songs or calls and activate Siri by using either rotating gestures or pressing motions.
Smart Case
Apple ships AirPods Max with a soft Smart Case that wraps around the ear cups, but the case does not protect the headband. The smart case is designed to put your headphones in an ultra low power state, utilizing magnets.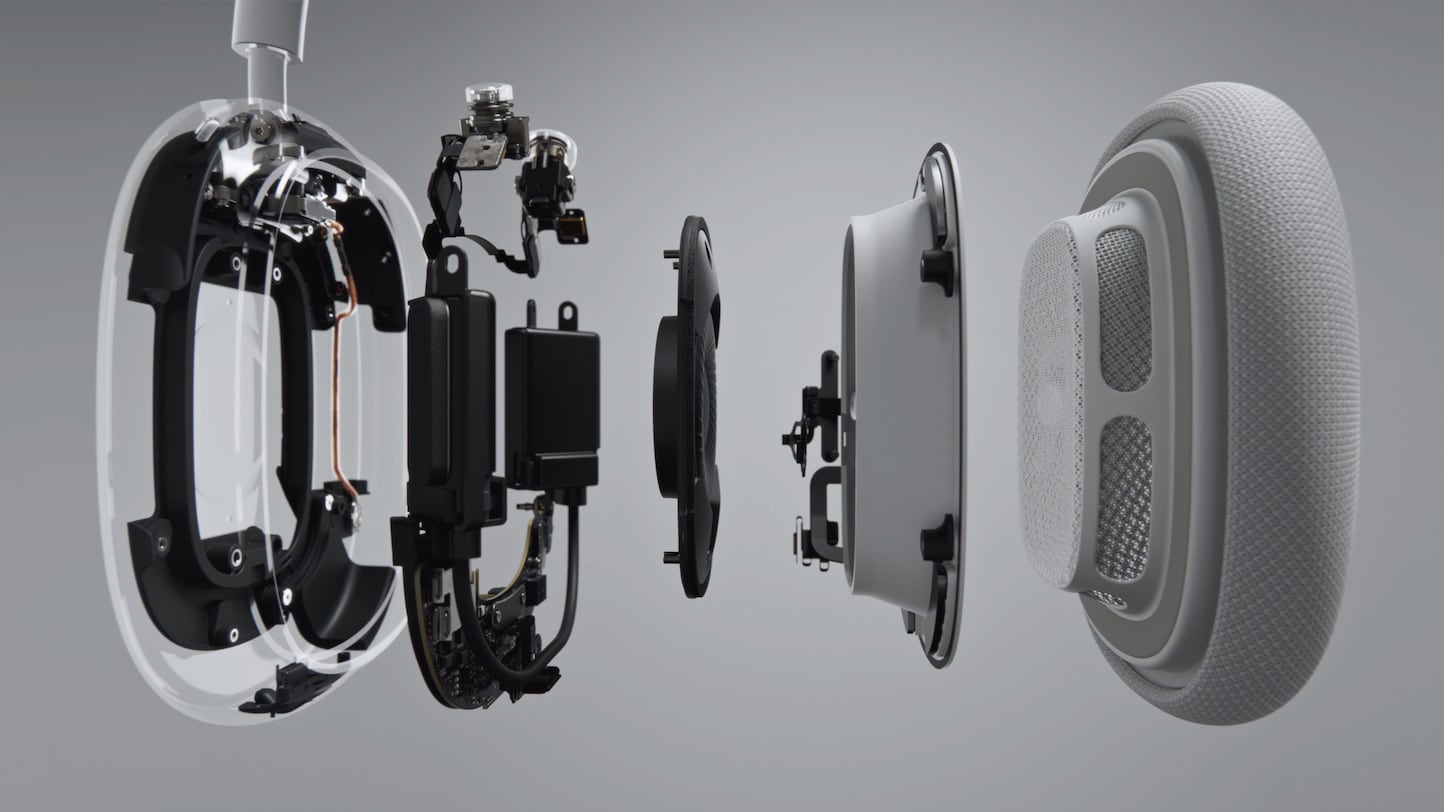 Sound Quality
The AirPods Max combines high-fidelity audio with Active Noise Cancellation for what Apple describes as the "perfect listening experience." 
Some have described the AirPods Max as the perfect accessory for those who value sound quality. The new driver is equipped with a dual-neodymium ring magnet motor modeled after drivers in high-end speakers. It helps to minimize total harmonic distortion.
Starting in June 2021, Apple adds a new Spatial Audio with Dolby Atmos feature to their music service, which will be available for AirPods Max owners and allows them to listen to specially designed spatial audio tracks.
Spatial audio applies directional filters and subtly adjusts the frequencies that each ear receives to place sounds virtually anywhere in space for an immersive listening experience. The technology uses sensors on both the AirPods Max along with their iPhone or iPad, which tracks head movement as well as position of device—comparing motion data then remapping sound field so it stays anchored no matter how much you move your head.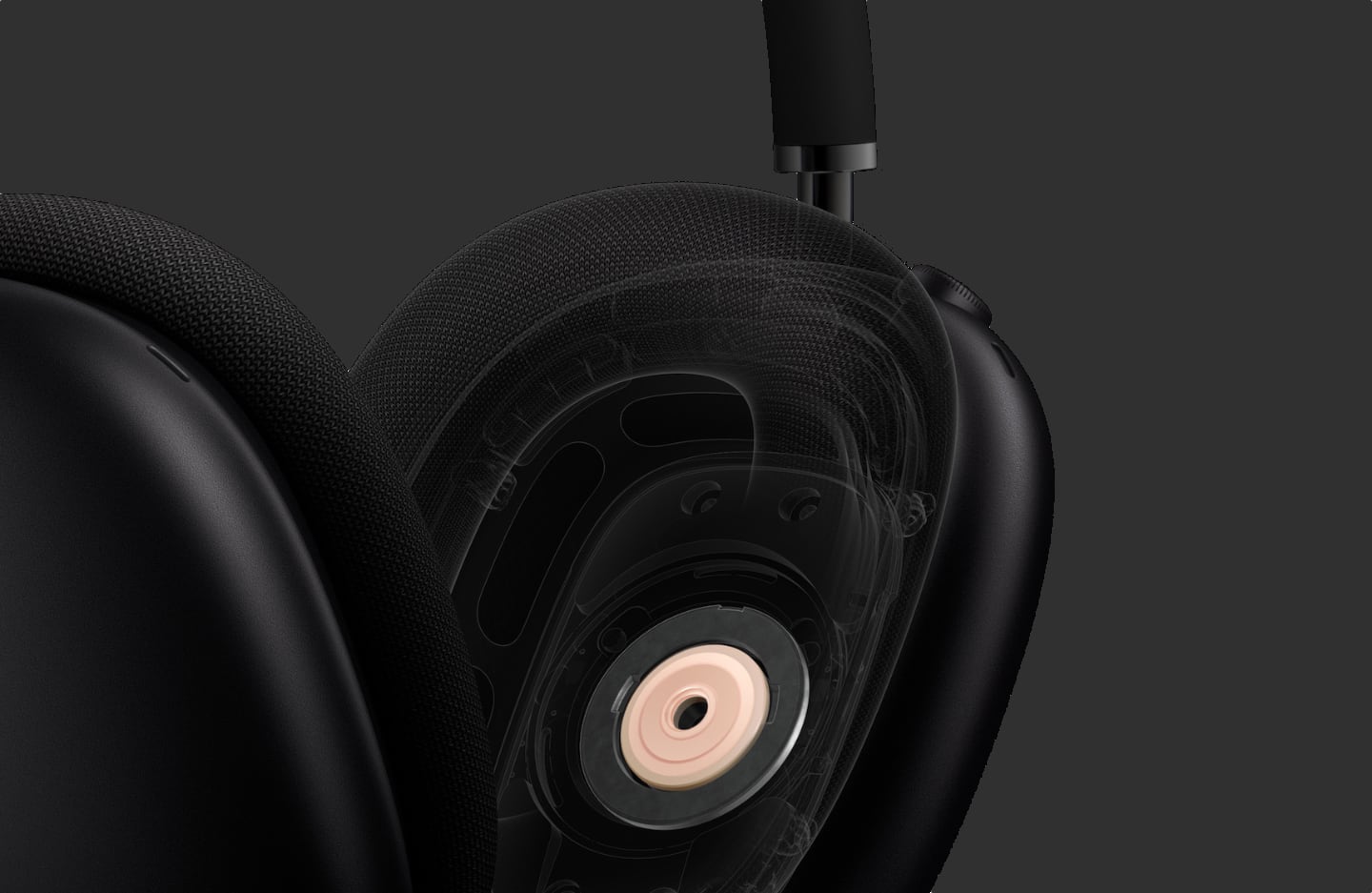 The AirPods Max features two Apple H1 chips with 10 cores for high-quality sound on every song. Furthermore, the chipset has been engineered to provide a more natural and immersive listening experience through many advanced audio technologies that work together seamlessly in perfect harmony.
Noisy environments can be a pain to work in. Fortunately, Active Noise Cancellation has been getting better each year! This technology uses microphones both inside and outside of earcups that detect environmental noise while also monitoring audio reaching your ears for any external sound interference. Apple's software adapts active noise cancellation to changes in the environment as it happens – which means you'll always have optimal performance no matter where you need it most.
Active Noise Cancelation (ANC) works by using three outward-facing microphones per earcup and one microphone built into each earcup. The ANC monitors these mics constantly, knowing how loud things are around us, and then the clever algorithm adjusts.
Users can switch to Transparency mode to concurrently listen to music while hearing the environment encompassing them. Switching between Transparency mode and Active Noise Cancellation can be done with a single button.
AirPods Max uses spatial audio with dynamic head tracking to deliver an immersive, theater-like experience. Excellent battery life with up to 20 hours of audio, movie playback, or talk time with Active Noise Cancellation and spatial audio enabled.
AirPods Max Battery Life
The AirPods Max battery life lasts for up to 20 hours of listening to music, watching movies, or talking on the phone with Active Noise Cancellation and spatial audio enabled. The AirPods Max takes near two hours to get a full charge. A quick 5-minute charge with a lightning cable will get you 1.5 hours of listening time.
New firmware updates for the AirPods Max have been introduced to fix issues with battery drain while in a case. The latest update is version 3C39 and was released on March 12th of this year after feedback from those experiencing problems when using their headphones inside the smart case.
ON SALE
Apple AirPods Max - Space Gray
 Apple-designed dynamic driver provides high-fidelity audio
Active Noise Cancellation blocks outside noise, so you can immerse yourself in music
Transparency mode for hearing and interacting with the world around you
Last update on 2022-06-26 / Affiliate links / Images from Amazon Product Advertising API
Video Reviews and Unboxings
Audio Technology
Apple-designed dynamic driver
Active Noise Cancellation
Transparency mode
Adaptive EQ
Spatial audio with dynamic head tracking
Sensors
Optical sensor (each ear cup)
Position sensor (each ear cup)
Case-detect sensor (each ear cup)
Accelerometer (each ear cup)
Gyroscope (left ear cup)
Microphones
Nine microphones total:
Eight microphones for Active Noise Cancellation
Three microphones for voice pickup (two shared with Active Noise Cancellation and one additional microphone)
Chip
Apple H1 headphone chip (each ear cup)
Controls
Digital Crown
Turn for volume control
Press once to play, pause, or answer a phone call
Press twice to skip forward
Press three times to skip back
Press and hold for Siri
Noise control button
Press to switch between Active Noise Cancellation and Transparency mode
Size and Weight
Battery
AirPods Max
Up to 20 hours of listening time on a single charge with Active Noise Cancellation or Transparency mode enabled
Up to 20 hours of movie playback on a single charge with spatial audio o
Up to 20 hours of talk time on a single charge
5 minutes of charge time provides around 1.5 hours of listening time
In the Box
AirPods Max
Smart Case
Lightning to USB-C Cable
Documentation