Mac mini M1 (2020) | Guide
The Mac mini M1 just got better than ever and could be the best Mac Mini ever released. The Mac mini M1 is a versatile powerhouse capable of any task at hand with the new M1 chip. The Apple M1 chip takes Apple's most talented, do-it-all desktop into another dimension.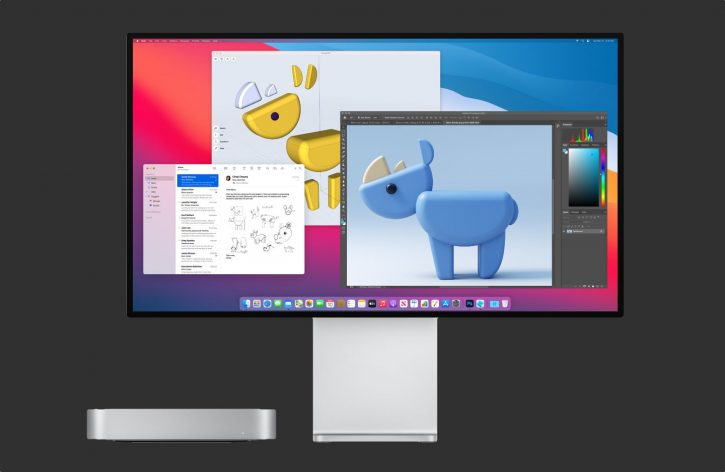 New Powerful Apple Mac Mini M1
Apple refreshed the entry-level M1 MacBook Pro in November 2020, adding Apple's newly designed M1 Arm-based chip to replace the previous outdated and underperforming Intel chips. The new M1 chipset brings meaningful speed improvements across all aspects of operation with up to 2.8x faster CPU performance, 5x faster graphics capabilities, and 15x faster machine learning functionality than before!
Get ready for a whole new level of power. The first Mac exclusive processor ever created; it's an innovative way forward that will usher in a fresh era for both creative professionals and everyday users alike.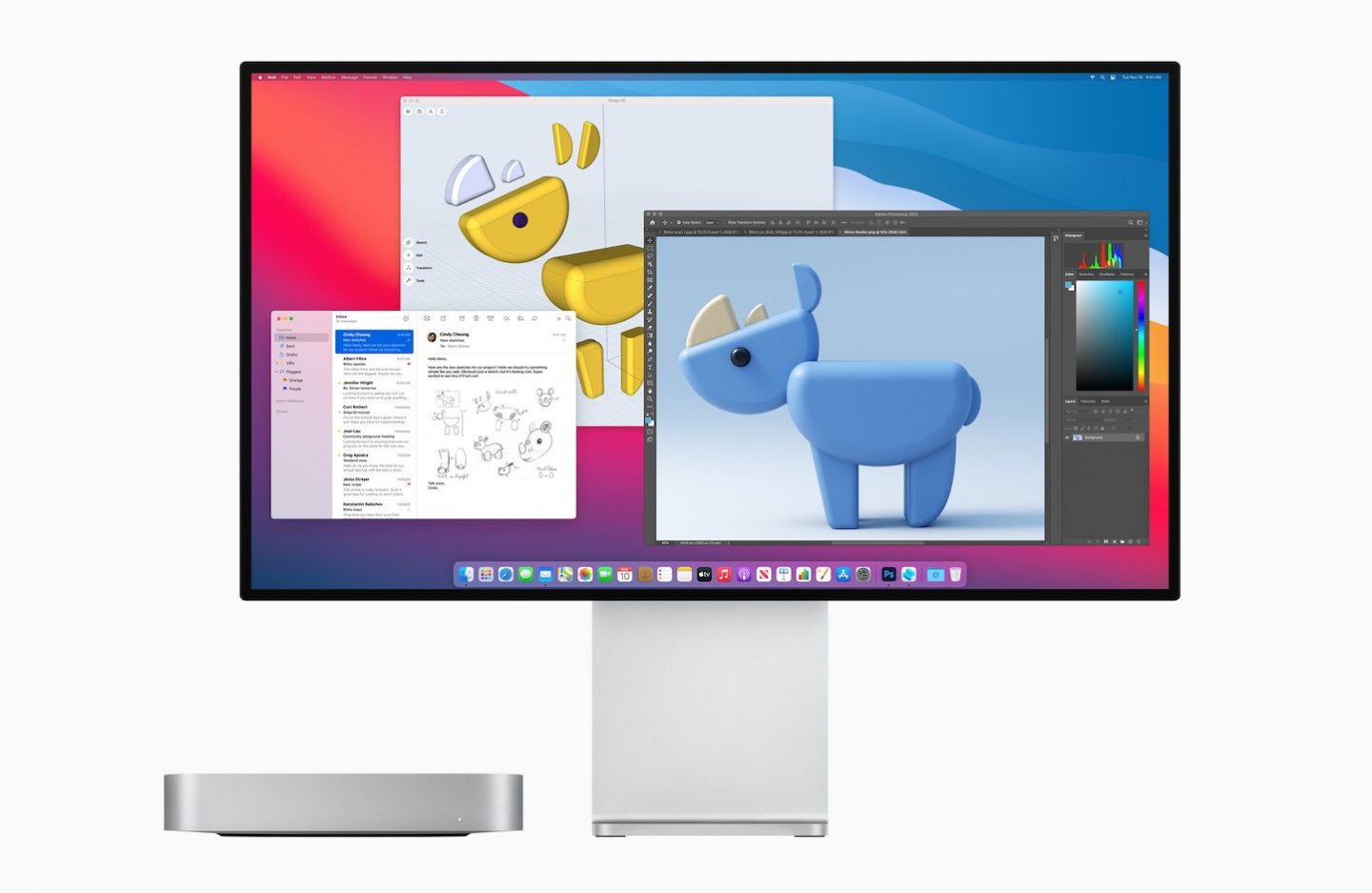 Mac Mini M1 Design
Apple's newest Mac mini remains the sleek square shape with rounded corners. The aluminum chassis, which has been milled out of a single block and finished in silvery bare aluminum, remains unchanged from the previous model despite Apple moving to its proprietary silicon processors rather than Intel cores inside the machine. This rectangular box packs an impressive punch considering it houses both powerful hardware and plenty of ports on its backside that are perfect for connecting hard drives or other peripherals. The Mac mini's design hasn't changed much since it was introduced in 2010, and the only changes made to its external appearance were for two minor reasons.
Removing the optical drive slot (2011) 

Change to a darker Space Gray anodized finish (2018)
Mac Mini M1 Performance
A lot of people have been wondering how the new mac desktop stacks up against its competition. I've reviewed desktops for a long time now, and in my experience, it can be not easy to gauge performance improvements outside of benchmarks. For example, this year, we saw an overall 10-15% improvement across all Macs from last year, which isn't apparent until you put them side by side or run some tests on your own computer.
The mac desktop has a crisp snap to everything, from loading apps and windows with ease. It's even more noticeable when you scroll through webpages in Safari—with faster load times and smoother scrolling! During 
The key to all these performance increases is using software optimized for the SoC. The Apple M1 desktop has been designed with its unique hardware, and it needs apps that are tailored just for it, so before you buy an M1 desktop, make sure your primary applications work on both Intel or Apple silicon. If they do, then this state-of-the-art device might be perfect for you!
The M1 system on a chip helps to bring all of the most critical components (such as CPU, RAM, and controllers) into one chip. The advantages are numerous – it's faster, more power-efficient than its predecessors – but there is also some compromise: for example, you can't upgrade your memory!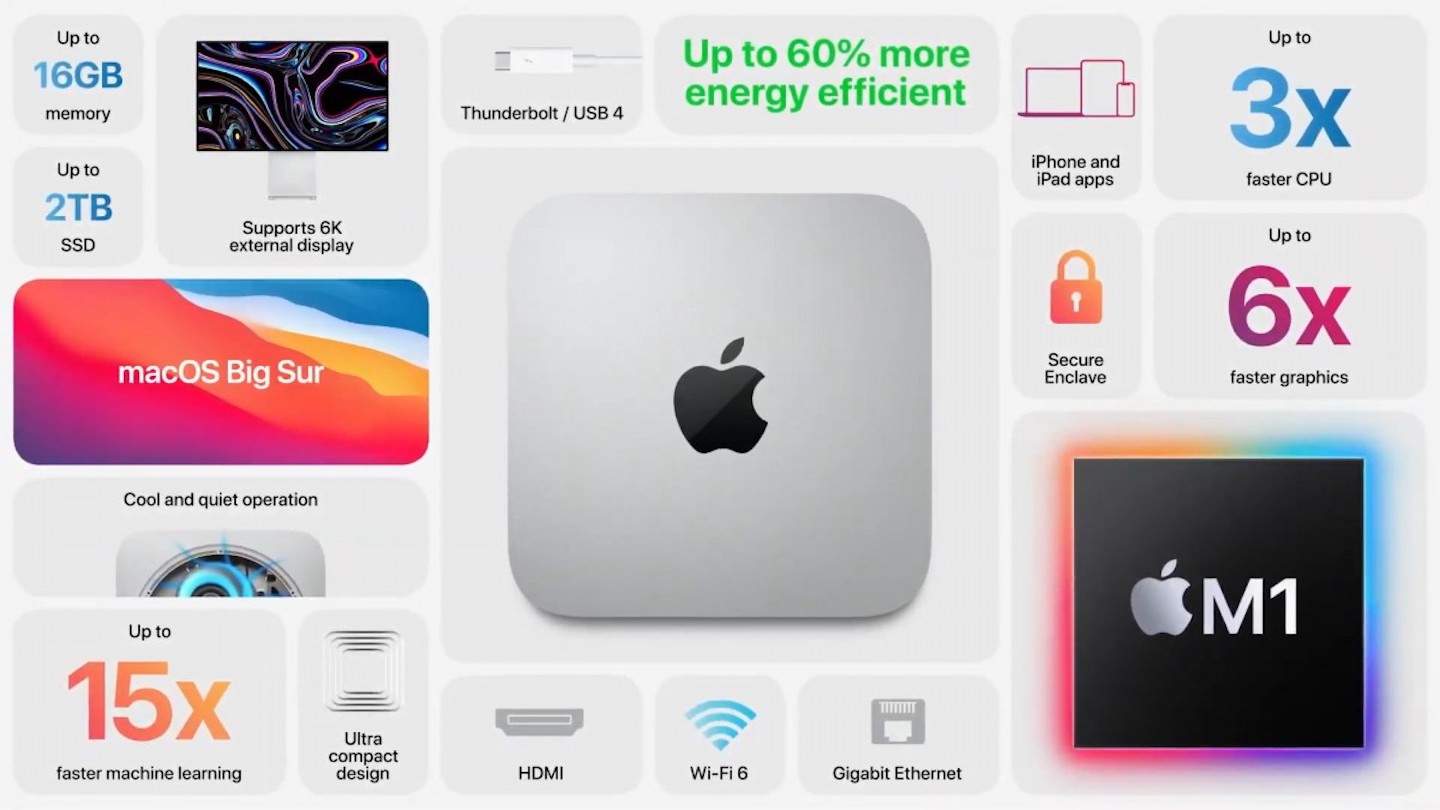 Mac Mini 8-core CPU 
The 8-core CPU is the highest-performing CPU Apple has ever built. It connects four performance cores and four efficiency cores to deliver the world's best CPU performance per watt for single-threaded and multithreaded tasks. This results in a quantum leap in performance — all of these performance gains also use less power. The performance cores are the world's fastest CPU core for low-power silicon — and M1 has four of them, uniting their efforts for a massive boost in performance.
The four efficiency cores produce an outstanding performance for daily tasks using just 10% of the power. The efficiency cores are ideal for running lightweight tasks, allowing the performance cores to undertake the most demanding workloads. The M1 chip is leading the pack for the energy-efficient PC, but at the same time, it's breaking records in performance. 
Mac Mini 8-core GPU
The 8-core GPU is 6x more quickly than the previous version, allowing tor projects such as complex 3D rendering. The Mac mini is five times faster in a Windows comparison. The 8-core GPU can execute 25,000 threads simultaneously and combine improved graphics performance with lower power consumption.
The GPU in the M1 chip brings the world's fastest integrated graphics in a personal computer comparable to the Mac desktop. It highlights eight powerful GPU cores tasked exclusively with making graphics smoother, quicker and 8K video plays seamlessly.
Unbelievable graphics performance in Final Cut Pro renders a timeline up to 6x faster. Affinity Photo is capable of editing photos up to 4x faster. Games are blazing fast with supersmooth frame rates and higher fidelity. 
Mac Mini Unified Memory Architecture
One of the many features of the Mac Mini M1 is the unified memory architecture that unifies high-bandwidth, low-latency memory into a single pool, minimizing the copying between multiple memory pools for dramatic performance improvement beyond the complete system. The Mac Mini M1 supports up to 16GB of unified memory, with the base model shipping with 8GB.
Mac Mini Neural Engine
A new, more advanced Neural Engine in the Mac Mini M1 is 15x faster for machine learning tasks. Apple states the 8‑core GPU, machine learning accelerators, and the Neural Engine, and the M1 chip is designed to excel at ML tasks. The Neural Engine has a 16-core design that can perform 11 trillion operations per second and machine learning accelerators, which allow Ml-bases tasks significantly faster.
Mac Mini Ports
Apple has equipped the Mac mini M1 with multiple ports, enabling several peripherals to be used at once. The M1 Mac mini M1 has a total of two Thunderbolt 3/USB-C 4 ports at the rear of the device, which can support USB-C accessories and displays, along with an HDMI 2.0 port, a Gigabit Ethernet port, two USB-A ports and, a 3.5mm headphone jack. The M1 Mac Mini comes with Wi-Fi 6 and Bluetooth 5.0. The M1 Mac mini M1 is the first to introduce Wi-Fi 6, though, unlike the Intel model, Apple just announced the possibility of getting it with a 10Gbps Ethernet port.
The M1 Mac Miini is restricted to one display up to 6K resolution, but utilizing DisplayPort adapters, the Mac Mini M1 can run up to five displays. This is only achievable when using a mix of 4K and 1080p displays as the Thunderbolt ports can't run five 4K displays.
Mac Mini Speakers
The speakers are the second major compromise Apple made to bring down the price. There's no way around it: the Mac mini's built-in speakers are tiny, shallow, and downright embarrassing for a 2020 computer. Even for casual YouTube playback, I found myself casting my output or sound from an external speaker instead of using them as their own system's default audio player. If you often play music on your computer's speakers, then we recommend investing in some quality external ones that can handle both listening and playing at once with ease!
Mac Mini software
The new Mac mini has a different kind of processor that is more in tune with your iPhone than its Intel counterpart. For most of the experience, you'll feel right at home if you are a Mac user. Still, there are two fundamental changes: the Mac mini can now run iOS apps, and any traditional, non-optimized software will have to go through an intermediary layer before loading.
Called Rosetta 2, the transition layer is clever enough to automatically translate apps engineered for Intel chips for your M1-powered machine. You won't even notice it's there except on that first time you try and install an app designed specifically for this chip type but luckily, many apps like Google Chrome and Adobe Photoshop appear to be already on board!
Apple allows you to pick between M1 and Intel versions of apps so that users can decide for themselves which one works best. This is especially helpful if a recent update was made only compatible with the new M1 chip.
Mobile apps on a desktop computer like the Mac mini offer an interesting way of experiencing iOS without carrying your phone around. Apple has made some adjustments for touch gestures with mouse and keyboard, but unfortunately, most developers have not yet offered updated versions of their mobile app offerings in macOS.
Mac Mini w/ M1 vs Mac Mini w/ Intel
The M1 chip replaces the Intel chips in the Macbook Air, Macbook Pro, and Mac Mini. This translates to one of the best Mac minis to ever be released.
Below are some stats from Apple regarding the M1 chip & the Mac Mini
Compile code in Xcode up to 3x faster.

Play a graphics-intensive game with up to 4x higher frame rates.

Render a complex timeline in Final Cut Pro up to 6x more quickly.

Take music production to new levels by using up to 3x as many real-time plug-ins in Logic Pro.

Magically increase the resolution of a photo in Pixelmator Pro up to 15x faster.

Utilize ML frameworks like TensorFlow or Create ML, now accelerated by the M1 chip.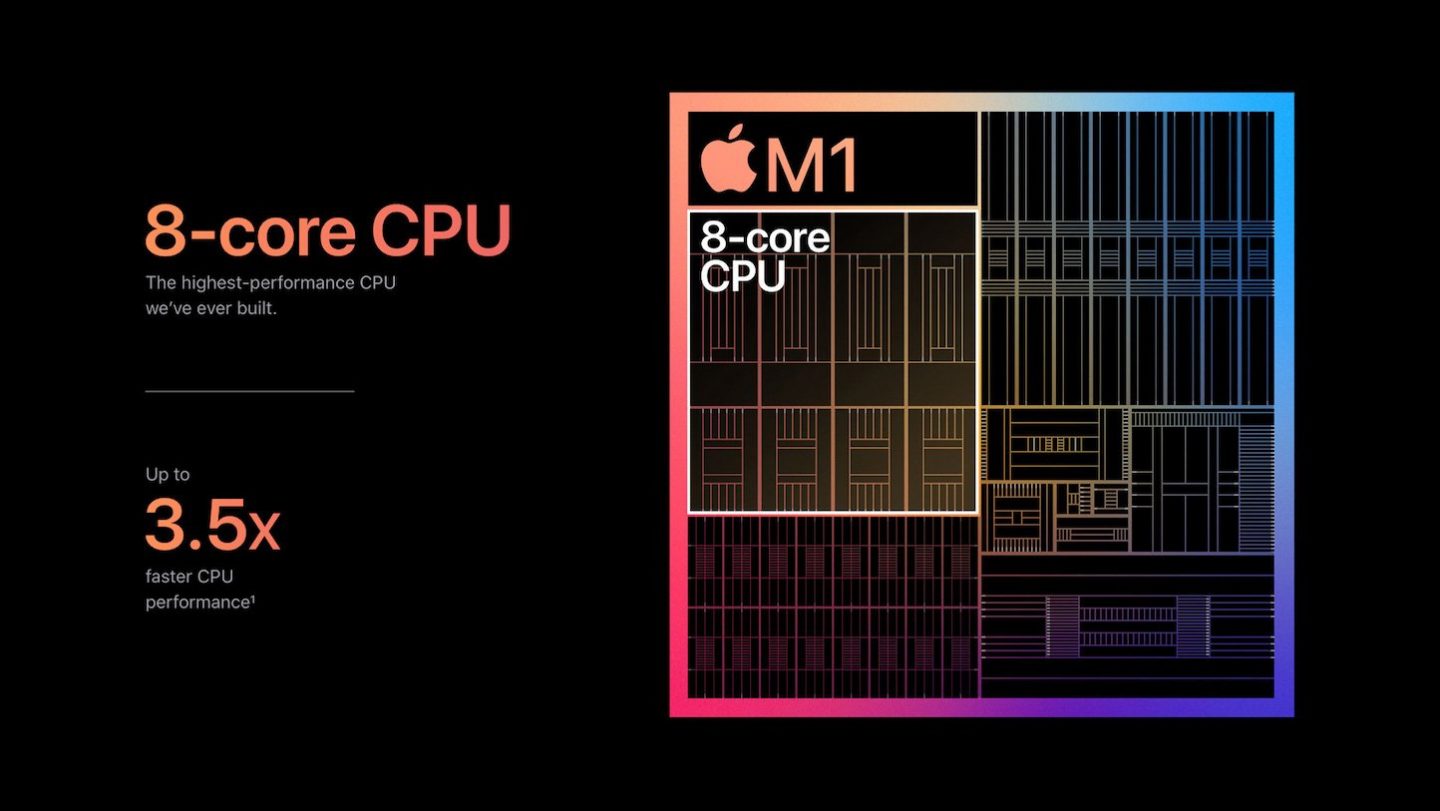 Available Models
There are currently 2 standard configuration 13-inch MacBook Pro M1 models available from Apple:
$699

– Apple M1 chip, 8GB RAM, 256GB SSD.

$899

 – Apple M1 chip, 8GB RAM, 512GB SSD.
Build to Order Options
Mac Mini  with 256GB storage:
16GB RAM: 

+$200

512GB SSD:  

+$200

1TB SSD:  

+$400

2TB SSD:  

+$800
Mac mini with 512GB storage:
16GB RAM:  

+$200

1TB SSD:  

+$200

2TB SSD: 

+$600
Best Mac Mini M1 Deals
If you have been thinking about buying an Apple computer but don't look to spend more than $1000, then the Mac mini would be a perfect choice. The latest Mac mini features Apple's new M1 chip that delivers up to 3x faster CPU performance and up to 6x faster graphic, So you can work, create, and play on Mac mini faster than ever before. 
With a regular price starting at $699 for the Mac mini with 8GB RAM and 256GB, this remains one of the most affordable ways to land your hands on the fastest Mac mini ever even without getting the best Mac mini deal out there.
Mac mini M1 8GB RAM, 256GB SDD
Mac mini m1 8GB RAM, 512GB SDD
ON SALE
Last update on 2022-06-25 / Affiliate links / Images from Amazon Product Advertising API
Video Reviews and Unboxings
Finish
Price
Size and weight
Height: 

1.4 inches (3.6 cm)

Width:

7.7 inches (19.7 cm)

Depth:

7.7 inches (19.7 cm)

Weight: 2.6 pounds (1.2 kg)
Chip
Apple M1

8-core

 

CPU

 

(4 performance cores and 4 efficiency cores)
8-core GPU
16-core Neural Engine
Electrical and Operating Requirements
Line voltage:

 

100–240V AC

Frequency:

 

50Hz to 60Hz, single phase

Maximum continuous power:

 

150W

Operating temperature:

 

50° to 95° F (10° to 35° C)

Storage temperature:

 

–40° to 116° F (–40° to 47° C)

Relative humidity:

 

5% to 90% noncondensing

Operating altitude:

 

tested up to 16,400 feet (5000 meters)

Typical acoustical performance:

 

Sound pressure level (operator position): 5 dBA at idle
Memory
8GB unified memory

Configurable up to 16GB unified memory
Storage
256GB SSD

Configurable up to 512GB, 1TB, or 2TB

512GB SSD

Configurable up to 1TB or 2TB
Connections and expansion
Two Thunderbolt / USB 4 ports with support for:
DisplayPort
Thunderbolt 3 (up to 40Gb/s)
USB 4 (up to 40Gb/s)
USB 3.1 Gen 2 (up to 10Gb/s)
Thunderbolt 2, HDMI, DVI, and VGA supported using adapters
Two USB-A ports (up to 5Gb/s)
HDMI 2.0 port
Gigabit Ethernet port (configurable to 10Gb Ethernet)
3.5 mm headphone jack
Wireless
WiFi

802.11ax Wi-Fi 6 networking
IEEE 802.11a/b/g/n/ac compatible

Bluetooth

Bluetooth 5.0 connectivity
Video support
Simultaneously supports up to two displays:
One display with up to 6K resolution at 60Hz connected via Thunderbolt and one display with up to 4K resolution at 60Hz connected via HDMI 2.0
Thunderbolt 3 digital video output supports
Native DisplayPort output over USB‑C
Thunderbolt 2, DVI, and VGA output supported using adapters (sold separately)
HDMI 2.0 display video output
Support for one display with up to 4K resolution at 60Hz
DVI output using HDMI to DVI Adapter (sold separately)
Audio
Built-in speaker
3.5 mm headphone jack
HDMI 2.0 port supports multichannel audio output
Operating System
Accessibility
VoiceOver
Voice Control
Zoom
Reduce Motion
Increased Contrast
Siri and Dictation
Closed Captions
Switch Control
Text to Speech
Built-in apps
Photos
iMovie
GarageBand
Pages
Keynote
Numbers
Siri
Safari
Mail
FaceTime
Messages
Maps
News
Stocks
Home
Voice Memos
Notes
Calendar
Contacts
Reminders
Photo Booth
Preview
Music
Podcasts
TV
Books
App Store
Time Machine
QuickTime Player
Find My
In the box