MacBook Air 13-inch (2020) | Guide
The MacBook Air 13-inch has been a staple in Apple's laptop lineup for years. The M1 chip is the latest processor from Apple, and it's designed to be powerful enough to manage any task you throw at it. This guide will take you through everything you need to know about this machine before deciding on whether or not it is suitable for your needs.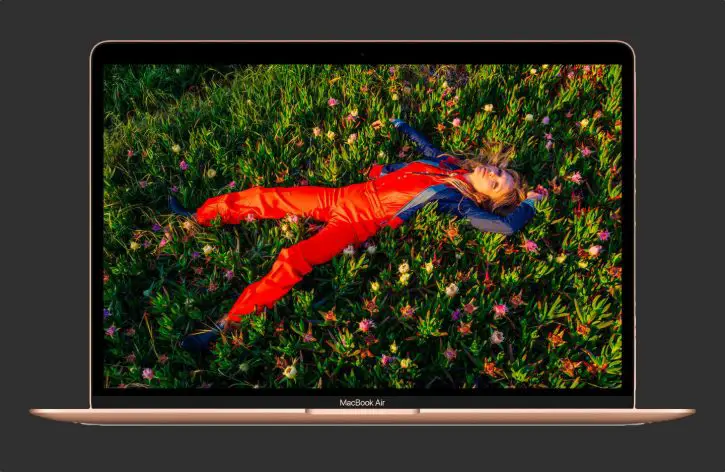 New Powerful Apple MacBook Air 13-inch M1
Apple refreshed the entry-level MacBook Air- 13inch in November 2020, adding Apple's newly designed M1 Arm-based chip to replace the previous outdated and underperforming Intel chips. The new M1 chipset brings meaningful speed improvements across all aspects of operation with up to 3.5x faster CPU performance, 5x faster graphics capabilities, and 9x faster machine learning functionality than before. Before now, MacBook Air's have employed many chips for CPU, security, and I/O, but Apple's work to integrate these chips has been the factory why the M1 chip is so much faster and efficient than the Intel-based MacBook Airs. Apple has been utilizing Intel chips for Mac computers since 2006.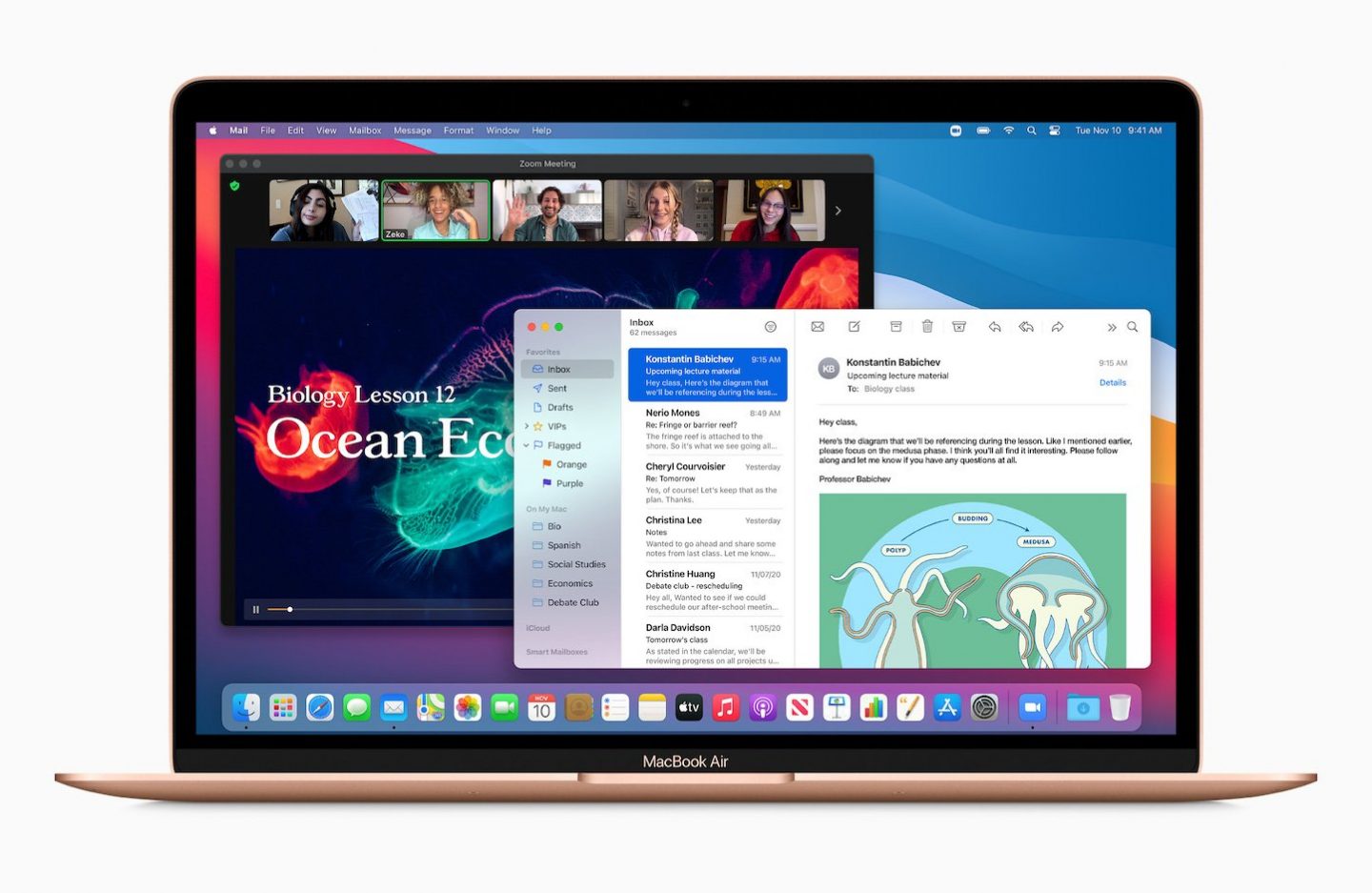 MacBook Air 13-inch M1 Design
The M1 MacBook Air goes through the same design that Apple has been using for years now with a uniform rectangular shape, aluminum body, and slim bezels around the display. The models come in silver or space gray color. It is 16.1 mm thick, weighing 1.8 pounds, making it 0.2 lbs lighter than a Macbook Pro.
Retina Display
The M1 MacBook Air features a 13-inch Retina display with 2560×1600 resolution and 400 nits brightness ( 100 nits dimmer than the Macbook Pro). The screen can also support vivid colors that are easy on your eyes thanks to its True Tone technology, which matches the ambient lighting's color temperature to the ambient lighting providing a more natural viewing experience.
The True Tone feature uses a multi-channel ambient light sensor included in the new MacBook Air models, which can determine your room's brightness and what temperature it is. After detecting this information, your Mac automatically adjusts to match color and intensity for an even more natural view that cuts down on eyestrain without compromising performance.
New Magic Keyboard
The M1 MacBook Air features a new Magic Keyboard with an improved scissor mechanism that is more reliable than the previous butterfly mechanisms. The keyboard offers up to 1mm key travel, providing stable typing and comfortable use, thanks to its minimalist design. The MacBook Air doesn't come with the Touch Bar, so if you are looking for that feature, you might be more interested in the MacBook Pro 13-inch.
 MacBook Air 13-inch Trackpad
The MacBook Air 13-inch has a Force Touch trackpad that is revolutionary in its design. Instead of physical buttons, the user can press anywhere on the pad to get an equal response. The Taptic Engine powered by magnets provides tactile feedback when using the trackpad, which allows for light clicks and deeper presses or "force clicking" as different gestures like offering up definitions for highlighted words, so you don't have to look them up yourself! This innovative system will take your Mac experience into an entirely new dimension!
FaceTime Camera
Apple's M1 MacBook Air has a 720p FaceTime HD camera, which is the same as in the previous model. This M1 chip drastically improves picture quality with better noise reduction and other features that help it take more precise pictures than ever before!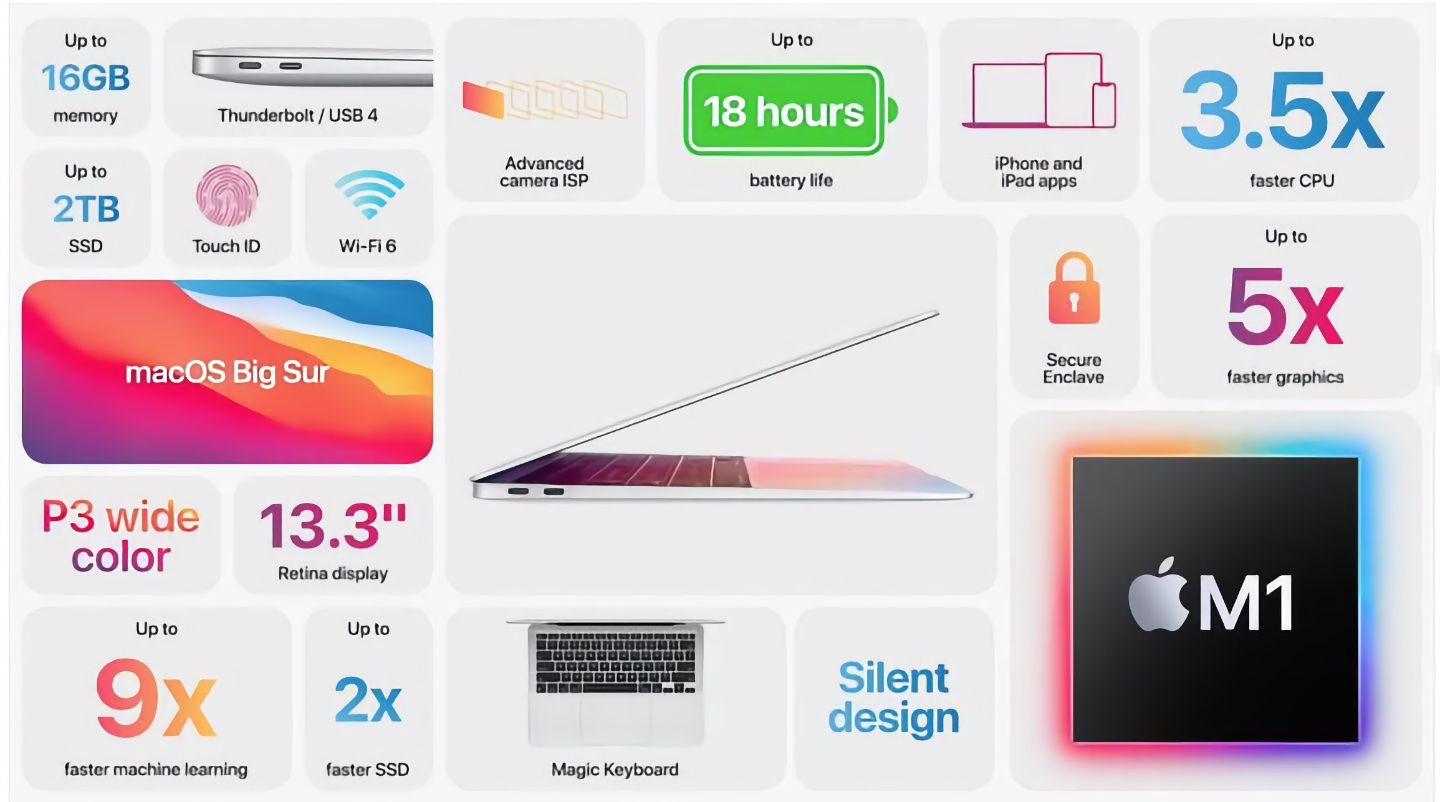 MacBook Air 13-inch M1 Performance
Many people have been asking how the new MacBook Air 13-inch stacks up next to its competition. I've reviewed laptops for a long time now, and in my experience, it can be not easy to gauge performance improvements outside of benchmarks. For example, this year, we saw an overall 10-15% improvement across all Macs from last year, which isn't evident until you put them side by side or run some tests on your computer.
The MacBook Air M1 has a crisp snap to everything, from loading apps and windows with ease. It's likewise more noticeable when you scroll through webpages in Safari—with faster load times and smoother scrolling! During Apple's "One More Thing" event last year, it was demonstrated that the laptop would wake up instantly after closing your lid or putting it to sleep. I didn't think it would ever be possible until the MacBook Air m1 and MacBook Pro M1— there are only about two seconds of lag now instead of minutes.
The key to all these performance increases is using software optimized for the SoC. The Apple M1 laptop has been designed with its specialized hardware, and it needs apps that are tailored just for it, so before you buy an M1 laptop, make sure your primary applications work on both Intel or Apple silicon. If they do, then this state-of-the-art device might be perfect for you!
The M1 system on a chip helps to bring all of the most critical components (such as CPU, RAM, and controllers) into one chip. The advantages are numerous – it's faster, more power-efficient than its predecessors – but there is also some compromise: for example, you can't upgrade your memory!
M1 MacBook Air 13-inch 8-core CPU 
8-core CPU in M1 is the highest-performing CPU Apple has ever built. It combines four performance cores and four efficiency cores to deliver the world's best CPU performance per watt for single-threaded and multithreaded tasks. This results in a quantum leap in performance — all of these performance gains also use less power.
The performance cores are the world's fastest CPU core for low-power silicon — and M1 has four of them, uniting their efforts for a massive boost in performance.
The four efficiency cores produce an outstanding performance for daily tasks using just 10% of the power. The efficiency cores are ideal for running lightweight tasks, allowing the performance cores to undertake the most demanding workloads. The M1 chip is leading the pack for the energy-efficient PC, but at the same time, it's breaking records in performance. 
M1 MacBook Air 13-inch 8-core GPU
The 8-core GPU is 5x more quickly than the last MacBook Air, allowing tor projects such as complex 3D rendering. The MacBook Air M1 is five times faster in a Windows comparison. The GPU in the M1 chip brings the world's fastest integrated graphics in a personal computer comparable to the MacBook Air M1.
It highlights eight powerful GPU cores tasked exclusively with making graphics smoother, quicker and 8K video plays seamlessly. Unbelievable graphics performance in Final Cut Pro renders a timeline up to 6x faster. Affinity Photo is capable of editing photos up to 4x faster. Games are blazing fast with super-smooth frame rates and higher fidelity. The MacBook Air M1 comes in two different models, one with a 7-core GPU and another with an 8-core GPU.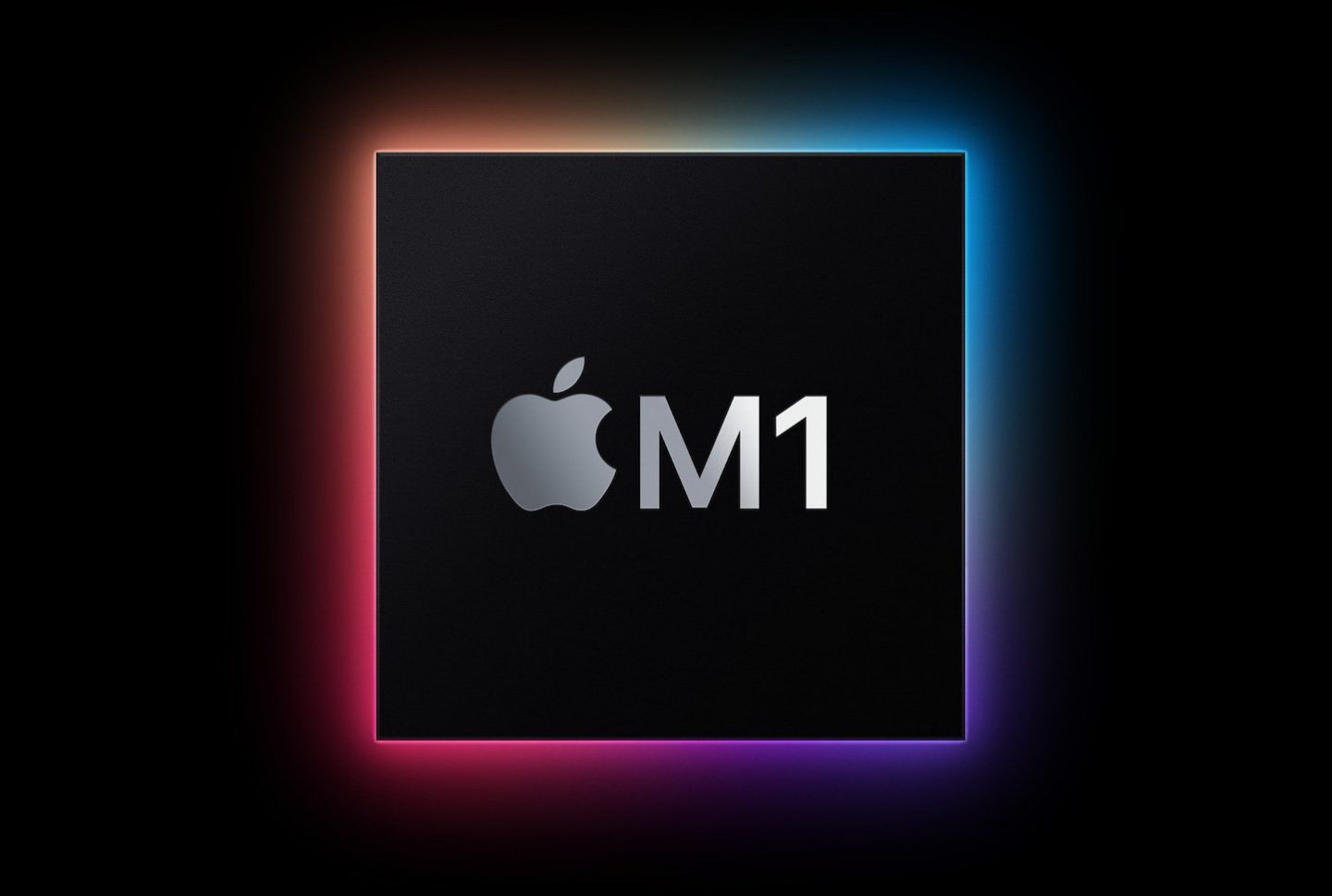 M1 MacBook Air 13-inch Unified Memory Architecture.
One of the many features of the MacBook Air M1 is the unified memory architecture that unifies high-bandwidth, low-latency memory into a single pool, minimizing the copying between multiple memory pools for dramatic performance improvement beyond the complete system. The MacBook Air M1 supports up to 16GB of unified memory, with the base model shipping with 8GB.
M1 MacBook Air 13-inch Neural Engine
A new, more advanced Neural Engine in the MacBook Air M1 is 9x faster for machine learning tasks. Apple states the 8‑core GPU, machine learning accelerators, and the Neural Engine, and the M1 chip is designed to excel at ML tasks. The Neural Engine has a 16-core design that can perform 11 trillion operations per second and machine learning accelerators, which allow Ml-bases tasks significantly faster.
M1 MacBook Air 13-inch Ports
The MacBook Air M1 features two USB-C ports with support for USB 4 and Thunderbolt 3 with transfer speeds of up to 40Gb/s and USB transfer speeds of 10Gb/s. With Thunderbolt 3, the MacBook Air M1 supports a single 6K display.
The M1 MacBook Air and MacBook Pro M1 is restricted to one display up to 6K resolution, but utilizing DisplayPort adapters, the MacBook Pro M1 can run up to five displays. This is only achievable when using a mix of 4K and 1080p displays as the Thunderbolt ports can't run five 4K displays.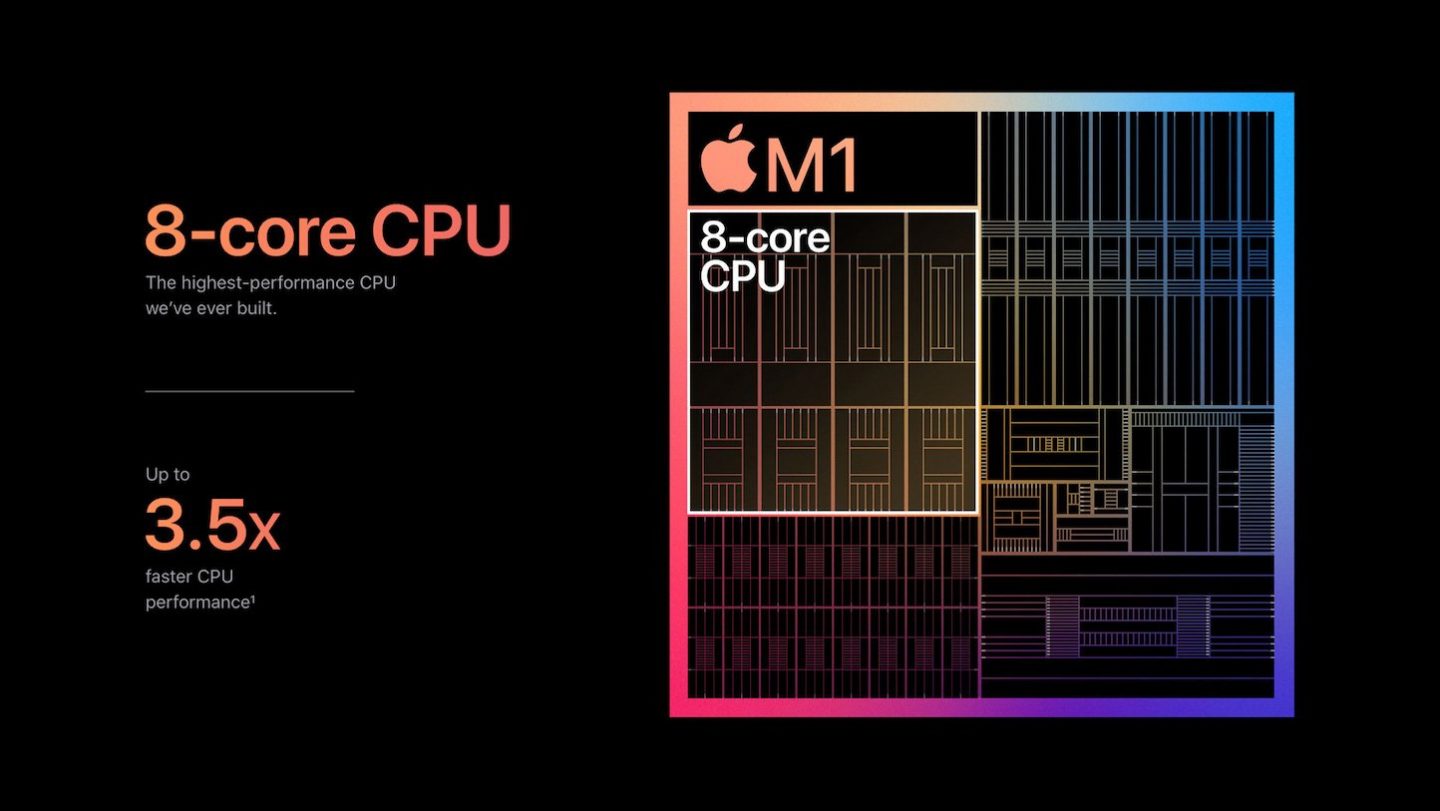 Available Models
There are currently 2 standard configuration 13-inch MacBook Air M1 models available from Apple:
$999

 – Apple M1 chip, 8GB RAM, 256GB SSD, 7-Core GPU

$1,259

 – Apple M1 chip, 8GB RAM, 512GB SSD, 8-Core GPU
Build to Order Options
M1 13-inch MacBook Air with 256GB storage:
16GB RAM: 

+$200

512GB SSD:  

+$200

1TB SSD:  

+$400

2TB SSD:  

+$800
M1 13-inch MacBook Air with 512GB storage:
16GB RAM:  

+$200

1TB SSD:  

+$200

2TB SSD: 

+$600
MacBook Air M1 13-inch Price
The MacBook Air was designed to be everything you want in a notebook—and more. It's the world's thinnest notebook, with a stunning Retina display that goes edge-to-edge. And it weighs just three pounds!
With up to 18 hours of battery life, your MacBook Air can go wherever you do for an entire day without stopping to recharge. That means one less thing on your mind so you can focus on what matters most — like work or play.
Plus, when it's time to power up again, a quick 15-minute charge will get you another two hours of use. So if there's something important going down at 9 pm (like Game of Thrones), no problem. You have plenty of juice left in the tank.
MacBook Air M1 8GB RAM, 256GB SSD

 
This MacBook Air on sale is available in Silver, Gold, and Space Gray.
MacBook Air M1 8GB RAM, 512GB SSD

 
This MacBook Air on sale is available in Silver, Gold, and Space Gray.
Last update on 2022-06-27 / Affiliate links / Images from Amazon Product Advertising API
Video Reviews and Unboxings
Finish
Price
Display
13.3-inch Retina display
2560-by-1600 resolution
227 pixels per inch
400 nits brightness
Supported resolutions, scaled:

1680 by 1050
1440 by 900
1024 by 640

Wide color (P3) support
True Tone technology
Size and weight
Height: 0.63 inch (1.61 cm)
Width: 11.97 inches (30.41 cm)
Depth: 8.36 inches (21.24 cm)
Weight: 2.8  pounds (1.4 kg)
Chip
Apple M1

8-core 

CPU

 (4 performance cores and 4 efficiency cores)
8-core GPU or 7-Core GPU
16-core Neural Engine
Battery and power
Built-in 58.2-watt-hour lithium-polymer battery
Up to 17 hours wireless web
Up to 20 hours movie playback through Apple TV app
61W USB-C Power Adapter
Memory
8GB unified memory

Configurable up to 16GB unified memory
Storage
256GB SSD

Configurable up to 512GB, 1TB, or 2TB

512GB SSD

Configurable up to 1TB or 2TB
Charging and expansion
A pair of Thunderbolt/USB 4 ports capable of:

Charging
DisplayPort
Thunderbolt 3 (up to 40Gb/s)
USB 3.1 Gen 2 (up to 10Gb/s)
Keyboard and trackpad
Magic Keyboard and trackpad with:

65 (U.S.) or 66 (ISO) keys including 4 arrow keys in an inverted‑T arrangement
Ambient light sensor
Force Touch trackpad for precise cursor control and pressure‑sensing capabilities; enables Force clicks, accelerators, pressure‑sensitive drawing, and Multi‑Touch gestures
Wireless
WiFi

802.11ax Wi-Fi 6 networking
IEEE 802.11a/b/g/n/ac compatible

Bluetooth

Bluetooth 5.0 connectivity
Camera
Built-in 720p FaceTime HD camera
Video support
Supports simultaneously full native resolution with millions of colors while also connected to one external display supporting up to 6K resolution at 60Hz refresh rate
With Thunderbolt 3 

digital video

 output:

Native DisplayPort output over USB-C
VGA, HDMI, DVI, and Thunderbolt 2 output supported using adapters (sold separately)
Audio
Stereo speakers with high dynamic range
Wide stereo sound
Three-mic array with directional beamforming
Single 3.5mm headphone jack
Operating requirements
Line voltage: 100V to 240V AC
Frequency: 50Hz to 60Hz
Operating temperature: 50° to 95° F (10° to 35° C)
Storage temperature: −13° to 113° F (−25° to 45° C)
Relative humidity: 0% to 90% noncondensing
Operating altitude: tested up to 10,000 feet
Maximum storage altitude: 15,000 feet
Maximum shipping altitude: 35,000 feet
Operating System
Accessibility
VoiceOver
Voice Control
Zoom
Reduce Motion
Increased Contrast
Siri and Dictation
Closed Captions
Switch Control
Text to Speech
Built-in apps
Photos
iMovie
GarageBand
Pages
Keynote
Numbers
Siri
Safari
Mail
FaceTime
Messages
Maps
News
Stocks
Home
Voice Memos
Notes
Calendar
Contacts
Reminders
Photo Booth
Preview
Music
Podcasts
TV
Books
App Store
Time Machine
QuickTime Player
Find My
In the box
MacBook Air with M1 processor
30W USB-C Power Adapter
USB-C Charge Cable (2 m)