How to Check Storage Space on Mac
I was in a rush to get all of my work done before the end of the day. I had just come back from lunch and needed to finish up one more task. I went into my Mac's storage management tool, deleted an app that I knew wouldn't be used until next week, and then got back to finishing up my tasks. Then it struck me; what if a few other apps were sitting there waiting for deletion? But which ones should I delete? 
Ah! A little internet research revealed that this is not uncommon for people with smaller hard drives or those who have been accumulating too many files over time – they can't seem to find any disk space. So here we are I decided I would put together an article to help you guys out. 
It's essential to keep tabs on how much space you have left on your hard drive because it is finite, and running out of room can be catastrophic. In the past, MacBook owners could spend a little cash to change their solid-state drives (SSDs), but Apple has since soldered them in place, so they're not as flexible now.

What is Other on Mac Storage?
Perhaps you have noticed that some of your hard drive space is taken up by an "Other" category. The question on many people's minds might be, "what exactly does this Other storage area entail? Other storage is anything the Mac deems as necessary to store but doesn't know how best to categorize it will end up here in a folder called Other.
The system identifies these items because they don't fit into one of the other categories like Documents and Pictures or Applications. In contrast, others are identified for their purposes, such as System Configuration files which help keep everything running smoothly regarding hardware drivers and software updates, among other things.
It's worth noting that these files aren't normally harmful or wasteful to your computer's system; most are intended to help your Mac run efficiently, and ideally, you shouldn't ever have to clear out the Other files. Fortunately for those of us with low storage space – they can quickly clog up a computer when storing a large number of iPhone backups.
If you're foreign, read on to learn how you can monitor the storage space on your Mac.
How to Check what's taking Up Space on Mac
You can check the available and used up storage space on your MacBook, iMac, or Mac Mini with a few simple steps. Below are the steps!
Open System Preferences: Click the Apple Menu in the upper left corner

Click "About This Mac" from the Apple menu.

You will see the specifications of your Mac. Choose "Storage."

This method is the easiest way to see how much free space you have on your Mac. For more details of what apps are using your Mac's storage, Choose "Manage."

You have the option to "optimize storage." Which removes movies you have already watched.

Choose "Applications" in the left pane. From here, you can view if any applications are taking up a lot of space.
See how easy it is to check your Mac's storage space and usage?

The first thing you'll want to do is see how much storage space your Mac has left before updating the system software, installing new apps, or transferring files.
This way, there won't be any hiccups in performance, and things will run smoothly like butter on a hot summer's day! You should also make sure that 10%-20% of free disk space is available, as this keeps everything running nicely and prevents glitches from happening.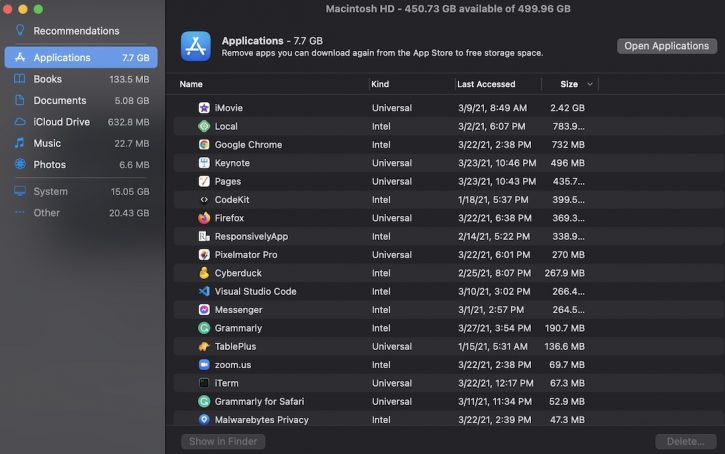 How to Free Up Disk space on Mac
There are a few ways to free up some storage capacity without any extra work from you! The first one is cleaning out the apps that don't get used anymore and deleting them directly through Storage Management Tool, and purging folders or other unnecessary files, so there's less stuff taking up room.
Apple's iCloud subscription has been super convenient for me. If you have extra space free, it helps move files from your Mac to the iCloud. Files on the iCloud automatically sync across all your Apple devices, which only adds accessibility freedom.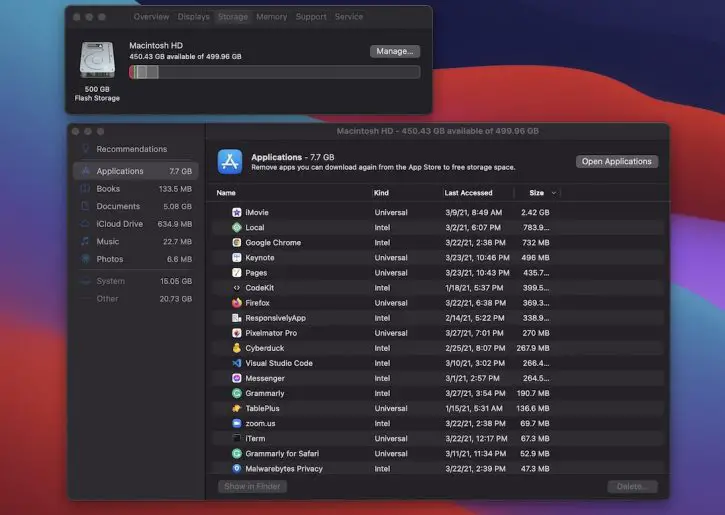 External hard drives are a must with Mac computers with a smaller SSD.
If so, an external hard drive is a great way to offload storage capacity from the Mac internal drive. External SSDs are pretty fast and affordable nowadays. Even an external HDD is a reasonable option for data backups, where raw performance is less critical. 
An SSD is faster, lighter, and doesn't require as much power, whereas an HDD drive will be more affordable and slower than an SSD. HDDs are also suitable for storing lots of data as they usually have a considerable capacity.
 Best External Drive for Mac
If you found this article helpful, you might also find these Mac Advisers articles useful as well.
Hopefully, we helped you learn how to check storage space on Mac. Who else uses external drives? What's your favorite brand? Share your ideas and advice in the comments. Drop your feedback and comments below!