How to Customize Safari Toolbar
Safari is one of the most popular browsers in the world. It's got a lot going for it, but did you know that there are so many more features to make your browsing experience better? Customizing Safari can be done by adding and removing certain items from its toolbar.
Safari has a number of great features that make it the best browser for Mac users. Safari, by default, contains the buttons to go back/forward, view the sidebar, share, tab overview, and the address/search bar.
However, these can be customized however much suits your preferences because Safari also gives its users complete control over how they want their toolbar configured. If you want to remove some clutter or add some features to your Safari toolbar, this article is for you! 
How to Customize Safari Toolbar
Changing the Safari toolbar functionality is a lot easier than you may think. All you need to do is follow these steps and interchange items as desired!
1. Open Safari on your Mac

2. Next, click on View in the menu bar and choose Customize Toolbar.

3. This will open up a new pop-up in Safari. The toolbar is located at the top and can be reorganized into any configuration you like with just a drag and drop.
You also have the option to reset to its default layout by dragging and dropping the default toolbar located at the bottom.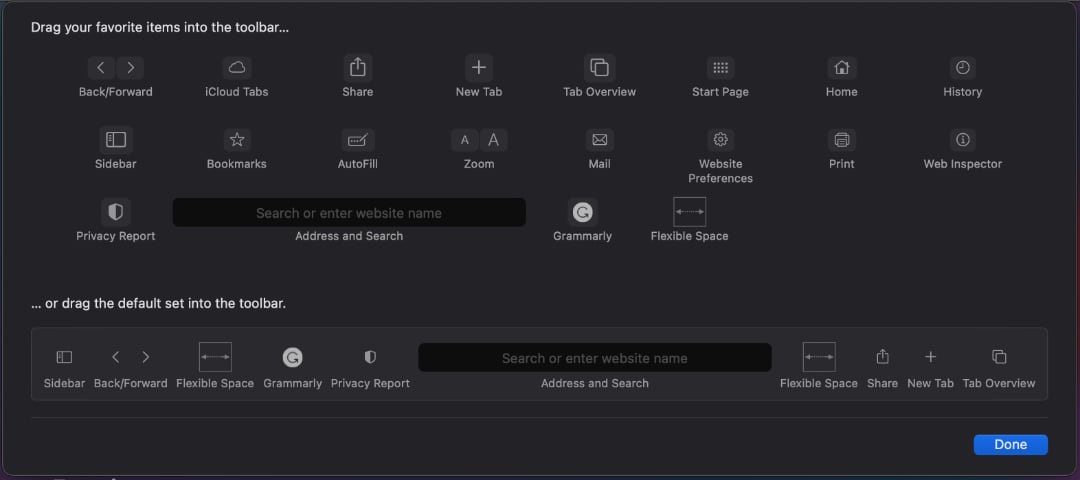 4. You can drop these items anywhere in the toolbar, as shown below.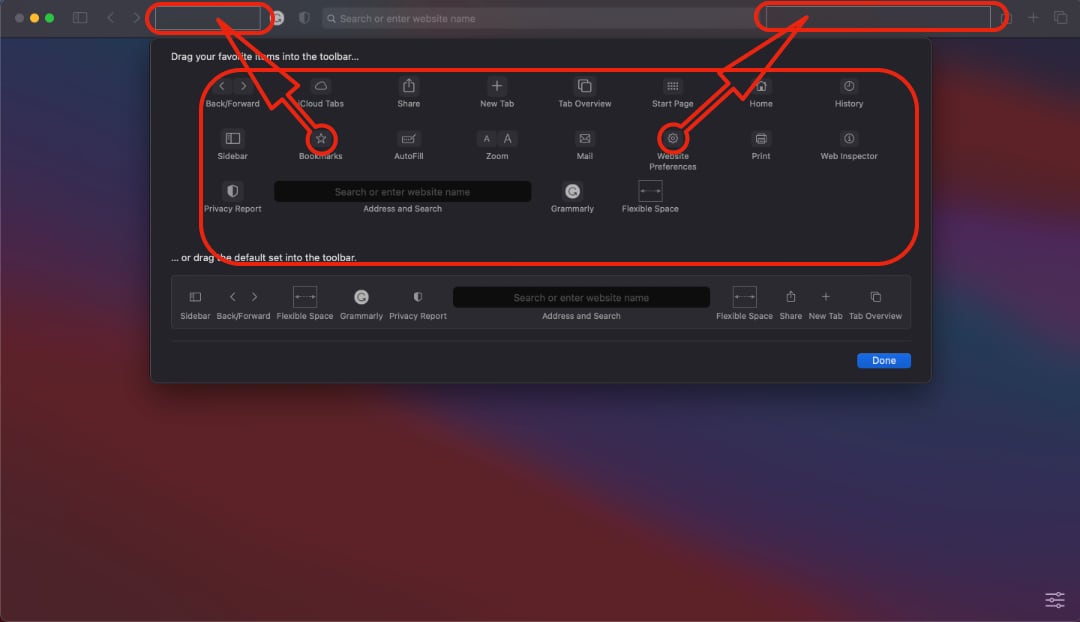 Once you're done making the preferred changes, click on "Done. That does it!
With the Safari browser on your Mac, you can customize it and make it work how you want. Alongside adding items to the toolbar, there are many other ways to modify your browsing experience by adding the Favorites bar, Tab bar, or Status Bar. To do this, go into "View" in the menu bar and choose these options from their dropdown menus.
Hopefully, we helped you learn how to customize the Safari Toolbar! You can also check out the latest Safari Technology Preview from Apple. Safari Technology Preview provides you an early look at future web technologies in macOS and iOS. You have to have a developer account, though.
If you found this article helpful, you might also find these Mac Advisers articles useful.
Another very useful thing for me personally is keyboard shortcuts! Check out these 11 useful keyboard shortcuts!
Do you think the Safari toolbar is perfect as it is by default? I personally customized mine with more informative buttons. What about you, what changes did you make? Drop a comment below!