The AirTag is a nifty little gadget that can be used to keep track of personal belongings. Apple annouced its lastest gadget in their Spring Loaded event. Setting up one of Apple's trackers is pretty easy to do. Keep reading to find out how to replace AirTag battery!
Apple AirTag comes with a user-replaceable battery. Apple states that the tracker should last 'over a year,' but using features like Precision Finding and Lost Mode may shorten its life. This is why you can change or replace the Airtag's CR2032 battery, which is widely available at most drugstores and large retailer for $8-$10 for a six pack depending on where you buy them from.
AirTags are fantastic for keeping track of your belongings. The nifty little gadget helps keep track of your personal belongings! While changing the battery is simple, we should take a second and make sure the battery has reached its end life.
How to Check AirTag Battery Life
Open the 

Find My

 on your iPhone.

Under 

Items

, tap the 

AirTag 

you want to check

.

Under the Airtags name, you will see the battery health in the form of a bar.
Although it does not show you the precise battery percentage, it should give you a good idea of how much battery is left on your AirTag. If the battery bar is filled with a red-colored bar, then your AirTag battery is critically low.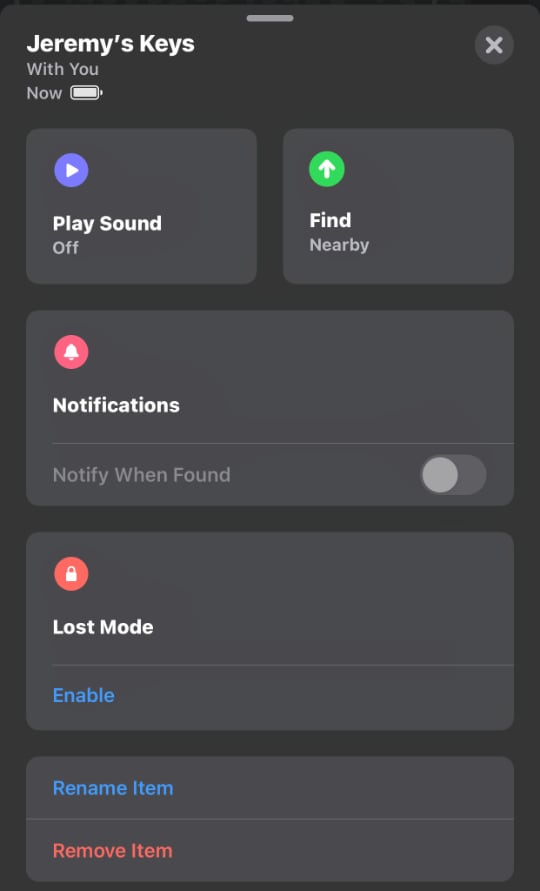 The good thing with the Find My app is that you will be notified when your AirTags battery health is getting low. 
How to Replace AirTag Battery
If your AirTag needs a new battery, the process is simple. Below are the steps to change your AirTag battery.
Turn the AirTag over 

so that the Apple logo is facing you.

Press down the silver plate with your thumbs and 

rotate the AirTag clockwise

.

Remove the silver backing

.

Remove the

 old battery

 from the AirTag.

Next, insert the 

new battery

, ensuring the side with the + on it faces you.

Place the silver backing on top.

Now, press hard enough on the back and rotate the AirTag 

counter-clockwise

.
As soon as you replace your AirTag's battery, it emits a chime to let you know the new one is in place. Now go ahead and continue using AirTag to track your items!
If you still see a red battery bar for your AirTag on the Find My app, even after replacing it with a new battery, resetting the AirTag might fix the problem.
ON SALE
Duracell - 2032 3V Lithium Coin Battery - with Bitter Coating - 4 count
BITTER TASTE DISCOURAGES SWALLOWING: Non-toxic, bitter coating helps prevent accidental ingestion
CHILD SECURE PACKAGING: Nearly impossible to open without scissors
LONG-LASTING POWER: Reliable and efficient power for devices like key fobs, remote controls, thermometers, and many others
Last update on 2022-06-27 / Affiliate links / Images from Amazon Product Advertising API
ON SALE
Energizer 2032 Batteries, Lithium CR2032 Watch Battery, 6 Count
Contains 6 Energizer 2032 Lithium 3-Volt Coin Batteries
Delivers long lasting, dependable performance in specialty devices like heart rate monitors, remotes, keyless entry systems, glucose monitors, toys, and games
Holds power for up to 10 years in storage, ensuring you have Lithium Coin Batteries ready when you need them.Keep out of reach of children
Last update on 2022-06-27 / Affiliate links / Images from Amazon Product Advertising API
If you found this article helpful, you might also find these Mac Adviser articles useful as well. 
What do you guys think about the AirTags? Useful? Drop your comments below!