The 2021 24-inch M1 iMac replaces the 21.5-inch intel iMac. Apple made the announcement of the New 24-inch iMac on the 20th of April at the Apple Spring Loaded Event. Still, with this being an entry-level computer for Apple's first desktop chip to come out of its silicon factory, it is continuing to sell the 27-inch 5k Retina iMac as well. The 27-inch 5k Retina iMac is configurable up to 8TB SSD storage, 128GB of RAM, and high-end GPUs available, too.
The new iMac is plenty powerful enough for most users, but the higher-end Apple Silicon Macs are yet to come. The 27-inch 5K Intel iMac offers additional power and a larger display than the rest of our comparison models, so we have excluded them from the comparison.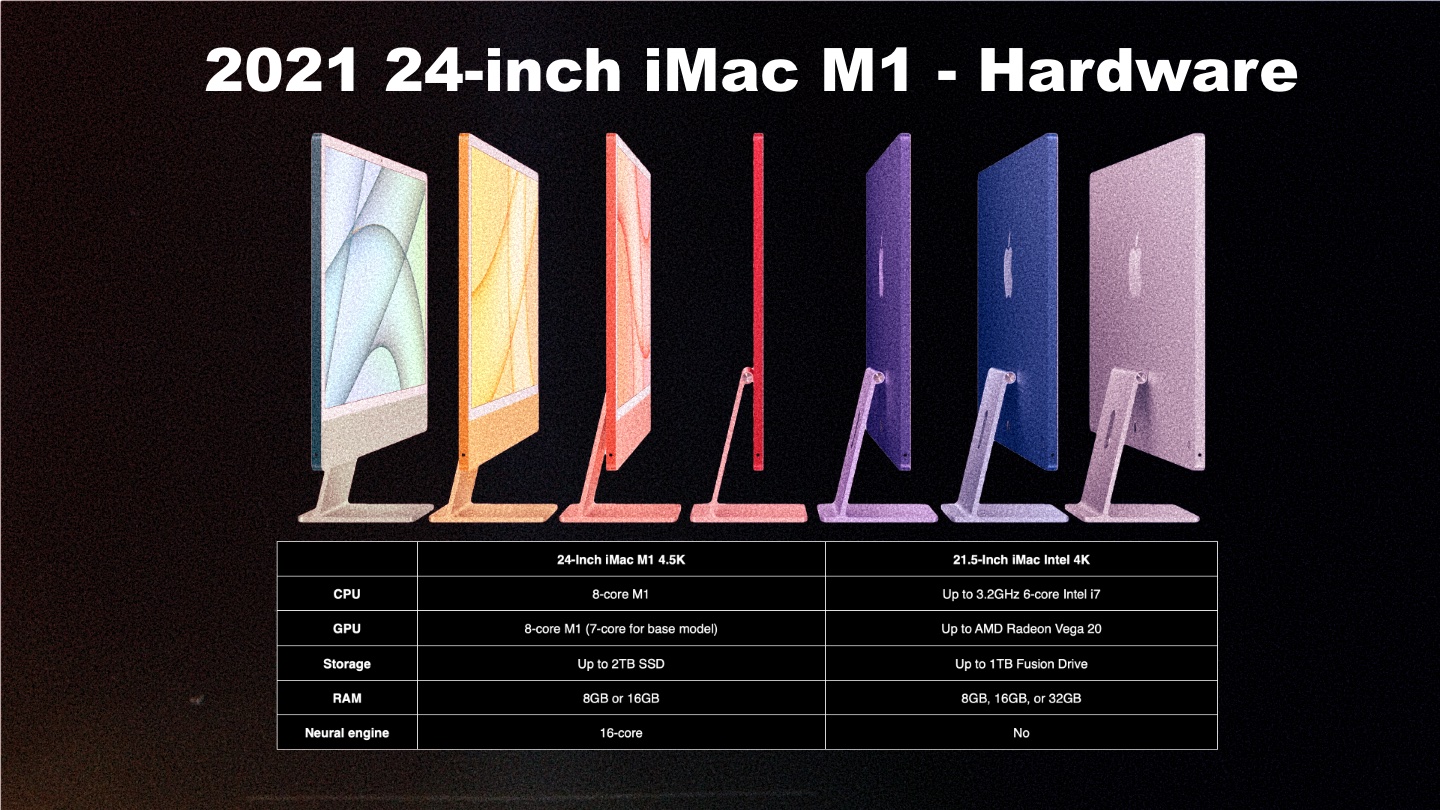 M1 iMac vs Intel iMac – Hardware
The new M1 iMac has a powerful 8-core CPU and GPU with the fastest integrated graphics available for personal computers. Combined with its high efficiency, unified memory architecture, and 16-core Apple Neural Engine, these all-in-one desktop computer stats are pretty impressive.
Up to 85 percent, faster CPU performance means that we can export our favorite videos in iMovie with incredible speed, work quickly on 100-megapixel photos in Lightroom, and compile new apps Xcode without the wait.

 The 24-inch iMac M1 is twice as fast for certain apps, like Pixelmator Pro and Photoshop. This allows people who use the app regularly to work even quicker than before with features such as rendering edits in real-time or adding complex filters that would typically take more extended periods of loading up an entire photo into memory at once.

With the new 24-inch iMac M1, you can edit up to five streams of 4K footage or one stream of 8K footage without dropping a single frame in Final Cut Pro.

 3x faster machine learning (ML) in apps that leverage the 16-core Neural Engine found in the M1 chip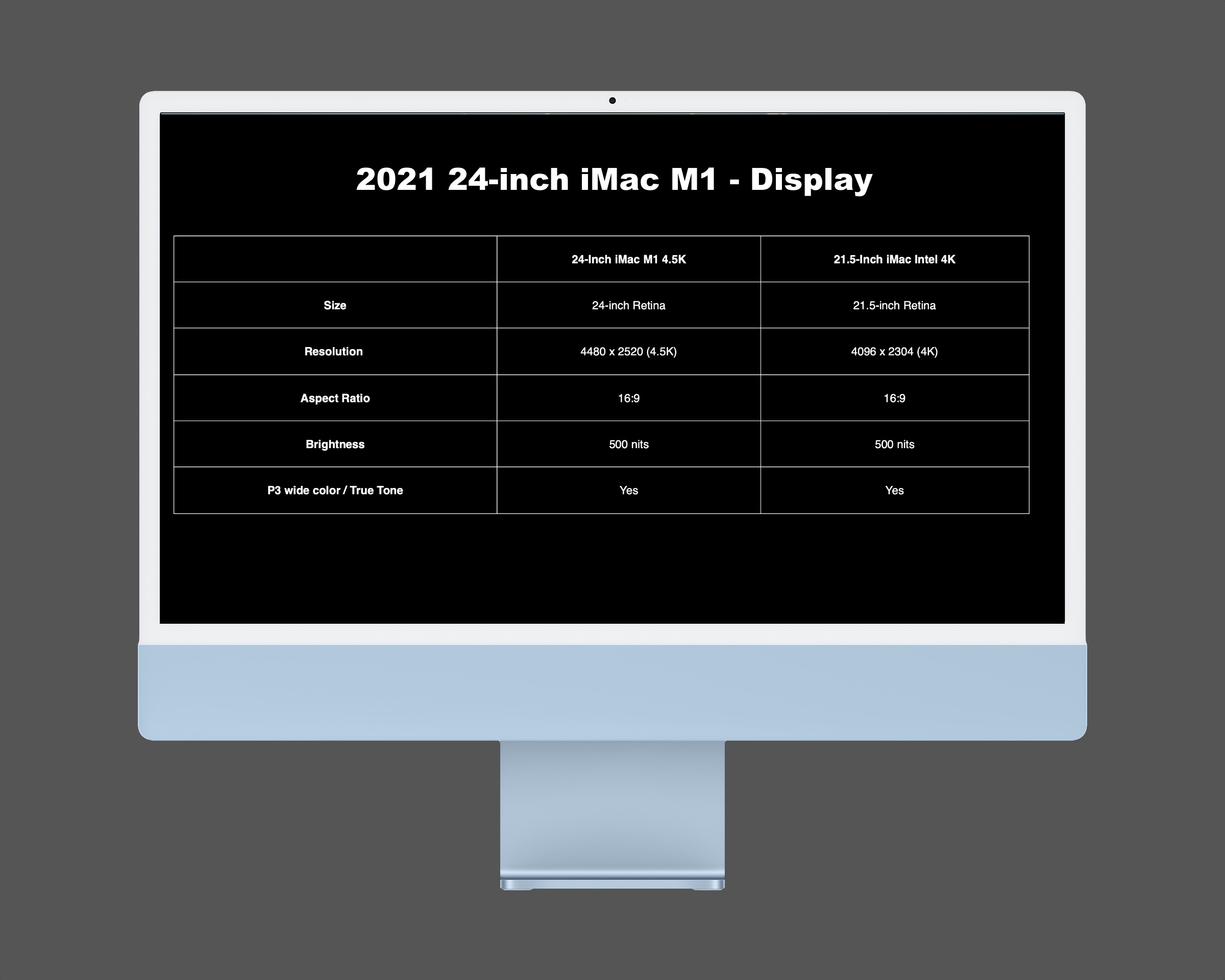 M1 iMac vs Intel iMac – Display
iMac has always been about its best-in-class display. That's why the new iMac features a 24″ 4.5K Retina Display with narrower borders, 11 million pixels, and True Tone technology for greater comfort, readability, and natural viewing experience—plus 500 nits of brightness to bring out vivid colors in images.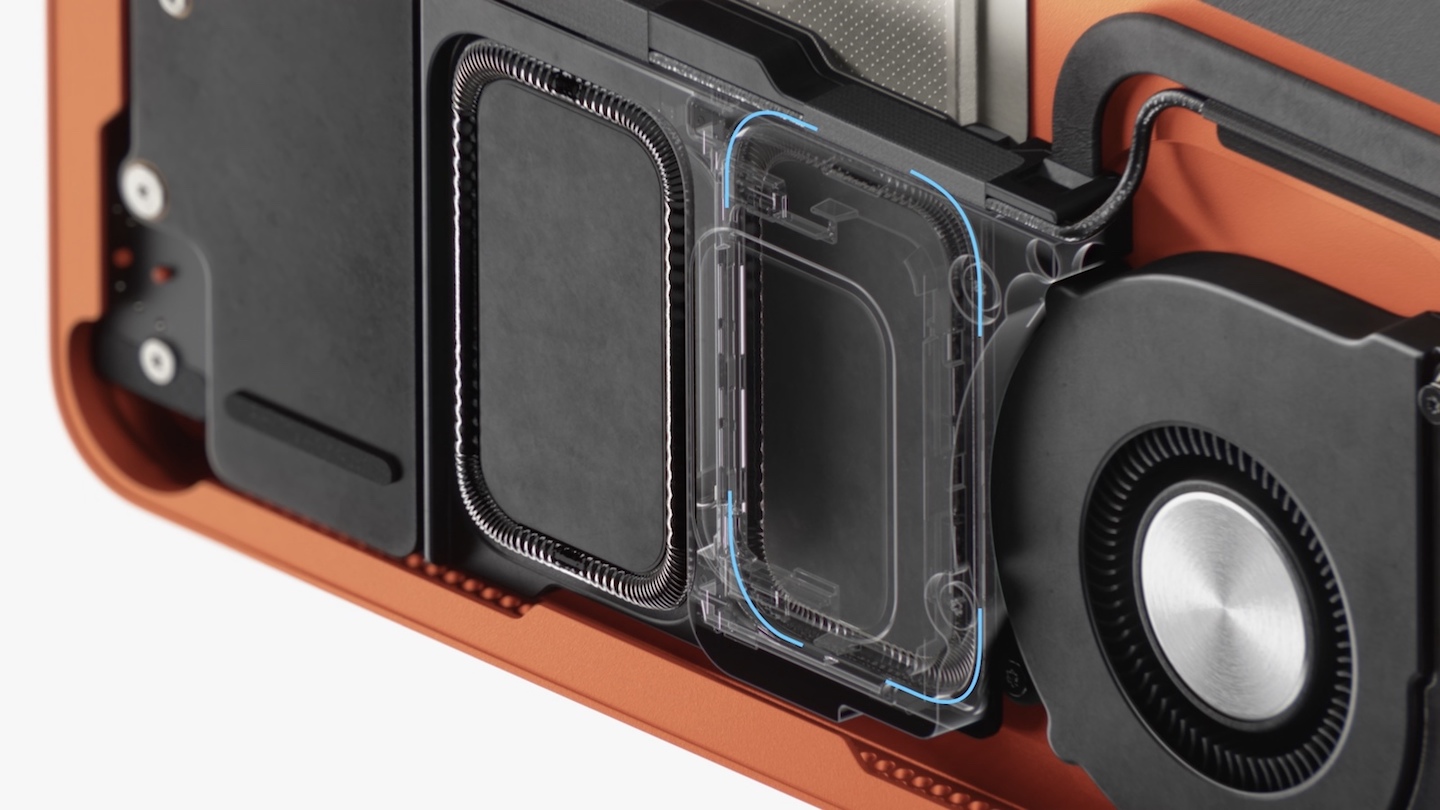 M1 iMac vs Intel iMac – Camera, Mics, Speakers
The iMac provides a high-quality camera that takes advantage of the image signal processor within M1 and Neural Engine to enhance its performance. The camera has better noise reduction, improved auto exposure, white balance, and excellent video quality in low light situations via a 1080p FaceTime HD Camera. 
The new iMac has a microphone system that will revolutionize the way we communicate. The latest 24-inch model is equipped with three studio-quality microphones which are positioned to reduce feedback from other parts of your computer while still detecting clear audio for voice recordings and phone calls or directional beamforming capabilities, allowing them to focus on specific sounds without picking up noise or background sound.
The new iMacs have a sound system that is arguably the best of any Mac. It has two woofers on either side, which produce incredible bass and reduce unintended vibrations so you can enjoy your music without interruption.
These speakers are teamed up with high-performance tweeters to give six total speakers in every machine for an amazing balance between strength and articulation – perfect for playing video games or watching movies.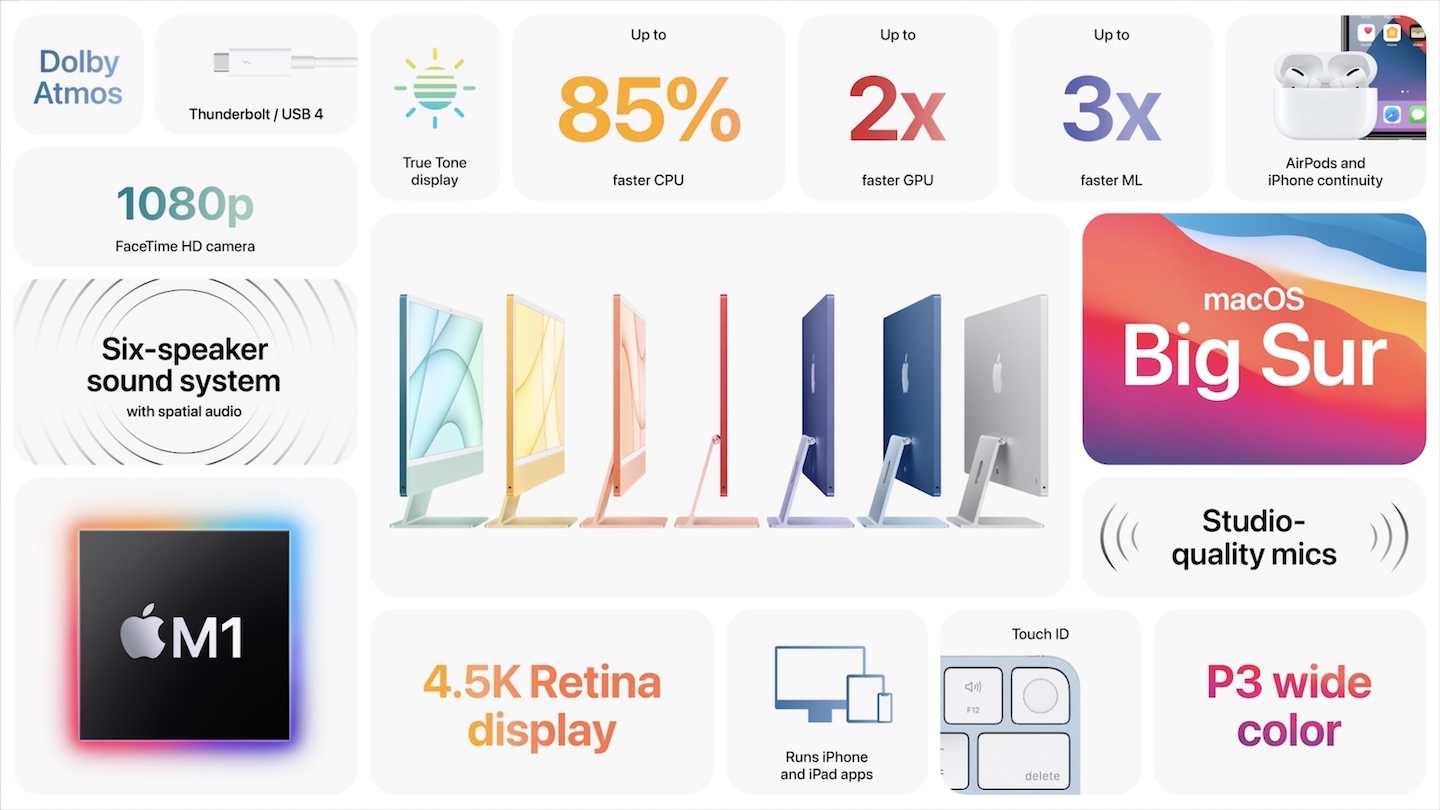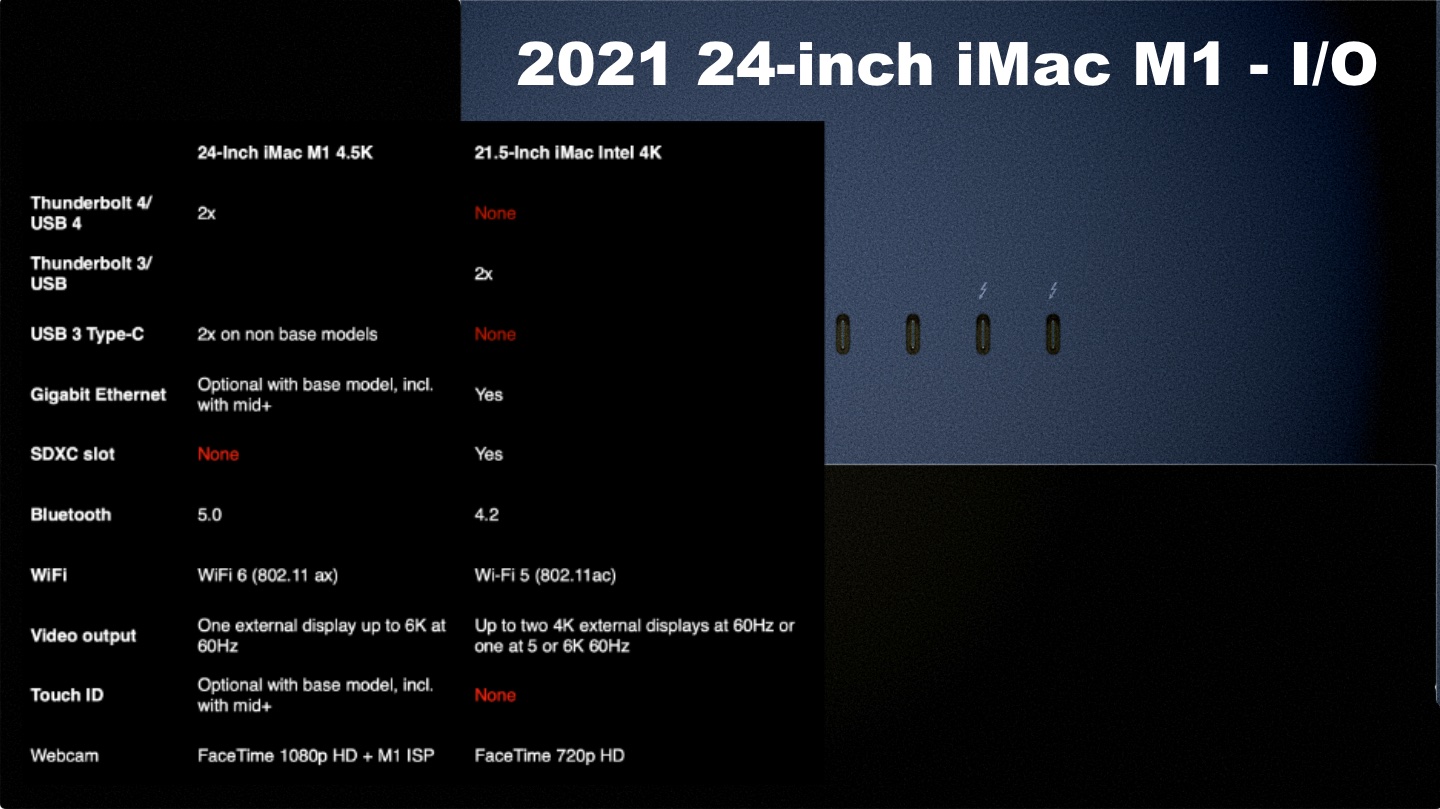 M1 iMac vs Intel iMac – I/O
The M1 iMac gets several improvements and modernizations when it comes to I/O. The ports included are now 2 Thunderbolt/USB 4 + 2 more USB 3 Type-C on the higher-end 8-core iMac. Other improvements include WiFi 6, Bluetooth 5, and 1080p FaceTime Camera for video conferences or web calls in high resolution. You can also get the Touch ID feature on the keyboard if you choose that option.
M1 iMac vs Intel iMac – Colors, size, weight
The 24-inch iMac M1 features an 11.5 mm depth, making it one of the thinnest computers on the market today. The eye-catching design with its many color options generates lots of attention. Still, it's not just about the form factor: people are excited to see an end to the dull silver color and more opportunities for individuality in their Mac computers!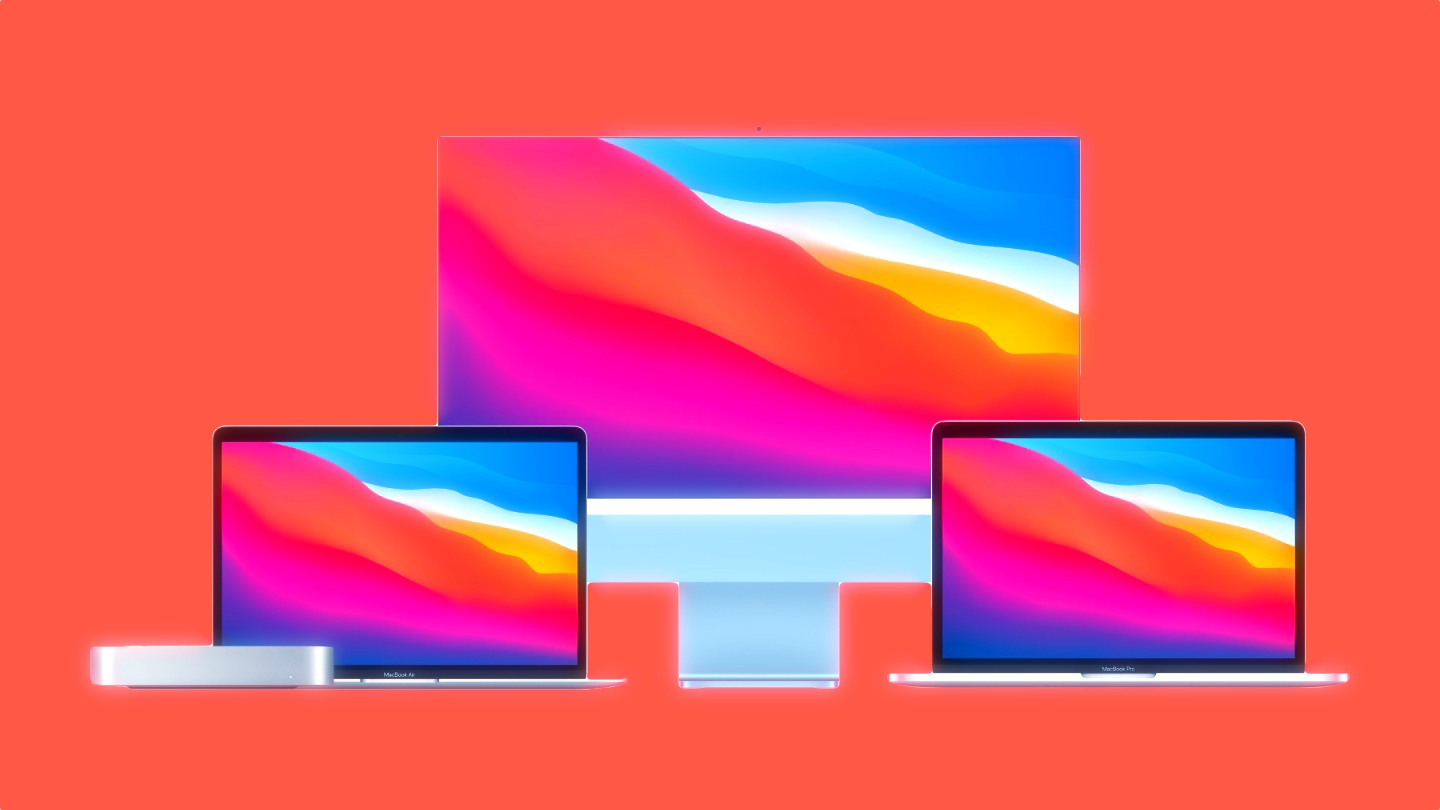 The new M1 iMac is a big step forward for Apple's iconic all-in-one desktop. It offers a lot of value at the same starting price as its predecessor, with an even larger screen and sharper display that delivers notably faster performance thanks to its newly introduced "M1″ chip.
This version also includes Thunderbolt 4/USB ports in addition to 1080p FaceTime camera capabilities, so you can be sure this device will last through any technological transformation occurring over the following years or decades!
The 24-inch ‌iMac‌ with 7-core GPU begins at $1,299, with 8GB of unified memory, 8-core CPU, 256GB SSD, two Thunderbolt ports, Magic Keyboard, and Magic Mouse.
The 24-inch ‌iMac‌ with 8-core GPU starts at $1,499 with 8GB of unified memory, 8-core CPU, 256GB SSD, two Thunderbolt ports, Magic Keyboard with ‌Touch ID‌, Magic Mouse, and Ethernet.
The 24-inch ‌iMac‌ with 8-core GPU starts at $1,699 with 8GB of unified memory, 8-core CPU, 512GB SSD, two Thunderbolt ports, Magic Keyboard with ‌Touch ID‌, Magic Mouse, and Ethernet.
Last update on 2022-06-26 / Affiliate links / Images from Amazon Product Advertising API
Last update on 2022-06-26 / Affiliate links / Images from Amazon Product Advertising API
Last update on 2022-06-26 / Affiliate links / Images from Amazon Product Advertising API