M1 iPad Pro Review Roundup 2021 
Apple is back at it, this time with a new iPad Pro. The M1 chip provides an enhanced iOS experience for the 12.9-inch size iPads and offers mini LED displays brighter than ever before! In our roundup of the iPad Pro, we take into account all reviews from experts around the web to provide one comprehensive overview – including what critics say about its features like battery life and whether they recommend buying or not!
Liquid Retina XDR Display | M1 iPad Pro Review Roundup
Writing for MacStories, Federico Viticci says the Liquid Retina XDR Display is the "best display I've ever seen in a portable computer."
The new iPad Pro's Liquid Retina XDR display is, by far, the best display I've ever seen on a portable computer. It puts the iPad Pro's old (and still pretty good) Liquid Retina Display to shame thanks to its higher brightness (1000 nits of full-screen brightness compared to 600 in the last-gen model), more vibrant colors. These highlights pop out a lot more, and black levels almost rival the performance of "pure black" on OLED displays.
Chris Velazco at Engadget states the Liquid Retina XDR Display is "visceral. 
I wasn't expecting a big difference in screen quality, and I was right at least some of the time — when you're writing in Google Docs or browsing in Safari, the screen's max brightness is 600 nits, and it refreshes at 120Hz, just like the last iPad Pro. But when you're watching movies and videos, maximum full-screen brightness shoots up to 1,000 nits, and incredibly bright elements in HDR content like explosions or flashy visual effects can hit 1,600 nits. In other words, Apple's backlighting system means dark things are darker, and bright bits are even brighter. The difference isn't just noticeable — it's visceral. Videos look better, and that might make this iPad worth the splurge for people who need that sort of thing. 
Stuart Miles at Pocket-lint describes the screen as "instantly noticeable."
The enhanced technology is instantly noticeable. The screen is physically brighter for starters and can increase that brightness further depending on what is required. Previously the peak brightness was 600 nits, now that can go up to 1600 nits for those high dynamic range (HDR) moments.

While the average user will benefit from watching high-resolution content from their favourite streaming service – even the end credits of a movie look stunning – creatives will certainly enjoy the ability to see all that extra detail in their images or video, especially if they are working within the realms of HDR or Dolby Vision.

Combine that with the Pro's usual array of screen tech – such as P3 wide colour gamut, ProMotion (120Hz refresh rate), and True Tone – and you won't find much to complain about when it comes to the screen.
The mini-LED-driven Liquid Retina XDR display is probably the best display that's ever shipped on a mobile computer" is how Matthew Panzarino at Tech Crunch described the new iPad pro Liquid Retina XDR display.
Speaking of the screen, the mini-LED-driven Liquid Retina XDR display is probably the best display that's ever shipped on a mobile computer. It's just fantastic. The daily driving brightness is good, with an average of 600 nit max, but full-screen HDR content like videos or photos allow the display to boom up to 1,000 nits average with a peak of 1,600 nits. This thing is b r i g h t. Daylight viewing of HDR content is massively improved. And this comes with the inclusion of all the standard stuff, like the 120hz ProMotion features.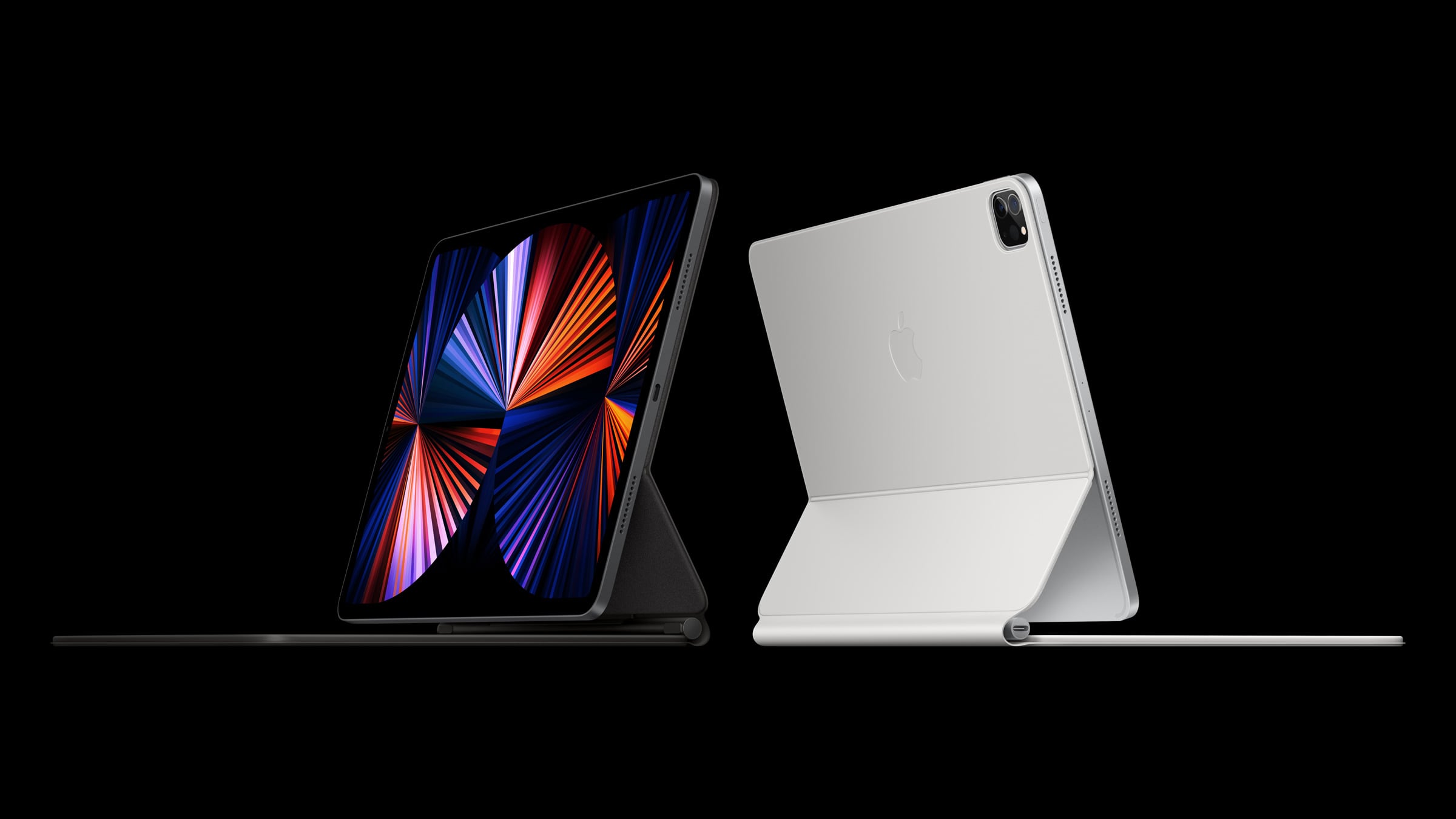 Performance | M1 iPad Pro Review Roundup
Writing for MacStories, Federico Viticci on the M1 iPad Pro performance:
It shouldn't come as a surprise to anyone that the M1 chip found in the iPad Pro is ridiculously efficient and, to an extent, too powerful for what iPadOS can currently do. With its 8-core CPU, 8-core GPU, and 16-core Neural Engine, the 2021 iPad Pro obliterates previous-gen iPad Pro models with the A12 line of processors; it also runs circles around the iPad Air's A14 SoC, and it compares favorably to the M1 found in recent Macs. I always write in my iPad reviews that numbers never tell the full story; I stand by that – ultimately, it's what a chip's power allows you to do that matters – but the new iPad Pro's numbers, with one odd exception, are just astonishing.
Engadget has some details on the M1 chip's performance, writing that the leap is not as giant as expected. 
To try and get a sense of the iPad Pro's creative chops, I stitched together multiple 4K video clips from old reviews when I had hair in LumaFusion and exported it. The 2020 iPad Pro finished in 14 minutes and 20 seconds. Meanwhile, the new M1 in the 2021 iPad Pro completed the test in… 14 minutes and 12 seconds. Not exactly a huge leap. Then, I tried a similar test in Adobe's Premiere Rush, but with a twist: Instead of outputting the footage in its native 4K, I exported to 1080p at 30fps. The difference was a little more noticeable this time, but still not dramatic. It took just over six minutes for last year's iPad Pro, while the new one pulled it off in 5 minutes and 37 seconds. (For what it's worth, Apple said "the previous iPad Pro was already optimized to encode and decode video in real-time" and that the same is true of the video engine in the M1.)
The Verge says the majority of iPad users won't perceive any appreciable difference in performance. 
The M1 is obviously fast, and in benchmarks, it's faster than the last A12Z Bionic that Apple put in the previous iPad Pro models. But in my usage, I didn't actually perceive any speed improvements in any of the apps that I use — because everything was already very fast on the iPad Pro. I got the exact same export speeds in Premiere Rush on the brand new 12.9-inch iPad Pro with the M1 as on my 2018 iPad Pro. Both the RAM and the M1 processor are specs that won't make an appreciable difference to the vast majority of iPad users. They're specs that will matter to certain "pro" users who have found specific apps and workflows that push the limit of what an iPad can do.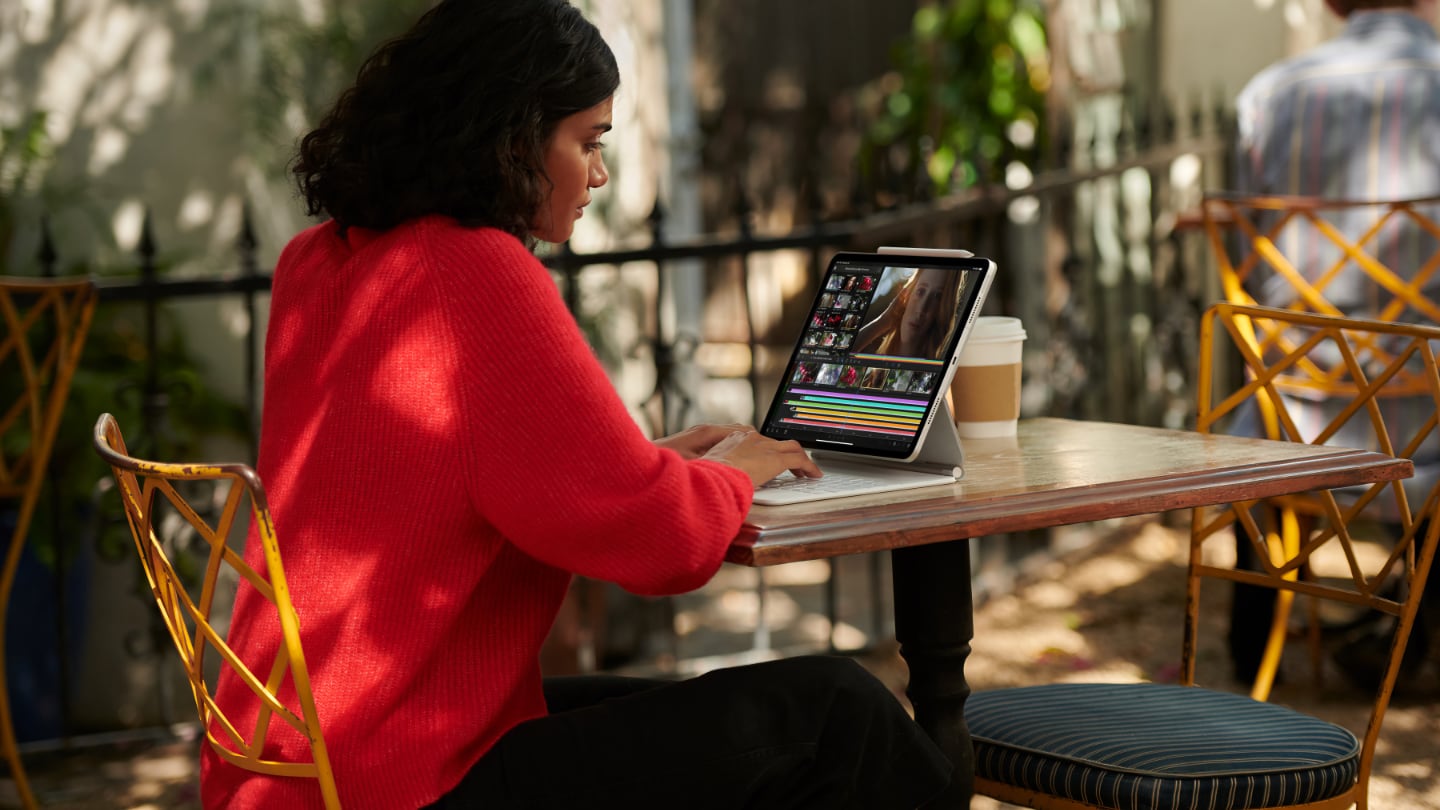 Center Stage | M1 iPad Pro Review Roundup
The Loop on Center Stage:
One of the features I love the most on the iPad Pro is Center Stage. Using the TrueDepth camera system, a new 12MP Ultra Wide front camera, and the machine learning capabilities of M1, Center Stage allows users to move around while using FaceTime, and the camera will keep them centered in the frame. It's pretty amazing to see it in action.

I started a FaceTime call seated at a desk, I stood up and took a step back, and the camera zoomed out a little to make sure I was in the frame. As I walked back and forth, the camera would pan side to side, following my movements, always keeping me in the center of the window (except if I went to the extreme side). If someone else comes into the frame, it will zoom out, ensuring that the camera can see both people in the frame.
MacStories on Center Stage:
I thought about why I find this aspect of Center Stage so fascinating. Here's what I came up with: traditionally, cameras show us exactly what they see – their viewfinder is a close match of what our eyes can see in front of us. There's no hidden truth. The lines have gotten blurry in recent years thanks to AI and features like Night Mode and Smart HDR, but Center Stage takes this to a different level: now, the computer is acting on data the camera is seeing but which is intentionally hidden from us since the image onscreen is cropped to a different aspect ratio. The iPad's camera is aware of its surroundings beyond what is displayed onscreen.
Gizmodo's on the 12.9-inch iPad Pro's battery life:
I was curious about the new iPad Pro's battery life, given that mini LEDs are efficient and the M1 had been a boon for battery life on the MacBook Air and MacBook Pro.
But this year's 12.9-inch iPad Pro lasted just 9 hours and 2 minutes, a full hour less than last year's iPad Pro, on our video rundown test over wifi—and that's not taking into account the notorious battery drain that is 5G.
Wrap up | M1 iPad Pro Review Roundup
Engadget Wrap up:
There's no question that this is the best, most impressive iPad Apple has ever built, and that there's enough horsepower here to future-proof this thing for at least a few generations. If you want a front-row seat to the future of the iPad experience, or if you just don't mind shelling out beaucoup bucks for nice things, go for it! And if that's that not you, don't sweat it — the iPad Air is still the best iPad for most people. No matter where your tastes lie, though, do me a favor: wait until Apple shows off everything it has at WWDC and then make your decision.
TechCrunch Wrap up:
This is where the iPad Pro is currently and it's the disparity that irks the most. This is one of the best computing hardware devices ever made, and you know it's capable of so much more than it is currently being let to do. Apple has always had an editorial point of view when it comes to software and I can appreciate that. But currently, it feels like that stance is far too conservative when it comes to iPad Pro.

That's why I'm waiting for WWDC with bated breath. With this much high-level execution on the hardware side, you have to imagine that the time is ripe for Apple to really take the next leap forward with iPad software. When that happens and we get a solid view of Apple's vision for the next wave of iPad work, I'll come back to the table with another look.
Pocket-Lint Wrap up:
When Steve Jobs first revealed the iPad back in 2010 it was all about casual reading and surfing from the sofa, about access to apps to empower, entertain, and educate us.

More than a decade on and the 2021 iPad Pro still embraces those principles. But for today's creative types who want more than just basic typing and surfing it's a more empowering experience – largely thanks to the M1 processor – bringing greater opportunity for both work and play.

For all intents and purposes the 2021 iPad Pro 12.9-inch is like a touchscreen-enabled MacBook Pro with 5G connectivity that runs iPadOS instead of macOS. It's the closest to a laptop-replacement that Apple has ever taken the iPad.

Yet the iPad Pro is still in transition. It doesn't completely replace the laptop just yet, because Apple hasn't quite cracked the software. So if that's what you're after then let's hope iPadOS 15 changes that later in 2021.
More Reviews
Video Reviews and Unboxings