The newest Apple Transparency Report was released containing government and private party requests for data from January 1 to June 30, 2020. The Transparency Report exhibits how many requests were made for user data worldwide and how many Apple could comply.
Apple has been clear that they are committed to protecting our data and working hard to produce the most secure hardware, software, and services. Apple report presents information concerning requests Apple received from government agencies across the globe and also includes U.S. private parties from January 1 through June 30, 2020
Zack Whittaker at TechCrunch first reported that Apple's latest Transparency Report shows a year-over-year decline in data requests. Apple received 28,276 device requests covering 171,368 devices in the first half of 2020. Apple complied with 80% of the requests.
What are Government and Private Party Requests | Apple Transparency Report
Apple receives different forms of legal requests inquiring about information from or actions by Apple. Apples receive requests from governments globally where we operate and from private parties. 
Below are a few Government and Private Party Requests examples
Lost or stolen devices with law enforcement assistance
Customers who suspect their credit card has been used fraudulently to purchase Apple products
Restrict access to an Apple account or delete an Apple account
Requests can also seek to preserve an Apple account
Subpoenas
Court orders
Search warrants
Wiretap orders
Pen register/trap and trace orders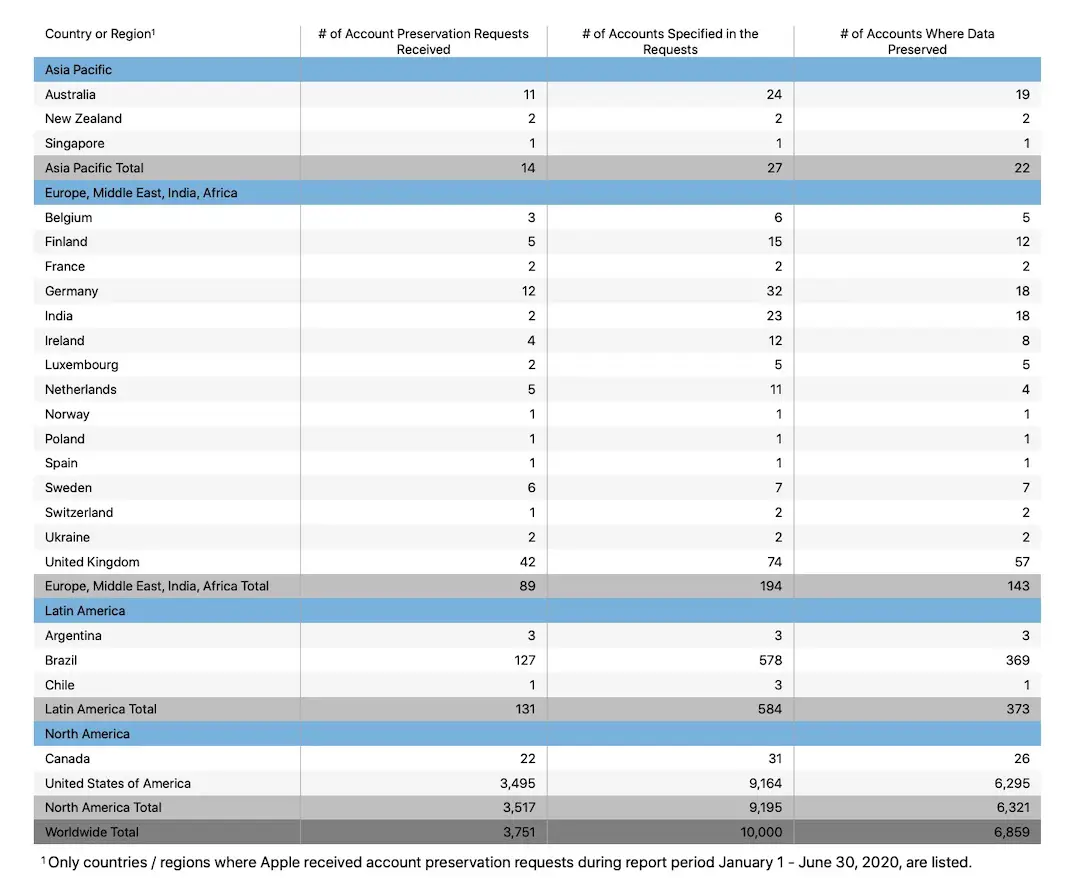 Apple explains what constitutes a government device request:
"One request may contain one or multiple device identifiers. For example, in a case related to the theft of a shipment of devices, law enforcement may seek information related to several device identifiers in a single request. We count the number of devices identified in each request, received from each country/region, and report the total number of devices specified in requests received by country/region."

"Under the U.S. Electronic Communications Privacy Act (ECPA) government agencies may request Apple to preserve users' account data by performing a one-time data pull of the requested existing user data available at the time of the request for 90 days (up to 180 days if Apple receives a renewal request). Examples of such requests are where law enforcement agencies suspect an account may have been used unlawfully or in violation of Apple's terms of service, and request Apple to preserve the account data while they obtain legal process for the data."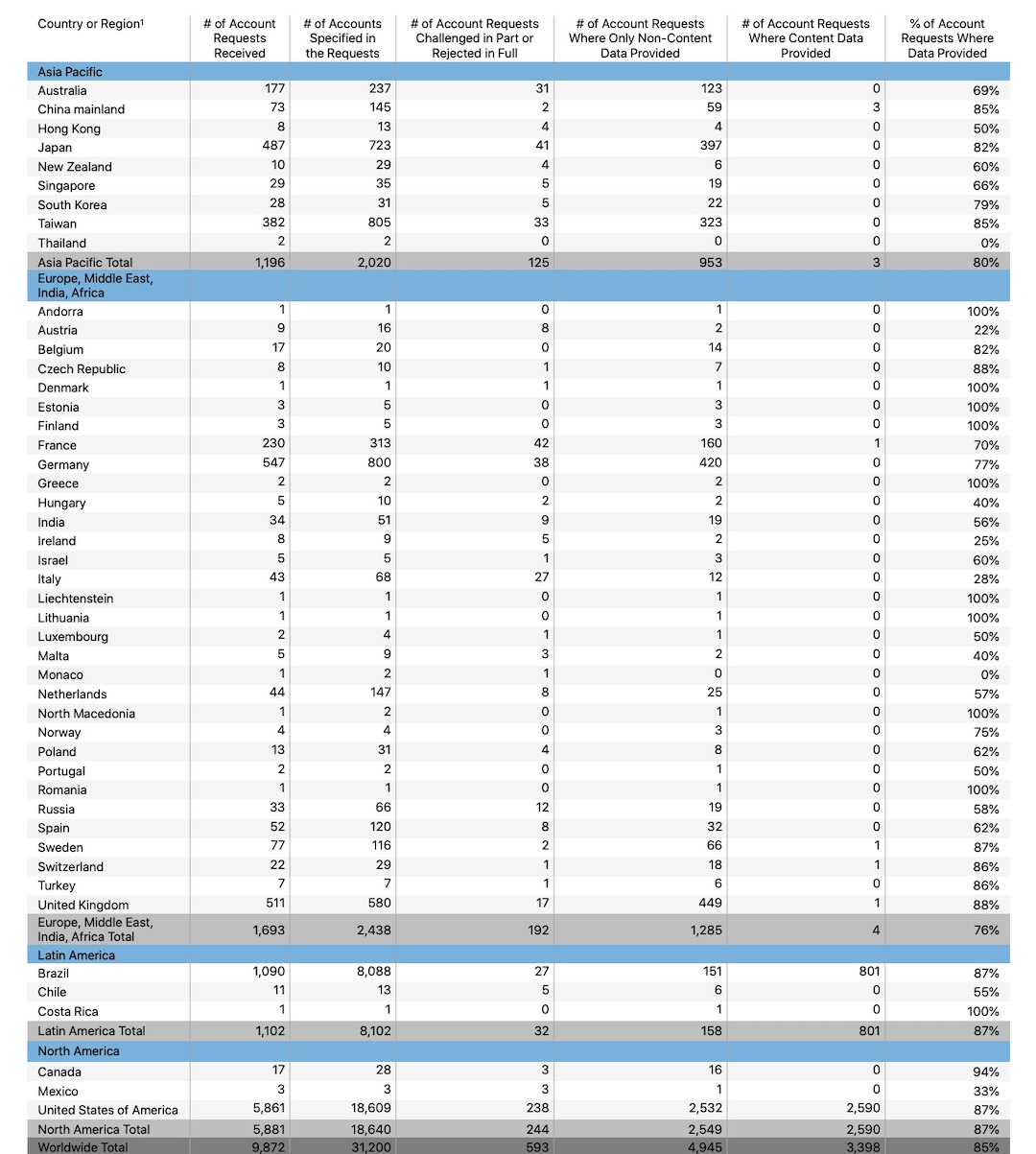 Apple Transparency Report Decrease in Govt Device Requests
As for the App Store, Apple states it received 56 legal violation takedown requests embracing 239 applications. Out of those 56 requests,46 of them came from mainland China, adopting 152 applications. Apple also received 17 requests adopting 39 apps for platform policy violations. China once again had the majority of them at 16 requests.
App Store takedown requests were down year-over-year, both in matters of legal violations and platform policy violations.
Lastly, Whittaker points out, Apple has included a new line of copy to the Transparency Report saying that "in certain instances" it will provide data covering "customers' iCloud content, email, such as stored photos, iOS device backups, calendars or contacts, in response to a valid emergency request." 
This isn't a new development, but rather something Apple is now explaining in the Transparency Report.
You can read Apple's full Transparency Report on its website here.