Apple announced the first Apple event of the year on April 20, and it will be entirely virtual. At the Apple April event, Apple likely announces new 2021 iPad Pro models, AirTags, AirPods 3 and possibly more. The event will be streamed live from Apple Park beginning at 1 p.m. ET/10 a.m. Siri first informed everyone of the Apple Event. 

Apple April event details
Last fall Apple held 3 special events (September, October, and November). Apple's April event will note Apple's first event of 2021. Apples' April event will be held remotely. 
Apple spring events are continuing the tradition. Apple held an event in April of 2019 at the Steve Jobs Theater to announce Apple Card, Apple Apple TV+, and Arcade. Last year, Apple did not have a March event due to the pandemic. Last March, they did still launch a new MacBook Air, iPad Pro, Magic Keyboard by press releases.
Apple's April event is set to stream across their website, on Apple TV, and YouTube.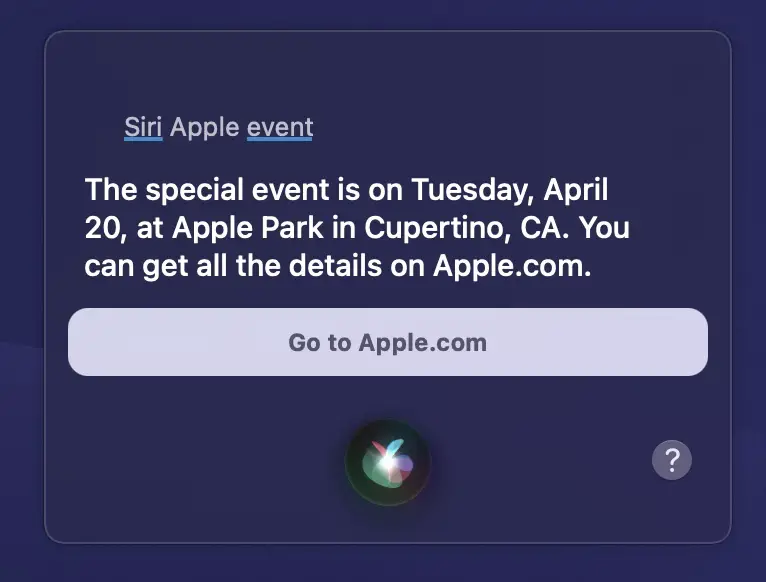 What to expect at the Apple April event
The event's timing further signals an announcement of new iPad Pros, bringing mini-LED display technology to the 12.9-inch model and new processors to both iPad models. Additional rumored enhancements include a faster processor with performances similar to the M1 chip Apple used in the recent refresh of the Mac lineup, improved USB-C ports, and improvements to the cameras. 
One change we know that is shortly is iOS 14.5, a software update that'll introduce significant privacy changes to the iPhone and iPad software. App Tracking Transparency will be a big part of the update, which Apple states will require companies and developers to be transparent about how they're handling user data. Companies will additionally have to ask for permission from users to use their data for advertising and other privacy concerns.
There might be more we're missing here — such as Airpods 3, AirPods Pro 2, or the iPhone Se, but the proof for them arriving so early in the year doesn't look all that convincing. That said, who doesn't enjoy a shocking announcement? Thankfully, we won't have to wait before Apple reveals its plans. Click here to view the Apple Event.
Check Out The Other Articles!
Our Other Pages
What do you want to see revealed at the Apple April event? Drop your comments down below!