Apple's iPhone 13 release possibility still months away from their big reveal, but iPhone 14 leaks haven't slowed about the 2022 iPhone, thanks to the supply chain. According to everyone's favorite Apple analyst, Kuo, The standard rear cameras on the iPhone 14 Pro and iPhone 14 Pro Max will be improved to 48-megapixels, increasing from the current 12-megapixel sensor iPhone 12.
iPhone 14 leaks: Face ID
Apple could ditch Face ID or use a combination of Face ID with Touch ID. According to reports, this aspect will be an area of growth for Apple in the iPhone 14. Rumors claim that the company's Face ID Tx lens will cut the glass and use plastic alternatively.
Kuo Ming-Chi has a knack for predicting the future. It's not surprising then that he claims to know what Apple will have in store for 2021 and beyond. This includes new iPhone models with onscreen Face ID systems, an entirely redesigned camera system (including periscope telephoto lens), and more drastic changes like no notch or punch hole designs.
 iPhone 14 leaks: 48MP Main Camera
One of the most discussed topics in tech news today is photography. There are various camera specifications and features, but one topic that has not been discussed as much is megapixels, which often determine quality. A new report by Ming-Chi Kuo seems to shed light on what Apple could have up their sleeves for iPhone 14 cameras.
 It seems inevitable that the 48-megapixel specification, a higher-end feature for professional cameras, is coming to iPhones. Kuo doesn't mention if this will affect lower-end models of 6.1 and 6.7-inch iPhones or just Pro models.
According to reports, Apple will use a 48MP camera sensor in its 2022 iPhones. One of the new and exclusive cameras from Sony is said to be used on these iPhones, making it much more conducive to photography. This increased lens ASP makes it so that there are fewer limitations when shooting photos with these high-quality phones.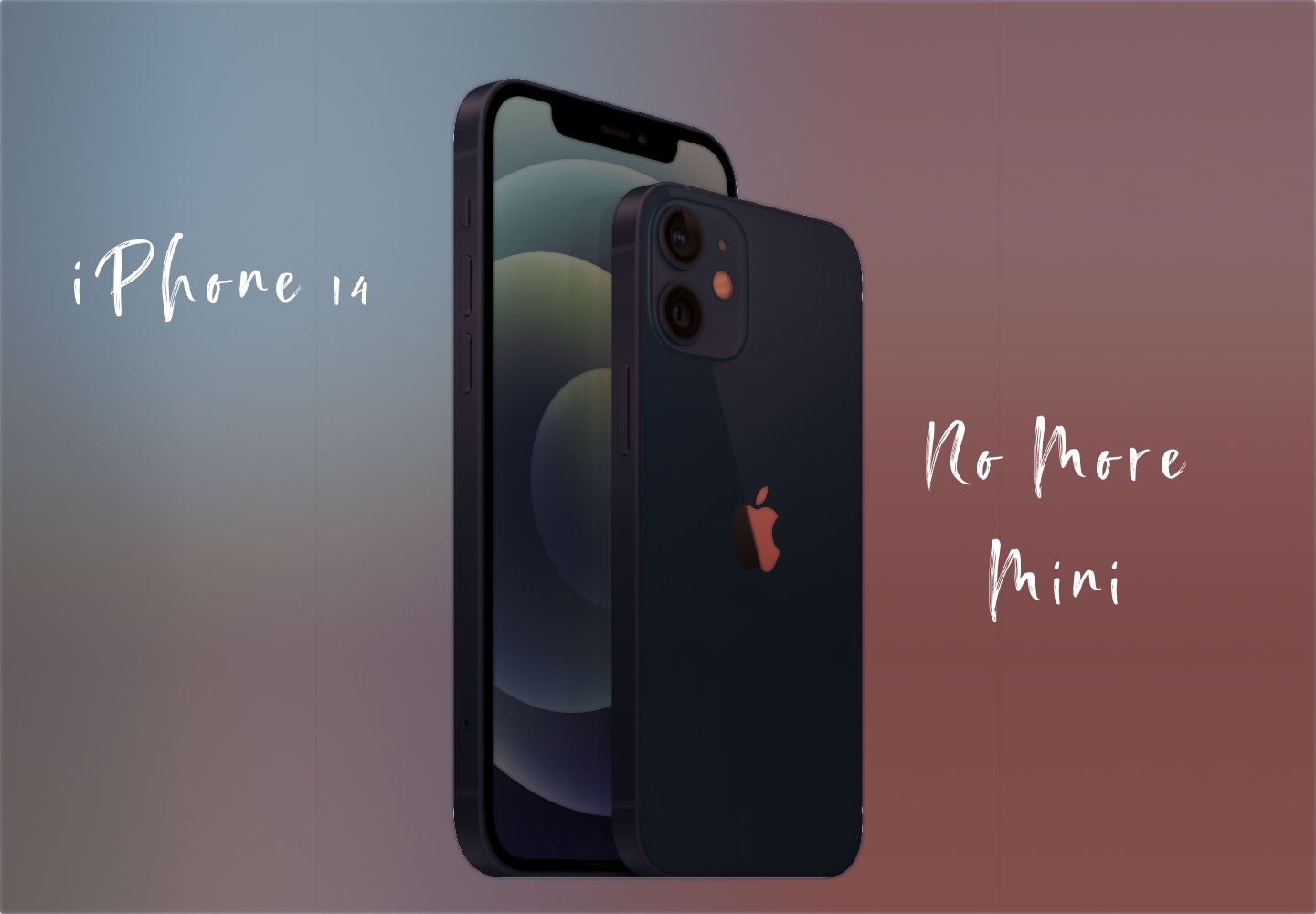 No iPhone 14 Mini
The 5.4-inch screen-sized iPhone 12 mini will be available in the iPhone 13 this fall. However, it appears that it will be its final outing and will not make it into the iPhone 14 lineup.
The iPhone 12 mini attracted enthusiasts who required modern specs like 5G, and the blazing A14 processor bit could go without the large screen size that has been the trend recently. Even tho the 5.4-inch will be removed from the lineup, four variations of the iPhone will persist. There will be two high-end iPhone 14 Pros with 6.1 inch and 6.7-inch screen and two lower-end models, with the same screen size as the Pros. 
iPhone 14 8P Lens
Apple is planning to bring a better 8P lens for its 2022 iPhones. The application of the 8P lens has many advantages, such as improving yield and decreasing cost. Apple will ship this new lens in significant quantities by 2022, but there's no mention if all models will get it – only time can tell! According to Kuo Ming-Chi, Samsung may also use these lenses after 2021, which would make them more competitive with Apple going into 2024+.
iPhone 14 Periscope Telephoto Lens
Apple's 2022 iPhones will use a periscope telephoto lens which is already found in many Android flagships. This solution has been long anticipated for Apple, and the company plans to bring it to market next year with an ASP that may increase significantly.
Apple will be introducing a periscope telephoto lens on its 2022 iPhones. This is already prevalent in many Android flagships, but Apple will bring this technology to consumers next year. Furthermore, analysts believe the ASP (average selling price) for lenses could significantly increase due to demand and increased competition within the industry and lackluster use of Face ID due to the Pandemic.
Kuo Ming-Chi, an expert Apple analyst, is predicting that the iPhone 14 series will have a new 8P lens and redesigned Face ID. However, it's important to keep in mind these are just predictions, so not all of them may work out by the time they're released this Fall. 
The iPhone 14 series is rumored to have more in common with Android than we may know. However, the only things that many of us can be sure about are some changes to Face ID and the 8P lens. Some features may change along the way or not even make it into production at all. Be sure to stay tuned for any updates with the development of the iPhone 14!

Check Out The Other Articles!
Our Other Pages
Are you bummed to see the end of the iPhone Mini? What do you think about Kuo's predictions? Let us know in the comments.